Wiley's Student GAAS Guide , 2000/2001 Edition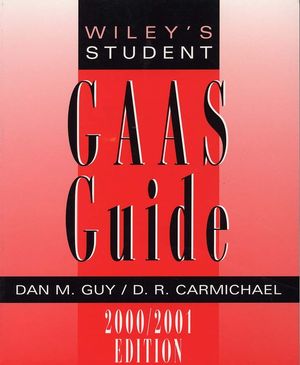 Wiley's Student GAAS Guide , 2000/2001 Edition
ISBN: 978-0-471-37571-5 April 2000 528 Pages
Description
This guide exposes students to GAAS (Generally Accepted Auditing Standards), an essential professional pronouncement. Authoritative standards include Statements on Auditing Standards (SASs), Statements on Standards for Attestation Engagements (SSAEs), and Statements on Standards for Accounting and Review Services (SSARSs) are introduced in an easy-to-read format.
Partial table of contents:The Auditor's Responsibilities and Functions, Introduction to GAAS and the General Standards.

Appointment of the Independent Auditor.

Illegal Acts by Clients.

Consideration of Internal Control in a Financial Statement Audit.

Evidential Matter.

Analytical Procedures.

The Confirmation Process.

Working Papers.

The Auditor's Consideration of an Entity's Ability to Continue as a Going Concern.

Auditing Accounting Estimates.

Consistency of Application of Generally Accepted Accounting Principles.

Adequacy of Disclosure in Financial Statements.

Association With Financial Statements.

Dating of the Independent Auditor's Report.

Restricting the Use of an Auditor's Report.

Required Supplementary Information.

Subsequent Events.

Reports on the Application of Accounting Principles.

Letters for Underwriters and Certain Other Requesting Parties.

Attestation Standards.

Financial Forecasts and Projections.

Agreed-Upon Procedures Engagements.

Management's Discussion and Analysis (MD&A).

Compilation Reports on Financial Statements Included in Certain Prescribed Forms.

Communications Between Predecessor and Successor Accountants.

Index.
Unlike other GAAS guides, this publication is written for students and provides understandable explanations of fundamental requirements and objectives of the SASs, SSAEs and SSARSs.
Students are taught how to apply the authoritative statements. Sections are divided into easy-to-understand parts, including a Test Your Knowledge feature, which contains discussion questions and answers.
This guide was developed to be used as supplementary text in the first auditing course, or as a core text in the advanced auditing course.
In addition, it is certain to be useful to individuals preparing for the CPA examination.