Wiley CPA Exam Review 2008: Financial Accounting and Reporting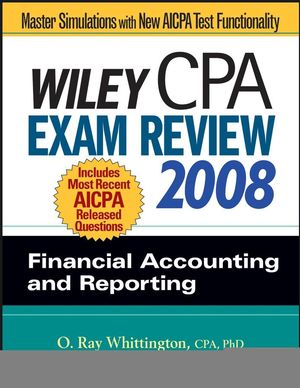 Wiley CPA Exam Review 2008: Financial Accounting and Reporting
ISBN: 978-0-470-13523-5
Dec 2007
1032 pages
Product not available for purchase
Description
Completely revised for the new computerized CPA Exam
Published annually, this comprehensive, four-volume study guide for the Certified Public Accountants (CPA) Exam arms readers with detailed outlines and study guidelines, plus skill-building problems and solutions that help them to identify, focus, and master the specific topics that need the most work. Many of the practice questions are taken from previous exams, and care is taken to ensure that they cover all the information candidates need to pass the CPA Exam. Broken down into four volumes-Regulation, Auditing and Attestation, Financial Accounting and Reporting, and Business Environment and Concepts-these top CPA Exam review study guides worldwide provide:
More than 2,700 practice questions
Complete information on the new simulation questions
A unique modular structure that divides content into self-contained study modules
AICPA content requirements and three times as many examples as other study guides
1. BEGINNING YOUR CPA REVIEW PROGRAM.
2. EXAMINATION GRADING.
3. THE SOLUTIONS APPROACH.
4. TAKING THE EXAMINATION.
5. FINANCIAL ACCOUNTING AND REPORTING.
Modules and Abbreviations:1
7 Basic Theory and Financial Reporting.
A. Basic Concepts.
B. Error Correction.
C. Accounting Changes.
D. Financial Statements.
8 Inventory.
9 Fixed Assets.
10 Monetary Current Assets and Current Liabilities.
11 Present Value.
A. Fundamentals.
B. Bonds.
C. Debt Restructure.
D. Pensions.
E. Leases.
12 Deferred Taxes.
13 Stockholders' Equity.
14 Investments.
15 Statement of Cash Flows.
16 Business Combinations and Consolidations.
17 Derivative Instruments and Hedging Activities.
18 Miscellaneous.
A. Personal Financial Statements.
B. Interim Reporting.
C. Segment Reporting.
D. Partnership Accounting.
E. Foreign Currency Translation.
19 Governmental Accounting.
20 Not-for-Profit Accounting.
Outlines of Accounting Pronouncements.
APPENDIX A: FINANCIAL ACCOUNTING AND REPORTING SAMPLE EXAMINATION.
APPENDIX B: SAMPLE TESTLETS RELEASED BY THE AICPA.
APPENDIX C: 2007 RELEASED AICPA QUESTIONS.
INDEX.
1 As explained in Chapter 1, this book is organized into 14 modules (manageable study units). The numbering of the modules commences with number 7 to correspond with the numbering system used in our two-volume s
Chapter
Page
Details
Date
Print Run
Please click the link below to download the errata information.
Download Errata here.

---