Wiley CPA Examination Review, Volume 2, Problems and Solutions, 35th Edition, 2008 - 2009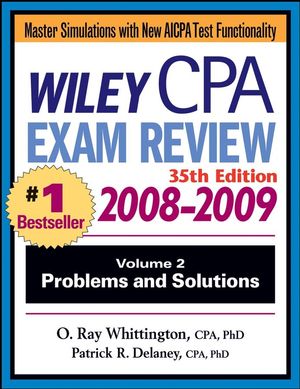 Wiley CPA Examination Review, Volume 2, Problems and Solutions, 35th Edition, 2008 - 2009
ISBN: 978-0-470-27894-9
Jun 2008
1390 pages
Product not available for purchase
Description
Wiley CPA Exam review

35th Edition 2008-2009

Volume 1

Outlines and Study Guides
* Covers all four sections of the CPA examination point by point
* Stresses important topical areas to study for each part
* Helps establish a self-study preparation program
* Divides exam into 45 manageable study units
* Provides an outline format supplemented by brief examples and illustrations
* Makes material easy to read, understand, and remember
* Includes timely, up-to-the-minute coverage for the computerized exam
* Explains step-by-step examples of the ""solutions approach""
* Contains all current AICPA content requirements for all four sections of the exam

Volume 2

Problems and Solutions
* Offers selected problems from all four examination sections
* Contains rationale for correct or incorrect multiple-choice answers
* Covers the new simulation-style problems--offering more than 75 practice questions
* Details a ""solutions approach"" to each problem
* Updates unofficial answers to reflect current laws and standards
* Groups multiple-choice questions into topical categories within modules for easy cross-referencing
* Provides a sample examination for each of the four exam parts

The computer-based CPA exam is here! Are you ready?

The 35th Edition of the Wiley CPA Exam Review is revised and updated for the new computerized exam. To help candidates prepare for the new exam format, this edition includes a substantial number of the new simulation-type questions. Passing the CPA exam on your first attempt is possible! We'd like to help.

GET EVEN MORE INFORMATION ONLINE:

You'll find a wide range of aids for doing your best on the CPA exam at wiley.com/cpa, including content updates, CPA exam study and test-taking tips, and more. All Wiley CPA Exam Review products are listed on the site.
1. HOW TO USE THIS BOOK.
2. AUDITING AND ATTESTATION.
Engagement Planning, Obtaining an Understanding of the Client and Assessing Risks.
Internal Control.
Evidence.
Reporting.
Audit Sampling.
Auditing with Technology.
3. FINANCIAL ACCOUNTING AND REPORTING.
Basic Theory and Financial Reporting.
A. Basic Concepts.
B. Error Correction.
C. Accounting Changes.
D. Financial Statements.
Inventory.
Fixed Assets.
Monetary Current Assets and Current Liabilities.
Present Value.
A. Fundamentals.
B. Bonds.
C. Debt Restructure.
D. Pensions.
E. Leases.
Deferred Taxes.
Stockholders' Equity.
Investments.
Statement of Cash Flows.
Business Combinations and Consolidations.
Derivative Instruments and Hedging Activities.
Miscellaneous.
A. Personal Financial Statements.
B. Interim Reporting.
C. Segment Reporting.
D. Partnership Accounting.
E. Foreign Currency Translation.
Governmental.
Not-for-Profit.
4. REGULATION.
5. PROFESSIONAL RESPONSIBILITIES AND BUSINESS LAW.
Professional Responsibilities.
Federal Securities Acts.
Contracts.
Sales.
Commercial Paper.
Secured Transactions.
Bankruptcy.
Debtor-Creditor Relationships.
Agency.
Regulation of Employment and Environment.
Property.
Insurance.
6. FEDERAL TAXATION.
Individual.
Transactions in Property.
Partnership.
Corporate.
Gift and Estate.
7. BUSINESS ENVIRONMENT AND CONCEPTS.
Business Structure.
Information Technology.
Economics and Strategy.
Financial Management.
Risk Management and Capital Budgeting.
Performance Measures.
Cost Measurement.
Planning, Control, and Analysis
APPENDIX A: SIMULATIONS.
APPENDIX B: SAMPLE EXAMINATIONS.
APPENDIX C: SAMPLE TESTLETS RELEASED FROM THE AICPA.
Corrections for the CPA Exam Review, 35th Edition, 2008-2009, Volume 2, Problems and Solutions
Download
| | | | | |
| --- | --- | --- | --- | --- |
| | | Please Click the link below for Errata Information.,Please Click here. | | |