Wiley CPA Examination Review Focus Notes: Auditing and Attestation 2011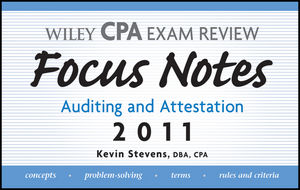 Wiley CPA Examination Review Focus Notes: Auditing and Attestation 2011
ISBN: 978-1-118-03474-3
Nov 2010
318 pages
Product not available for purchase
Description
This book uses acronyms and mnemonic devices to help candidates remember the accounting rules and checklists needed to pass the exam. It provides a thorough review of all basic skills and concepts need for the exam. The new computerized CPA exam includes one or two case study simulations in each section, approximately 20-40 minutes in length, that will require candidates to perform research activities, use common spreadsheet and word processing functions, and use a financial calculator or spreadsheet to perform financial calculations. In order to assist candidates in successfully performing these simulations, Wiley Focus Notes include references to authoritative literature, sample spreadsheets, and key concepts, tips and tools to facilitate research.
Preface.
About the Author.
Professional Responsibilities.
Engagement Planning, Obtaining an Understanding and Assessing Risks.
Understanding Internal Control and Assessing Control Risk.
Responding to Risk Assessment: Evidence Accumulation and Evaluation.
Reporting.
Accounting and Review Services.
Audit Sampling.
Auditing with Technology.
Index.