Wiley CPA Examination Review Focus Notes: Financial Accounting and Reporting 2011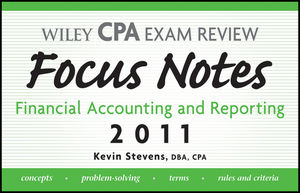 Wiley CPA Examination Review Focus Notes: Financial Accounting and Reporting 2011
ISBN: 978-1-118-02547-5
Nov 2010
288 pages
Product not available for purchase
Description
This book uses acronyms and mnemonic devices to help candidates remember the accounting rules and checklists needed to pass the exam. It provides a thorough review of all basic skills and concepts need for the exam. The new computerized CPA exam includes one or two case study simulations in each section, approximately 20-40 minutes in length, that will require candidates to perform research activities, use common spreadsheet and word processing functions, and use a financial calculator or spreadsheet to perform financial calculations. In order to assist candidates in successfully performing these simulations, Wiley Focus Notes include references to authoritative literature, sample spreadsheets, and key concepts, tips and tools to facilitate research
Preface.
About the Author.
Basic Concepts.
Financial Statements.
Inventories.
Long-Term Construction Contracts.
Fixed Assets.
Receivables.
Monetary Assets & Liabilities.
Leases.
Bonds.
Debt Restructure.
Pensions.
Deferred Taxes.
Stockholders' Equity.
Investments.
Statement of Cash Flows.
Consolidated Statements.
Derivative Instruments.
Segment Reporting.
Partnership.
Foreign Currency.
Interim Reporting.
Personal Financial Statements.
Governmental Accounting.
Not-For-Profit Accounting.
Index.