Wiley Encyclopedia of Biomedical Engineering, 6 Volume Set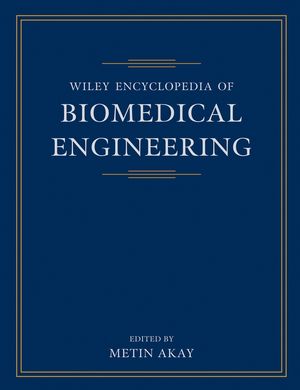 Wiley Encyclopedia of Biomedical Engineering, 6 Volume Set
ISBN: 978-0-471-24967-2
Apr 2006
4152 pages
Description
Wiley Encyclopedia of Biomedical Engineering, 6-Volume Set is a living and evolving repository of the biomedical engineering (BME) knowledge base. To represent the vast diversity of the field and its multi-and cross-disciplinary nature and serve the BME community, the scope and content is comprehensive. As a peer reviewed primer, educational material, technical reference, research and development resource, the project encompasses the "best" in terms of its intellectual substance and rigor.
Buy Both and Save 25%!
Original Price:$3,203.00
Purchased together:$2,402.25
save $800.75
Cannot be combined with any other offers.
Accelerometers.
Adhesion of Bacteria.
Adhesion of Cells to Biomaterials.
Allogenic Cells and Tissues .
Alumina.
American College of Clinical Engineering.
American Institute for Medical and Biological Engineering.
Analog to Digital Conversion.
Anesthesia Machines.
Aortic Stenosis and Systemic Hypertension, Modeling of.
Arterial Blood Pressure Processing .
Arthroscopic Fixation Devices.
Articular Cartilage.
Artificial Blood.
Artificial Heart Valves.
Artificial Kidney, Modeling of Transport Phenomena in.
Assistive Robotics .
Assistive Technology.
Atomic Force Microscopy.
Atrial Fibrillation and Atrial Flutter.
Autocorrelation and Crosscorrelation Methods.
Autologous Platelet-Based Therapies.
Back-Propagation.
Batteries for Implantable Biomedical Applications.
Bayesian Analysis.
Bioacoustic Signals.
Bioactive Bone Cements.
Bioactive Glasses and Glass Ceramics.
Biochemical Pathways Research.
Biochemical Processes/Kinetics.
Biocompatibility of Engineering Materials.
Biocomputation .
Bioelectricity and Biomagnetism .
Bioenergetics and Systemic Responses to Exercise.
Bioheat Transfer Model.
Bioimpedance.
Bioinformatics.
Biological Database Integration.
Biological Neural Control.
Biological Neuronal Networks, Modeling of.
Biomedical Electronics.
Biomedical Products, International Standards for.
Biomedical Sensors.
Biomedical Transducers.
Biometrics.
Biomolecular Layers: Quantification of Mass and Thickness.
Bio-Optical Signals.
Bio-Optics:Optical Measurement of Pulse Wave Transit Time.
Blind Source Separation.
Blood Flow Measurement.
Blood Flow Simulation, Patient Specific in-Vivo.
Blood Oxygen Saturation Measurements.
Blood Substitutes.
Bone, Mechanical Testing of.
Bone Resorption.
Brain Function, Magnetic Resonance Imaging of.
Cancer.
Capillary Electrophoresis.
Capillary Permeability.
Carbyne-Containing Surface Coatings.
Cardiac Action Potentials .
Cardiac Arrhythmia.
Cardiac Electromechanical Coupling.
Cardiac Hypertrophy.
Cardiac Imaging.
Cardiac Pacemakers.
Cardiac Valves.
Careers.
Cartilage Scaffolds.
Cell Adhesion Molecules: Conversational Signallers.
Cell Patterning.
Cell Surface Interactions.
Cellular Engineering.
Cellular and Molecular Imaging.
Chaos.
Clinical Decision Support Systems.
Clinical Trials.
Closed-Loop System Identification.
Cochlear Implants.
Cognitive Assistive Technology.
Cognitive Systems.
Coherence.
Complexity, Scaling and Fractals in Biological Signals.
Computed Tomography.
Computer Aided Design.
Computer Aided Surgery.
Computer Assisted Radiation Therapy (CART).
Computer Assisted Radiology (CAR).
Confocal Microscopy.
Cortical Bone Fracture.
Data Mining.
Data Visualization.
Defibrillation.
Deformable Objects, Interactive Simulation of .
Dentin.
Dentin-Enamel Junction of Human Teeth.
Diabetes Care, Biomedical and Information Technologies for .
Diffusion Tensor Imaging.
Digital Filters.
Discrete Fourier Transform.
Distributed Processing.
DNA Sequencing.
Echocardiography.
Ectopic Activity.
Education.
EEG-Based Brain-Computer Interface System.
Elasticity.
Elasticity Imaging.
Electric Impedance Imaging, Injected Current.
Electric Shock.
Electrical Activity in Cardiac Tissue, Modeling of.
Electrical Impedance Plethysmography.
Electrical Impedance Technique for Cryosurgery Monitoring.
Electrical Impedance Tomography, Induced Current.
Electrical Safety.
Electrocardiogram (ECG): Automated Diagnosis.
Electrocardiogram (ECG): Inverse Problem.
Electrocardiogram (ECG) Mapping.
Electrocardiogram (ECG) Signal Processing.
Electrochemical Biosensors.
Electrodes.
Electrodiagnosis in Neuromuscular Disorders.
Electroencephalography (EEG).
Electroencephalography (EEG): Inverse Problems.
Electrogastrography (EGG).
Electromagnetic Interference and Compatibility.
Electromagnetic Waves.
Electromyography (EMG), Electrodes and Equipment for.
Electromyography (EMG) Modeling.
Electromyography (EMG), Needle.
Electromyography (EMG) of Pelvic Floor Muscles.
Electronic Health Record.
Electrophoresis.
Electrophysiology.
Electroporation.
Entropy.
Epithelial Pre-Cancers and Cancers, Optical Technologies for Detection and Diagnosis of.
Ethical Issues in Biomedical Research.
Event-Related Potentials.
Evoked Potentials, Adaptive Filtering of.
Evolutionary Algorithms.
Exercise Hyperpnea.
Exercise Physiology.
Extracellular Matrix.
Extracorporeal Electrodes.
Extracorporeal Membrane Oxygenation.
Eye Movements.
Fatigue.
Fiber Optic Sensors.
Flow in Healthy and Stenosed Arteries .
Flow Measurement.
Force Measurement.
Foreign Body Reaction .
Forward Problem.
Functional Electrical Stimulation (FES) for Stroke Rehabilitation.
Functional Optical Imaging of Intrinsic Signals in Cerebral Cortex.
Fuzzy Neural Networks.
F-Wave.
Gait Patterns.
Gait Retraining after Neurological Disorders .
Gene Expression Profiles, Nonlinear System Idenitification in.
Genetic Algorithms .
Genomic Networks: Statistical Inference from Microarray Data.
Haptic Devices and Interfaces.
Haptic Interaction in Medical Virtual Environments.
Health Care Technology for the Developing World.
Heart Rate Variability (HRV).
Heart Rate Variability (HRV): Nonlinear HRV.
Heart Rate Variability (HRV): Sleep Disordered Breathing.
Heart Sounds and Stethoscopes.
Heart Valve Tissue Engineering.
Hemodialysis and Hemofiltration.
Hidden Markov Models.
Higher-Order Spectral Analysis.
Higher-Order Statistics.
Hilbert Transform.
Hippocampus.
Home Telehealth: Telematics-Supported Services.
Homecare.
Human Brain Interface: Signal Processing and Machine Learning.
Human Factors Engineering.
Human Motion Analysis.
Human Nervous System, Noninvasive Coupling of Electronically Generated Data into.
Hypercapnia.
Hypertension: Time-Frequency Analysis for Early Diagnosis.
Hypoxia.
Image Coding.
Independent Component Analysis.
Information Retrieval in Biomedical Research.
Intelligent Mobility Aids.
Intelligent Patient Monitoring.
Intestinal Motility.
Ionic Channels.
Ionizing Radiation, Biological Effects of.
Ischemia.
Knee Meniscus, Biomechanics of.
Knowledge Engineering.
Lung Tissue Viscoelasticity.
Lyapunov Exponent.
Magnetic Resonance Current Density Imaging.
Magnetic Resonance - Electrical Impedance Tomography.
Mammography.
Markov Chains.
Maximum Likelihood Estimation.
Mechanical Testing.
Mechanomyography.
Medical Device Acquisition.
Medical Device Industry.
Medical Devices, Design and Modification of .
Medical Devices: Regulations, Codes and Standards.
Medical Expert Systems.
Medical Robotics in Surgery .
Meniscal Replacements.
Metabolites, Noninvasive Optical Measurements of.
Microarray Data Analysis.
Microfluidics.
Micromechanical Devices.
Microsensors and Nanosensors.
Microvessel Permeability.
Microwave Imaging.
Molecular Electronics.
Motor Unit.
MRI Safety.
Multimodal Presentation of Biomedical Data.
Multiphoton Microscopy.
Multivariate Biomedical Signal Processing.
Muscle Fiber Conduction Velocity.
Muscle Pain.
Muscle Sensory Receptors.
Muscle, Skeletal.
Musculoskeletal Cell Mechanics.
Myoelectric Control of Powered Upper Limb Prostheses.
Myoelectric Manifestations of Muscle Fatigue.
Myoelectric Signal Processing.
Nanometer-Scale Probes.
Nanoparticles in Biomedical Photonics.
Nanophase Materials.
Near-Infrared Spectroscopic Imaging.
Nernst Potential.
Nerve Stimulation.
Neural Control of Assistive Technology.
Neural Networks.
Neural Networks: Applications in Biomedical Engineering.
Neuromuscular Coordination in Gait, EMG Analysis of.
Neuromuscular Stimulation.
Neuromuscular Systems.
Noise in Instrumentation.
Nonionizing Radiation.
Obstructive Sleep Apnea: Electrical Stimulation Treatment.
Oculomotor Control.
Optical Microscopy.
Optoelectronics.
Orthopedic Bone Cement.
Orthotics.
Parametric Adaptive Identification and Kalman Filter.
Pattern Classification.
Pattern Recognition.
Pharmacokinetic and Pharmacodynamic Control.
Phase Unwrapping.
Photodiodes.
Photomultipliers.
Photovoltaic Cells.
Piezoelectric Actuators.
Piezoelectric Devices in Biomedical Applications.
Platelet-Rich Plasma in Bone Repair.
Plethysmography.
Positron Emission Tomography (PET).
Pressure Sensors.
Probability Distributions.
Prosthetic Devices and Methods.
Protein Structure, Folding, and Conformation.
Proteomics.
Pulmonary Mechanics.
Pulmonary Medicine, Applications of Biomedical Engineering to.
Pulse Oximetry.
Radiation Safety .
Radiofrequency Energy, Biological Effects of.
Radon Transform .
Recurrence Quantification Analysis.
Rehabilitation Biomechanics.
Rehabilitation Engineering: An Overview.
Resorbable Materials in Orthopedic Surgery.
Respiration Measurements.
Respiratory Related Evoked Potentials.
Respiratory Sinus Arrhythmia.
Risk Management.
Risk Management for Medical Devices.
Robotic Rehabilitation Therapy .
Robotic Surgery.
Sampling Theorem and Aliasing in Biomedical Signal Processing .
Scaffolds for Cell and Tissue Engineering.
Semiconductor-Based Implantable Prosthetic Devices.
Sensor Biocompatibility and Biofouling in Real-Time Monitoring.
Sensory Aids.
Sepsis.
Simulation Languages.
Skin.
Skin Lesions: Burns.
Sleep.
Sleep Apnea: Detection and Classification of Infant Patterns.
Sleep Apnea Syndrome.
Sleep Laboratory.
Soft Tissue Scaffolds.
Software Agents.
Software Engineering.
Space Physiology.
Spasticity and Upper Motor Neuron Dysfunction.
Spinal Cord Stimulation Systems.
State-Space Methods.
Stenosis and Thrombosis.
Stress.
Substrate Arrays of Microelectrodes for In Vitro Electrophysiology.
Surface Electromyography (EMG) Signal Processing.
Surface Electrostimulation Electrodes.
Sutures.
Technology Assessment of Medical Devices.
Telemedicine.
Telemedicine in Emergency Medical Services.
Telemedicine: Teleconsultation between Medical Professionals.
Telemedicine: Ubiquitous Patient Care.
Telesurgery.
Temperature Sensors.
Temporomandibular Joint Disc.
Thermal Conductivity Measurement of Biomaterials.
Tissue Engineering.
Tissue Engineering of Blood Vessels.
Tissue Engineering of Cardiac Tissues.
Tissue Engineering of Kidney, Bladder, and Urethra.
Tissue Mechanics.
Tissue-Engineered Bone.
Tissue-Engineered Liver.
Tissue-Engineered Peripheral Nerve.
Tissues, Electrical Properties of.
Titanium and Titanium Alloys .
Transcranial Magnetic Stimulation.
Transcutaneous Magnetic Coupling of Power and Data.
Transport Across Endothelial Barriers, Modeling of.
Trees, Evolutionary.
Ultrasonic Imaging.
Ultrasonic Imaging of Carotid Atherosclerosis.
Ultrasonic Transducers For Medical Imaging.
Upper Airway Mechanics.
Vascular and Capillary Endothelium .
Vascular Mechanics.
Vascular Networks.
Vector Quantization.
Venous Air Embolism: Detection via Wavelet Transform.
Ventilatory Pattern Variability in Mammals.
Virtual Instrumentation.
Virtual Reality.
Viscoelasticity.
Voice Analysis.
Wearable Medical Devices.
Wheelchair Engineering.
Wide Area Networks.
Wireless Biomedical Sensing.
Wound Healing.
Xenotransplantation.
"...a comprehensive knowledge base for existing and future research. It will be a useful reference on our bookshelves...the editors should be commended for their innovative contributions." (
The Journal of the American Medical Association
, April 11, 2007)
"Dr. Akay deserves a commendation for the effort he has put into this encyclopedia. It is a monumental work and is a contribution to the definition and maturation of our profession." (IEEE Engineering in Medicine and Biology Magazine, January/February 2007)