Wiley GAAP Codification Enhanced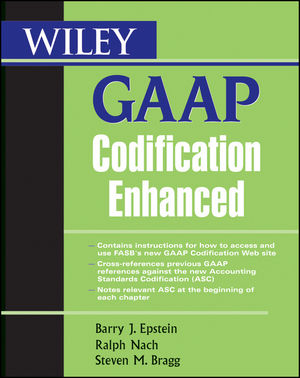 Wiley GAAP Codification Enhanced
ISBN: 978-0-470-49830-9 April 2009 1440 Pages
Description
Your single, authoritative source to GAAP under the new Accounting Standards Codification (ASC) system
By mid-2009, the Financial Accounting Standards Board (FASB) is expected to release its Accounting Standards Codification (ASC), a new, clearer indexing system that is much easier to access and research. Though the Codification does not change U.S. generally accepted accounting principles (GAAP), it does reorganize the thousands of U.S. GAAP pronouncements from difficult-to-use chronological listings and multiple series of pronouncements into a single, easily accessible source conveniently organized by topic/subject.
Arriving at just the right time, Wiley GAAP Codification Enhanced contains complete coverage of all levels of GAAP, as well as integrated cross-references to the new ASC. In addition, Wiley GAAP Codification Enhanced renders GAAP more understandable and accessible for research and is designed to reduce the amount of time and effort you spend to solve accounting research issues.
Your authoritative guide to GAAP under the new codification system, this invaluable resource makes learning the new ACS system a breeze, with at-your-fingertips information that does the work for you. Practical and reliable, Wiley GAAP Codification Enhanced is your essential tool to navigate through these new, uncharted waters.
Codification Taxonomy.
1 Researching GAAP Matters.
2 Balance Sheet.
3 Statements of Income and Comprehensive Income.
4 Statement of Cash Flows.
5 Accounting Policies, Changes, and Restatements.
6 Fair Value.
7 Cash, Receivables, and Prepaid Expenses.
8 Short-Term Investments and Financial Instruments.
9 Inventory.
10 Revenue Recognition—Evolving Principles and Specialized Applications.
Revenue Recognition—General Principles.
Long-Term Construction Contracts.
Service Revenues.
Sales When Collection Is Uncertain.
Revenue Recognition When Right of Return Exists.
Profit Recognition on Real Estate Sales.
Real Estate Operations.
Franchising: Accounting by Franchisors.
Other Special Accounting and Reporting Issues.
11 Long-Lived Assets.
12 Long-Term Investments.
13 Business Combinations and Consolidated Financial Statements.
Appendix: Standards Applicable to Pre-2009 Business Combinations.
14 Current Liabilities and Contingencies.
15 Long-Term Liabilities.
16 Leases.
17 Income Taxes.
18 Pensions and Other Postretirement Benefits.
19 Stockholders' Equity.
Appendix A: Financial Statement Presentation.
20 Earnings Per Share.
Appendix: Comprehensive Example.
21 Interim Reporting.
22 Segment Reporting.
23 Foreign Currency.
Appendix: Accounts to Be Remeasured Using Historical Exchange.
Rates.
24 Personal Financial Statements.
Appendix: Hypothetical Set of Personal Financial Statements.
25 Specialized Industry GAAP.
Banking and Thrift.
Broadcasting.
Cable Television.
Computer Software Developers.
Employee Benefit Plans, Including Pension Funds.
Finance Companies.
Government Contractors.
Insurance.
Investment Companies.
Mortgage Banking.
Motion Pictures.
Not-for-Profit Organizations.
Oil and Gas Producers.
Recording and Music.
Regulated Operations.
Title Plant.
Appendix A: Disclosure Checklist.
Appendix B: International vs. US Accounting Standards.
Index.