Wiley International Handbook of Service Learning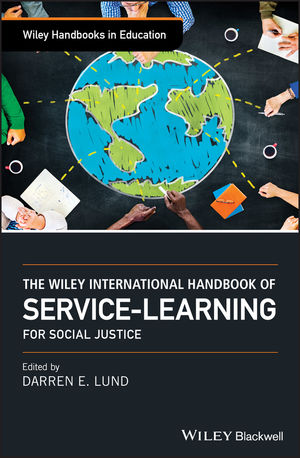 Wiley International Handbook of Service Learning
ISBN: 978-1-119-14439-7
Aug 2018, Wiley-Blackwell
536 pages
Description
A comprehensive guide to service-learning for social justice written by an international panel of experts
The Wiley International Handbook of Service-Learning for Social Justice offers a review of recent trends in social justice that have been, until recently, marginalized in the field of service-learning. The authors offer a guide for establishing and nurturing social justice in a variety of service-learning programs, and show that incorporating the principles of social justice in service-learning can empower communities to resist and disrupt oppressive power structures, and work for solidarity with host and partner communities.
With contributions from an international panel of experts, the Handbook contains a critique of the field's roots in charity; a review of the problematization of Whitenormativity, paired with the bolstering of diverse voices and perspectives; and information on the embrace of emotional elements including tension, ambiguity, and discomfort.
This important resource:
Considers the role of the community in service-learning and other community‑engaged models of education and practice
Explores the necessity of disruption and dissonance in service-learning
Discusses a number of targeted issues that often arise in service-learning contexts
Offers a practical guide to establishing and nurturing social justice at the heart of an international service-learning program
Written for advanced undergraduate students, graduate students, scholars, and educators, The Wiley International Handbook of Service-Learning for Social Justice highlights social justice as a conflict‑ridden struggle against inequality, xenophobia, and oppression, and offers practical suggestions for incorporating service-learning programs in various arenas.