Wiley Pathways E-Business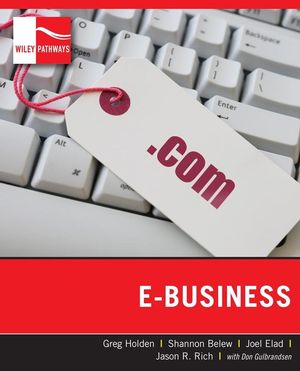 Wiley Pathways E-Business
ISBN: 978-0-470-46141-9 December 2008 480 Pages
Download Product Flyer
Download Product Flyer
Download Product Flyer is to download PDF in new tab. This is a dummy description. Download Product Flyer is to download PDF in new tab. This is a dummy description. Download Product Flyer is to download PDF in new tab. This is a dummy description. Download Product Flyer is to download PDF in new tab. This is a dummy description.
Description
For anyone thinking about starting an online business, this resource provides all the steps needed to take an idea and turn it into reality. Wiley Pathways E-Business begins by discussing the legal considerations involved in launching the business as well as tips for acquiring the necessary financing. It also delves into the techniques to follow for operating the e-business, including selecting the right products, managing inventory, creating a marketing plan, and more. The book then covers how to create a secure Web site that can track customer data.
Table of contents
Part 1 Getting Started in E-Business
Chapter 1 An Introduction to E-Business 1
Introduction 2
1.1 The History of the Internet and E-Businesses 2
1.2 The Power of Selling on the Internet 5
1.3 What Can You Sell Online 8
1.4 Popular E-Business Models 14
Chapter 2 The Law, Ethics, and Consumer Policies 23
Introduction 24
2.1 Legal Organization Options 24
2.2 Identification Numbers, Licenses, and Zoning 30
2.3 Understanding Copyrights and Trademarks 35
2.4 The Basics of Business Ethics 39
2.5 Establishing Online Policies 42
Chapter 3 Planning an E-Business 63
Introduction 64
3.1 Developing a Business Idea 64
3.2 Analyzing a Business Idea 69
3.3 Identifying a Target Market 75
3.4 The Value of a Business Plan 79
3.5 The Elements of an Effective Business Plan 83
Chapter 4 Financing and Launching an E-Business 97
Introduction 98
4.1 Launching a Business on a Tight Budget 98
4.2 Common Sources of Financing 104
4.3 Hiring Employees 112
4.4 Purchasing an Existing Web Site 116
Chapter 5 Accounting and Taxes 133
Introduction 134
5.1 The Basics of E-Business Accounting 134
5.2 Income Taxes for E-Businesses 142
5.3 Employment and Sales Taxes 145
5.4 Professional Accounting Support 148
Part 2 Operating an E-Business
Chapter 6 Online Payments and Shopping Carts 163
Introduction 164
6.1 Accepting Payments with Credit CRDS 164
6.2 Alternative Payments Options 172
6.3 An Introduction to Shopping Carts 177
6.4 Exploring Shopping Cart Solutions 182
Chapter 7 Products, Inventory, and Fulfillment 191

Introduction 192
7.1 Selecting and Pricing Products 192
7.2 Building and Managing Inventory 198
7.3 Successful Fulfillment Strategies 202
7.4 Shipping Products 209
Chapter 8 Marketing and E-Business 219
8.1 Marketing Basics: Branding and Budgeting 220
8.2 E-Business Advertising 224
8.3 Marketing to Newsgroups and Mailing Lists 230
8.4 Creative Promotional Strategies 234
Chapter 9 Effectively Using Search Engines 251
Introduction 252
9.1 An Introduction to Search Engines 252
9.2 Signing Up with Search Engines 256
9.3 <META Tags> and Keywords 264
9.4 Search-Engine Rankings 269
Chapter 10 E-Business Customer Service 279
Introduction 280
10.1 Understanding and Serving Online Customers 280
10.2 Sharing Product Information Online 288
10.3 Effectively Using Email for Customer Service 293
10.4 Advanced Customer Service Strategies 298
Part 3 Creating and Operating a Web Site
Chapter 11 Equipment, Software, and Web Hosting 307
Introduction 308
11.1 Basic Office Equipment 308
11.2 Essential Software 316
11.3 Internet Service Providers 321
11.4 Selecting a Web Host 325
Chapter 12 Successful Web Site Design 337
Introduction 338
12.1 Choosing and Registering Domain Names 338
12.2 Planning and Designing an Effective Web Site 346
12.3 Working with a Professional Web Designer 355
12.4 Launching a New Web Site 361
Chapter 13 Tracking and Analyzing Customer Data 371
Introduction 372
13.1 Assessing Web Site Traffic 372
13.2 Traffic Analysis with Software 380
13.3 Collecting Customer Information 386
13.4 Putting Customer Data to Work 392
Chapter 14 E-Business Security 401
Introduction 402
14.1 E-Commerce Risks and Security 402
14.2 Internet Security Threats 409
14.3 Security Planning 418
14.4 Advanced Topics in E-Business Security 423
Glossary 433
Index 443
Features
Learning Aids
Clear, everyday language and clean format. Students can read each chapter without being intimidated by difficult language or overwhelmed by sidebars, textboxes, and other fillers that interrupt the flow of the writing.  
Modular format.  Instructors can reorder textbook content to suit the needs of a particular class. The text proceeds logically from the basics to more challenging material, and chapters are further organized into sections that are self-contained for maximum teaching and learning flexibility. 
Pre-test. This pre-reading assessment tool in multiple-choice format  introduces chapter material and the learning outcomes. By focusing students' attention on what they do not know, the self-test provides a benchmark against which they can measure their own progress. 
What You'll Learn in this Chapterand After Studying this Chapter. These bulleted lists tell students what they will be learning in this chapter and why it is significant. "What You'll Learn…" lists focus on subject matter that will be taught. Each bullet in the list corresponds to a chapter section.  "After Studying This Chapter…" lists emphasize capabilities and skills students will learn.
Goals and Outcomes. These lists identify specific learner capabilities that will result from reading the chapter.  They set students up to synthesize and evaluate the chapter material, and relate it to the real world. 
"For Example" Boxes. Found within each section, these boxes tie section content to real-world organizations, scenarios, and applications.
Figures and tables. Line art and photos have been carefully chosen to be truly instructional rather than filler. Tables distill and present information in a way that is easy to identify, access, and understand, enhancing the focus of the text on essential ideas without distracting or overwhelming the reader.     
Self-Check. Related to the "What You'll Learn" bullets and found at the end of each section, this battery of short answer questions emphasizes student understanding of concepts and mastery of section content. Each Self-Check question set includes a link to a section of the pre-test for further review and practice.
Key Terms and Glossary. To help students develop a professional vocabulary, key terms are bolded in the introduction, summary and when they first appear in the chapter.  A complete list of key terms with brief definitions appears at the end of each chapter and again in a glossary at the end of the book.  Knowledge of key terms is assessed by all assessment tools (see below). 
Summary. Each chapter concludes with a summary paragraph that reviews the major concepts in the chapter and links back to the "What You'll Learn" list. 
Evaluation and Assessment Tools
Summary Questions. These help students summarize the chapter's main points by asking a series of multiple choice and true/false questions that emphasize student understanding of concepts and mastery of chapter content. 
Review Questions. In short answer format, these questions review the major points in each chapter, prompting analysis while reinforcing and confirming student understanding of concepts, and encouraging mastery of chapter content. 
Applying this Chapter Questions. This feature is used to drive home key ideas by asking students to synthesize and apply chapter concepts to new, real-life situations and scenarios.
You Try It! Questions.   Designed to extend students' thinking, these questions are ideal for discussion or writing assignments.  Using an open-ended format and sometimes based on Web sources, they encourage students to draw conclusions using chapter material applied to real-world situations, which fosters both mastery and independent learning. 
Post-test.   After students have completed the chapter they have the ability to take a post test. It includes all of the questions in the pre-test, so that students can see how their learning has progressed and improved.