Wiley Pathways Introduction to Homeland Security: Understanding Terrorism With an Emergency Management Perspective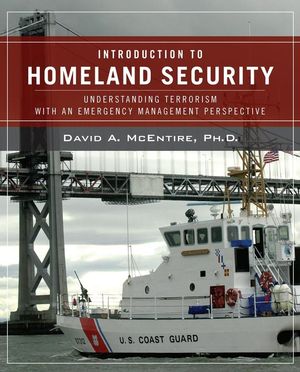 Wiley Pathways Introduction to Homeland Security: Understanding Terrorism With an Emergency Management Perspective
ISBN: 978-0-470-46579-0
Dec 2008
368 pages
Description
Readers need to be aware more than ever before of the increased number of threats this country faces. Introduction to Homeland Security: Understanding Terrorism with an Emergency Management Perspective provides important and up-to-date information about terrorism, terrorist behavior, homeland security policies and dilemmas, and how to deal effectively with threats and the consequences of attacks. This book provides a foundation that spans the readily apparent chasm between the disaster and homeland security communities. Its focus on terrorism may help to educate those who do not yet understand the need to prepare for this significant threat. Its concentration on emergency management will remind homeland security officials that reinventing of the wheel is not only unnecessary, but problematic. Introduction to Homeland Security will be useful to scholars, students, and practitioners interested or involved in homeland security and emergency management.
1. Understanding a New National priority: 9/11, Homeland Security, and Emergency Management 1
2. Identifying Terrorism: Ideologically Motivated Acts of Violence 25
3. Recognizing the Causes of Terrorism: Differing Perspectives and the Role of Ideology 41
4. Comprehending Terrorists and Their Behavior: Who They are and What They Do 63
5. Uncovering the Dynamic Nature of Terrorism: History and Change over Time 87
6. Evaluating a Major Dilemma: Terrorism, the Media, and Censorship 107
7. Contemplating a Quandary: Terrorism, Security, andLiberty 125
8. Preventing Terrorist Attacks: Root Causes, Law, Intelligence, Counter-terrorism, and  Border Control 141
9. Protecting against Potential Attacks: Threat Assessment and Security Enhancement 177
10. Preparing for the Unthinkable: Readiness for Terrorism 201
11. Responding to Attacks: Important Functions and Coordination Mechanisms 229
12. Recovering from Impacts: Short-term and Long-term Measures 257
13. Looking toward the Future: Forthcoming Challenges and Opportunities 281
Glossary 315
Index 327
Learning Aids
Clear, everyday language and clean format. Students can read each chapter without being intimidated by difficult language or overwhelmed by sidebars, textboxes, and other fillers that interrupt the flow of the writing.  
Modular format.  Instructors can reorder textbook content to suit the needs of a particular class. The text proceeds logically from the basics to more challenging material, and chapters are further organized into sections that are self-contained for maximum teaching and learning flexibility. 
Pre-test. This pre-reading assessment tool in multiple-choice format  introduces chapter material and the learning outcomes. By focusing students' attention on what they do not know, the self-test provides a benchmark against which they can measure their own progress. 
What You'll Learn in this Chapterand After Studying this Chapter. These bulleted lists tell students what they will be learning in this chapter and why it is significant. "What You'll Learn…" lists focus on subject matter that will be taught. Each bullet in the list corresponds to a chapter section.  "After Studying This Chapter…" lists emphasize capabilities and skills students will learn.
Goals and Outcomes. These lists identify specific learner capabilities that will result from reading the chapter.  They set students up to synthesize and evaluate the chapter material, and relate it to the real world. 
"For Example" Boxes. Found within each section, these boxes tie section content to real-world organizations, scenarios, and applications.
Figures and tables. Line art and photos have been carefully chosen to be truly instructional rather than filler. Tables distill and present information in a way that is easy to identify, access, and understand, enhancing the focus of the text on essential ideas without distracting or overwhelming the reader.     
Self-Check. Related to the "What You'll Learn" bullets and found at the end of each section, this battery of short answer questions emphasizes student understanding of concepts and mastery of section content. Each Self-Check question set includes a link to a section of the pre-test for further review and practice.
Key Terms and Glossary. To help students develop a professional vocabulary, key terms are bolded in the introduction, summary and when they first appear in the chapter.  A complete list of key terms with brief definitions appears at the end of each chapter and again in a glossary at the end of the book.  Knowledge of key terms is assessed by all assessment tools (see below). 
Summary. Each chapter concludes with a summary paragraph that reviews the major concepts in the chapter and links back to the "What You'll Learn" list. 
Evaluation and Assessment Tools
Summary Questions. These help students summarize the chapter's main points by asking a series of multiple choice and true/false questions that emphasize student understanding of concepts and mastery of chapter content. 
Review Questions. In short answer format, these questions review the major points in each chapter, prompting analysis while reinforcing and confirming student understanding of concepts, and encouraging mastery of chapter content. 
Applying this Chapter Questions. This feature is used to drive home key ideas by asking students to synthesize and apply chapter concepts to new, real-life situations and scenarios.
You Try It! Questions.   Designed to extend students' thinking, these questions are ideal for discussion or writing assignments.  Using an open-ended format and sometimes based on Web sources, they encourage students to draw conclusions using chapter material applied to real-world situations, which fosters both mastery and independent learning. 
Post-test.   After students have completed the chapter they have the ability to take a post test. It includes all of the questions in the pre-test, so that students can see how their learning has progressed and improved.