Wiley Pathways Personal Finance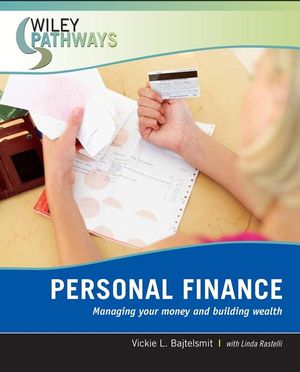 Wiley Pathways Personal Finance
ISBN: 978-0-470-47730-4 January 2009 528 Pages
Description
Whether looking to create and adhere to a budget or trying to best utilize consumer credit and loans, Personal Finance will help readers make smart financial decisions throughout their lives. Guiding them all the way through to retirement, this book includes numerous real-world examples to easily show them how to apply the material. They'll gain a strong understanding of critical financial concepts as they better learn how to manage their finances properly.
Table of contents
Part I: The Personal Financial Planning Process 1
1 Personal Financial Planning in Action 1
2 Money Management Strategies and Skills 22
3 Managing Your Taxes 42
Part II: Managing Your Personal Finances 75
4 Managing Your Cash and Savings 75
5 Consumer Credit 106
6 Using Consumer Loans 134
7 Making Automobile and Housing Decisions 158
Part III: Protecting Yourself with Insurance 190
8 Insuring Your Home and Automobile 190
9 Health and Disability Insurance 218
10 Financial Planning with Life Insurance 247
Part IV: Managing Your Investments and Your Future 278
11 Investment Basics 278
12 Investing in Stocks and Bonds 307
13 Investing in Mutual Funds 351
14 Planning for Retirement 380
15 Preserving Your Estate 404
Endnotes 432
Appendix 433
Glossary 455
Index 478
Features
Pre-test: Pre-reading assessment tool in multiple-choice format. Introduces chapter material and helps students get an idea of what they know and where they need to focus their efforts.