Wiley Pathways Small Business Management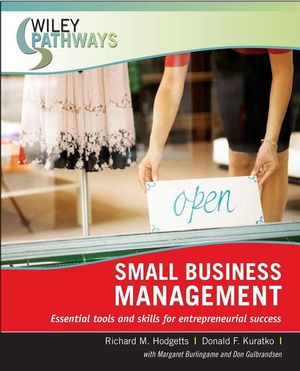 Wiley Pathways Small Business Management
ISBN: 978-0-470-11126-0
Mar 2007
580 pages
Description
In order to become a successful entrepreneur, one has to have a clear understanding of how to effectively manage a small business. This valuable introduction shows budding entrepreneurs how to launch and run their own firm. In addition to explaining the value and appeal of small businesses, it offers a variety of essential start-up lessons, including how to write a business plan, obtain financing, and choose a legal form for any venture.
1. An Introduction to the Small Business Life.
2. Small Business Opportunities.
3. The Family-Owned Business.
4. Developing a Business Plan.
5. Sources of Financing.
6. Forms of Small Business Ownership.
7. The Basics of Small Business Management.
8. Legal Concerns of Small Businesses.
9. Managing Human Resources in a Small Business Environment.
10. Understanding Markets and Pricing.
11. Promotion and Selling.
12. E-Commerce and the Small Business Owner.
13. Using Financial Statements.
14. Budgeting and Taxes.
15. Purchasing and Inventory Control.
Pre-test: Pre-reading assessment tool in multiple-choice format. Introduces chapter material and helps students get an idea of what they know and where they need to focus their efforts
What You ll Learn in this Chapter and After Studying this Chapter: Presents the subject matter that the student will learn and emphasizes capabilities and skills students will build.
Goals and Outcomes. These lists identify specific student capabilities that will result from reading the chapter. They help the student set expectations and show them what to reach for
Figures and tables. Line art and photos are carefully chosen to be instructional. Tables distill and present information clearly so students can focus on the essential ideas.
Introduction. This section orients the student by introducing the chapter and explaining its importance. Short summaries of chapter sections preview the topics to follow.
Chapters. Each chapter is broken down into an average of four or five concise sections. A short assessment is provided at the end of each section.
For Example Boxes: Found within each segment, a real world example is anchored to each section that illustrates and applies the preceding content.
Self-Check: Short answer questions at the end of the chapter let students know if they ve mastered the content. Each question set includes a link to a section of the pre-test for further review.
Summary: Each chapter concludes with a summary paragraph that captures and reviews the major concepts in the chapter and links back to the What you ll learn list.
Key Terms and Glossary: A convenient list of all terms that appear in boldfaced throughout the chapter are listed at the end of the chapter and in the glossary.
Summary Questions help students summarize the chapter s main points by asking a series of multiple choice and true/false questions that emphasize how well they understand the concepts and content.
Review Questions in short answer format review the major points in each chapter. It encourages critical thinking skills while reinforcing and confirming that the concepts and content are understood.
Applying this Chapter Questions drive home key ideas by asking students to combine and apply chapter concepts to new, real-life situations and scenarios.
You Try It! Questions encourage students to draw conclusions using chapter material applied to real-world situations, which promotes both mastery of the content and independent learning.
Post-test should be taken after students have completed the chapter. It includes all of the questions in the pre-test, so that students can see how their learning has progressed and improved.