Wiley Registry 11th Edition / NIST 2014 Mass Spectral Library (DVD)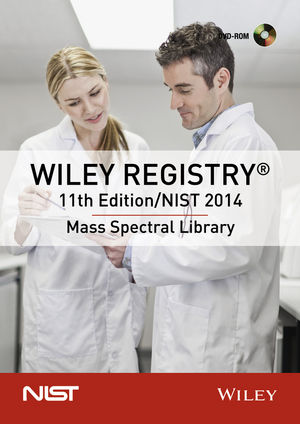 Wiley Registry 11th Edition / NIST 2014 Mass Spectral Library (DVD)
ISBN: 978-1-119-28422-2
May 2016
Product not available for purchase
Description
Largest Combined Library with over 1.2 million EI and LC-MSn Mass Spectra

Each year analytical laboratories face increasingly diverse demands – ranging from identification of general unknowns to deformulation. The Wiley Registry 11th Edition/NIST 2014 provides an essential tool for general unknown identification in analytes ranging from aerosols and VOCs to complex biologicals and organics. Single ion monitoring or even specialized library searches leave out some or all compounds present in the sample of interest.

This new edition contains over 1.2 million EI mass spectra, 943,000 searchable chemical structures, 707,000 compounds in the EI library, 45,000 searchable ions in the MS/MS library, and 234,000 MS/MS spectra – making it the most comprehensive combined mass spectral library ever offered. Replicate spectra, over 3 million chemical names and synonyms, as well as retention, chemical formulas, accurate masses provide users with additional search strategies to enable correct identification, aiding classical EI, exact mass, and other identification approaches.
The Wiley Registry/NIST is consistently the most important tool available to the modern laboratory for the identification of global unknowns. Its breadth and scope guarantees the highest likelihood of identifying global unknown compounds. Containing the complete de-duplicated Wiley Registry 11th Edition and the latest 2014 update of the complete NIST EI and MSMS libraries, the Wiley Registry/NIST combination library provides the most up-to-date software and spectra available. The Wiley Registry 11th Edition/NIST 2014 EI library contains over 1.2 million mass spectra collected by Dr. Fred McLafferty, the NIST Mass Spectrometry Data Center, and Wiley Research Innovations.

This package contains the recently improved NIST MS Search software, including significant improvements in LC-MSMS, retention time handling, exact mass searching and search constraints.

The Wiley Registry 11th Edition/NIST 2014 contains:
Total Mass Spectra: > 1.2 million
Total Chemical Structures: 943,000
Total Unique EI Compounds: 707,501
Total MS/MS ions: 45,298
Main W11/N14 Library is comprised of 947,134 mass spectra
Replicates W11/N14 Library is comprised of 23, 772 mass spectra
Removed W11/N14 Library is comprised of 6,653 mass spectra
NIST 14 MS/MS Library is comprised of 234,284 mass spectra
The DVD contains the Wiley/NIST library in the following formats: Agilent Chemstation/Masshunter, NIST MS Search, Bruker, Thermo XCalibur, Shimadzu GCMS Solution, PerkinElmer Turbomass, Waters Masslynx
Compound coverage verification for this and other spectral and chemical databases is freely available at Compound Search