Wiley Series 10 Exam Review 2013 + Test Bank: The General Securities Sales Supervisor Qualification Examination – General Module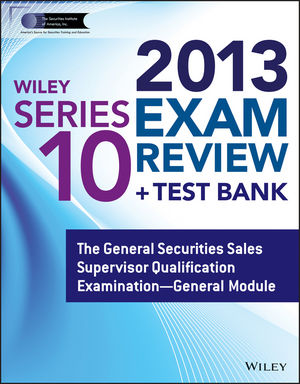 Description
The go-to guide to acing the Series 10 Exam!
Passing the General Securities Sales Supervisor Qualification Exam (Series 9 and 10) qualifies an individual to supervise sales activities in corporate, municipal, and option securities; investment company products; variable contracts; and direct participation programs. The exam covers hiring, qualification, and continuing education; supervision of accounts and sales activities; conduct of associated persons; recordkeeping requirements; and municipal securities regulation. All candidates must have passed the Series 7 Exam before taking the Series 10.
Created by the experts at The Securities Institute of America, Inc., Wiley Series 10 Exam Review 2013 arms you with everything you need to pass this four-hour, 145-question test. Designed tohelp you build and fine-tune your knowledge of all areas covered in the exam and to guarantee thatyou're prepared mentally and strategically to take the test, it provides:
Dozens of examples
Assorted practice questions for each subject area covered in the exam
Priceless test-taking tips and strategies
Helpful hints on how to study for the test, manage stress, and stay focused Wiley Series 10 Exam Review 2013 is your ticket to passing the Series 10 test on the first try—with flying colors!
Visit www.wileysecuritieslicensing.com for more information.


The Securities Institute of America, Inc. helps thousands of securities and insurance professionals build successful careers in the financial services industry every year. Our securities training options include:
Onsite classes
Private tutoring
Classroom training
Interactive online video training classes
State-of-the-art exam preparation software
Printed textbooks
Real-time tracking and reporting for managers and training directors
As a result, you can choose a securities training solution that matches your skill level, learning style, and schedule. Regardless of the format you choose, you can be sure that our securities training courses are relevant, tested, and designed to help you succeed. It is the experience of our instructors and the quality of our materials that make our courses requested by name at some of the largest financial services firms in the world.
To contact The Securities Institute of America, visit us on the web at www.SecuritiesCE.com or call 877-218-1776.
ABOUT THE SERIES 10 EXAM xi
ABOUT THIS BOOK xv
ABOUT THE TEST BANK xvii
ABOUT THE SECURITIES INSTITUTE OF AMERICA xix
CHAPTER 1
SUPERVISION OF BROKERAGE OFFICE PERSONNEL AND PROCEDURES 1
Hiring New Employees 1
Resignation of a Registered Representative 2
Registration Exemptions 3
Retiring Representatives/Continuing Commissions 4
Persons Ineligible to Register 4
Disciplinary Actions Against a Registered Representative 5
Termination for Cause 6
Outside Employment 6
Private Securities Transactions 6
Gift Rule 7
Communications with the Public 8
FINRA Rule 2210 Communications with the Public 9
Broker Dealer Websites 11
Sharing in a Customer's Account 12
Borrowing and Lending Money 12
Order Tickets 13
Executing an Order 13
Becoming a Stockholder 15
Accrued Interest 19
Close Outs 19
Customer Confirmations 20
Rules for Good Delivery 21
Rejection of Delivery 22
Reclamation 22
Marking to the Market 23
Customer Account Statements 23
Carrying of Customer Accounts 24
Dividend Distribution 24
Proxies 27
Box Counts 27
Missing and Lost Securities 28
The Customer Protection Rule 29
Broker Dealer Books and Records 30
Pretest 35
CHAPTER 2
GENERAL SUPERVISION AND CUSTOMER RECOMMENDATIONS 39
The Role of the Principal 39
Supervisor Qualifi cations and Prerequisites 40
Continuing Education 41
Tape Recording Employees 43
Information Obtained from an Issuer 43
Customer Complaints 44
Mediation 44
Code of Arbitration 45
Investor Information 47
Member Offices 47
Recommendations to Customers 50
Research Reports 55
Regulation FD (Fair Disclosure) 58
The Insider Trading & Securities Fraud Enforcement Act of 1988 58
Firewall 59
Pretest 61
CHAPTER 3
SUPERVISION OF CUSTOMER ACCOUNTS 63
Opening a New Account 63
Holding Securities 65
The Depository Trust Company (DTC) 66
Mailing Instructions 67
Types of Accounts 67
Trading Authorization 70
Retirement Plans 74
Accounts for Employees of Other Broker Dealers 87
Numbered Accounts 88
Prime Brokerage Accounts 88
Account Transfers 89
Margin Accounts 90
Special Memorandum Account (SMA) for a Long Margin Account 97
Wrap Accounts 107
Regulation S-P 107
Currency Transactions 108
The Patriot Act 108
Isolated Sales Account 110
Securities Investor Protection Corporation Act of 1970 (SIPC) 110
The Penny Stock Cold Call Rule 111
Pretest 113
CHAPTER 4
SALES SUPERVISION OF NEW ISSUES 117
The Securities Act of 1933 117
Freeriding and Withholding/FINRA Rule 5130 120
Underwriting Corporate Securities 121
Exempt Securities 125
Exempt Transactions 126
Rule 137 Nonparticipants 131
Rule 138 Nonequivalent Securities 132
Rule 139 Issuing Research Reports 132
Rule 415 Shelf Registration 132
Regulation M, Rule 104 133
Underwriting Direct Participation Programs 135
Investment Company Registration 135
Mutual Fund Distribution 136
Pretest 143
CHAPTER 5
SUPERVISION OF THE SECONDARY MARKET 147
The Securities Exchange Act of 1934 147
Listing Requirements for the NYSE 152
Types of Orders 155
The Exchanges 158
The Nasdaq Market 170
Pink Sheets 182
Trade Reporting and Comparison Service (TRACS) 182
Advanced Computerized Execution System (ACES) 182
The Order Audit Trail System (OATS) 183
Electronic Communication Networks (ECNs) 183
Third Market 184
Nasdaq Market Center for Listed Securities 184
Fourth Market 185
SEC Regulation ATS 185
FINRA 5% Markup Policy 186
Markups and Markdowns When Acting as a Principal 187
Riskless Principal Transactions 188
Proceeds Transactions 188
Dominated and Controlled Markets 188
ACT/TRF Trade Scan 189
Pretest 193
CHAPTER 6
MSRB RULES AND REGULATIONS 197
Municipal Bonds 197
Issuing Municipal Securities 198
Municipal Fund Securities 209
Municipal Bond Trading 210
Recommending Municipal Bonds 214
Municipal Bond Advertising 214
Municipal Bond Insurance 215
Political Contributions 215
Registration Requirements for Municipal Securities Professionals 217
MSRB Overview 218
Pretest 223
ANSWER KEYS 227
GLOSSARY OF EXAM TERMS 233
INDEX 299