Wiley Series 24 Exam Review 2013 + Test Bank: The General Securities Principal Qualification Examination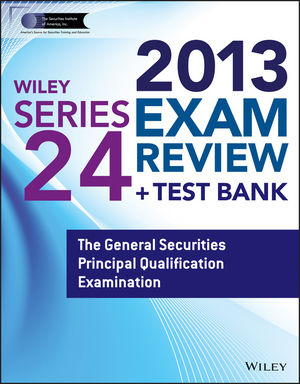 Description
The FINRA General Securities Principal Qualification Examination (Series 24) is designed to test a candidate's knowledge of the rules and statutory provisions applicable to the management of a general securities broker-dealer. It qualifies a principal to supervise and manage a firm and its agents, conducting a general securities business.
 Each book is accompanied by an online test bank with 145 questions, organized by chapter. The questions included in the book have been included in this online test bank
Topics Covered:

Supervision of Investment Banking, Underwriting & Research
Supervision of Trading and Market Making
Supervision of Brokerage Office Operations
Sales Supervision & General Supervision of Employees
Compliance with Financial Responsibility Rules

Test: 150 questions; three hours and 30 minutes; candidate must answer 70% of questions correctly to pass.

Pre-requisites: A general securities principal must have passed the Series 62 or Series 7 exam prior to taking the Series 24 exam. All candidates must be sponsored by a FINRA member firm to take the series 24 exam.
ABOUT THE SERIES 24 EXAM XIX
ABOUT THIS BOOK XXIII
ABOUT THE TEST BANK XXIV
ABOUT THE SECURITIES INSTITUTE OF AMERICA XXV
CHAPTER 1 BROKERAGE OFFICE PROCEDURES 1
Hiring New Employees 1
Resignation of a Registered Representative 2
Registration Exemptions 3
Persons Ineligible to Register 3
Disciplinary Actions Against a Registered Representative 4
Termination for Cause 5
Outside Employment 5
Private Securities Transactions 5
Gift Rule 6
Sharing in a Customer's Account 7
Borrowing and Lending Money 7
Order Tickets 7
Executing an Order 8
Becoming a Stockholder 9
Violation 10
Clearly Erroneous Reports 10
Execution Errors 11
Corporate and Municipal Securities Settlement Options 11
When-Issued Securities 12
Government Securities Settlement Options 12
Accrued Interest 13
Close Outs 14
Customer Confirmations 15
Rules for Good Delivery 16
Rejection of Delivery 17
Reclamation 17
Marking to the Market 17
Customer Account Statements 18
Carrying of Customer Accounts 18
Dividend Distribution 19
Pretest 23
CHAPTER 2 RECORD KEEPING, FINANCIAL REQUIREMENTS, AND REPORTING 27
Blotters 27
General Ledger 28
Customer Accounts 28
Subsidiary (Secondary) Records 28
Securities Position Book (Ledger) Stock Record 29
Order Tickets 29
Confirmations and Notices 29
Monthly Trial Balances and Net Capital Computations 29
Employment Applications 29
Records Required to Be Maintained for Three Years 30
Records Required to Be Maintained for Six Years 30
Records Required to Be Maintained for the Life of the Firm 30
Requirement to Prepare and Maintain Records Under SEC 17a-3 and 17a-4 32
Financial Requirements 32
Aggregate Indebtedness 35
Haircuts 36
Box Counts 37
Missing and Lost Securities 37
The Customer Protection Rule 39
The Early Warning Rule 41
FINRA Financial Requirements 43
Subordinated Loans 43
Temporary Subordination Agreements 45
Fidelity Bonds 45
Pretest 47
CHAPTER 3 ISSUING CORPORATE SECURITIES 53
The Prospectus 54
The Final Prospectus 55
Providing the Prospectus to Aftermarket Purchasers 55
SEC Disclaimer 56
Misrepresentations 56
Tombstone Ads 56
Free Riding and Withholding/FINRA Rule 5130 57
Underwriting Corporate Securities 58
Types of Underwriting Commitments 59
Types of Offerings 60
Awarding the Issue 61
The Underwriting Syndicate 61
Selling Group 62
Underwriter's Compensation 62
Underwriting Spread 63
Factors That Determine the Size of the Underwriting Spread 63
Review of Underwriting Agreements by FINRA 64
Underwriter's Compensation 64
Exempt Securities 65
Exempt Transactions 66
Rule 137 Nonparticipants 72
Rule 138 Nonequivalent Securities 72
Rule 139 Issuing Research Reports 72
Rule 415 Shelf Registration 73
Securities Off ering Reform Rules 73
SEC Rule 405 74
Pretest 77
CHAPTER 4 TRADING SECURITIES 81
Types of Orders 81
The Exchanges 85
Priority of Exchange Orders 85
The Role of the Specialist/DMM 85
Crossing Stock 88
Do Not Reduce (DNR) 89
Adjustments for Stock Splits 89
Stopping Stock 90
Commission House Broker 91
Two-Dollar Broker 91
Registered Traders 91
Super Display Book (SDBK) 91
Short Sales 92
Affirmative Determination 92
Regulation SHO 93
Rule 200 Definitions and Order Marking 93
Rule 203 Security Borrowing and Delivery Requirements 94
Threshold Securities 95
Block Trades 96
Trading Along 97
Circuit Breakers 97
Listing Requirements for the NYSE 98
Reading the Consolidated Tape 98
Exchange Qualifi ers 100
Over-the-Counter/Nasdaq 100
Market Centers 111
SEC Regulation NMS 112
SEC Regulation ATS 112
Nasdaq International 113
Non-Nasdaq OTCBB 114
Pink Sheets 114
Third Market 115
Nasdaq Market Center for Listed Securities 115
Fourth Market 115
Nasdaq Listing Standards 116
Market Maker Regulations and Responsibilities 117
Times for Entering a Quote 117
Withdrawing Quotes 119
Handling and Displaying Customer Limit Orders 120
The Order Audit Trail System (OATS) 122
The Manning Rule 123
Automated Confi rmation System (ACT)/Trade Reporting Facility (TRF) 124
ACT Trade Scan 124
Nasdaq Trade Reporting Facility (TRF) 125
Step Out Trades 128
Market Making During Syndication 129
Regulation M, Rule 101 129
Penalty Bids 130
Regulation M, Rule 102 130
Regulation M, Rule 103 130
Passive Market Makers' Daily Purchase Limit 131
Regulation M, Rule 104 131
Syndicate Short Positions 133
Regulation M, Rule 105 133
Trade Reporting and Compliance Engine (TRACE) 133
Broker vs. Dealer 135
FINRA 5 Percent Markup Policy 136
Markups/Markdowns When Acting as a Principal 137
Riskless Principal Transactions 138
Proceeds Transactions 138
Firm Quote Rule 138
Trade Complaints Between Members 139
Arbitrage 140
Pretest 141
CHAPTER 5 RECOMMENDATIONS TO CUSTOMERS 147
Investment Objectives 148
Capital Asset Pricing Model (CAPM) 150
Risk vs. Reward 150
Alpha 152
Beta 153
Developing the Client Profile 153
Professional Conduct when Making Recommendations 154
Recommending Mutual Funds 155
Periodic Payment Plans 156
Mutual Fund Current Yield 156
Fair Dealings with Customers 156
Recommendations to an Institutional Customer 160
Short Sales in Connection with Recommendations 161
Issuing Research Reports 161
Regulation FD 164
Pretest 165
CHAPTER 6 GENERAL SUPERVISION 169
The Role of the Principal 169
Supervisor Qualifications and Prerequisites 170
Continuing Education 171
Tape Recording Employees 172
Information Obtained from an Issuer 173
Customer Complaints 173
Investor Information 174
Member Offices 174
Annual Compliance Review 176
Business Continuity Plan 176
Currency Transactions 176
The Patriot Act 177
U.S. Accounts 177
Foreign Accounts 178
Pretest 179
CHAPTER 7 CUSTOMER ACCOUNTS 183
Holding Securities 185
The Depository Trust Company (DTC) 186
Mailing Instructions 187
Individual Account 187
Joint Account 187
Joint Tenants with Rights of Survivorship (JTWROS) 187
Joint Tenants in Common (JTIC) 188
Transfer on Death (TOD) 188
Death of a Customer 188
Corporate Accounts 189
Trust Accounts 189
Partnership Accounts 189
Trading Authorization 190
Operating a Discretionary Account 190
Managing Discretionary Accounts 191
Third-Party and Fiduciary Accounts 191
Uniform Gifts to Minors Act (UGMA) 192
Accounts for Employees of Other Broker Dealers 194
Numbered Accounts 195
Prime Brokerage Accounts 195
Account Transfer 195
Margin Accounts 196
Guaranteeing a Customer's Account 198
Day Trading Accounts 198
Commingling Customer's Pledged Securities 199
Wrap Accounts 199
Regulation S-P 199
Pretest 201
CHAPTER 8 MARGIN ACCOUNTS 205
Regulation of Credit 205
House Rules 208
Establishing a Long Position in a Margin Account 208
An Increase in the Long Market Value 209
Special Memorandum Account (SMA) Long Margin Account 211
A Decrease in the Long Market Value 212
The Minimum Equity Requirement for Long Margin Accounts 213
Establishing a Short Position in a Margin Account 214
A Decrease in the Short Market Value 215
An Increase in the Short Market Value 216
The Minimum Equity Requirement for Short Margin Accounts 217
Margin Requirements for Day Trading 218
Combined Margin Accounts 219
Portfolio Margin Accounts 220
Pretest 221
CHAPTER 9 INVESTMENT COMPANIES 225
Investment Company Philosophy 225
Types of Investment Companies 226
Open-End vs. Closed-End Funds 227
Exchange-Traded Funds (ETFs) 228
Exchange Traded Notes (ETNs) 228
Diversified vs. Nondiversified 229
Investment Company Registration 230
Registration Requirements 230
Investment Company Components 232
Mutual Fund Distribution 234
Selling Group Member 235
Distribution of No-Load Mutual Fund Shares 235
Distribution of Mutual Fund Shares 235
Mutual Fund Prospectus 235
Additional Disclosures by a Mutual Fund 237
Anti-Reciprocal Rule 237
Money Market Funds 238
Valuing Mutual Fund Shares 238
Changes in the NAV 239
Sales Charges for Open-End Funds 240
Sales Charges for Closed-End Funds 240
Front-End Loads 240
Back-End Loads 241
Other Types of Sales Charges 241
12B-1 Fees 241
Calculating a Mutual Fund's Sales Charge Percentage 242
Finding the Public Off ering Price 243
Sales Charge Reductions 243
Breakpoint Schedule 244
Letter of Intent 244
Breakpoint Sales 245
Rights of Accumulation 245
Automatic Reinvestment of Distributions 246
Combination Privileges 246
Conversion or Exchange Privileges 247
30-Day Emergency Withdrawal 247
Voting Rights 248
Yields 248
Portfolio Turnover 248
Voluntary Accumulation Plans 249
Dollar Cost Averaging 249
Contractual Accumulation Plans 250
Pretest 253
CHAPTER 10 VARIABLE ANNUITIES AND RETIREMENT PLANS 257
Annuities 257
Annuity Purchase Options 261
Accumulation Units 261
Annuity Units 262
Annuity Payout Options 262
Factors Affecting the Size of the Annuity Payment 263
Taxation 264
Sales Charges 264
Variable Annuity vs. Mutual Fund 265
Retirement Plans 265
Individual Plans 265
Individual Retirement Accounts (IRAs) 266
Keogh Plans (HR-10) 270
Tax-Sheltered Annuities (TSAs) and Tax-Deferred Accounts (TDAs) 271
Corporate Plans 273
Employee Stock Ownership Plans (ESOPs) 275
Profit Sharing Plans 275
401(k)s and Thrift Plans 276
Rolling Over a Pension Plan 276
Employee Retirement Income Security Act of 1974 (ERISA) 276
Pretest 279
CHAPTER 11 SECURITIES INDUSTRY RULES AND REGULATIONS 283
The Securities Exchange Act of 1934 283
The Securities and Exchange Commission (SEC) 284
Extension of Credit 285
Trading Suspensions 285
Issuers Repurchasing Their Own Securities 285
Tender Offers 287
Stockholders Owning 5 Percent of An Issuer's Equity Securities 288
The National Association of Securities Dealers (NASD) 288
Becoming a Member of FINRA 290
Foreign Broker Dealers 292
Registration of Agents/Associated Persons 292
Retiring Representatives/Continuing Commissions 293
State Registration 293
Retail Communications/Communications with the Public 293
FINRA Rule 2210 Communications with the Public 294
Broker Dealer Websites 296
Blind Recruiting Ads 297
Generic Advertising 297
Tombstone Ads 298
Testimonials 298
Free Services 299
Misleading Communications 299
Securities Investor Protection Corporation Act of 1970 299
Customer Coverage 300
The Securities Acts Amendments of 1975 300
The Insider Trading and Securities Fraud Enforcement Act of 1988 300
Firewall 301
The Telephone Consumer Protection Act of 1991 302
The Penny Stock Cold Call Rule 302
Violations and Complaints 303
Resolution of Allegations 304
Minor Rule Violation 304
Electronic Blue Sheets 305
Mediation 305
Code of Arbitration 306
The Arbitration Process 306
Political Contributions 308
Investment Adviser Registration 309
Investment Adviser Representative 309
The National Securities Market Improvement Act of 1996 310
Investment Adviser Registration 311
Investment Adviser Capital Requirements 311
Exams for Investment Advisers 311
Investment Adviser Advertising and Sales Literature 312
Investment Adviser Brochure Delivery 313
Soft Dollars 313
Broker Dealers on the Premises of Other Financial Institutions 314
The Uniform Securities Act 315
Sarbanes-Oxley Act 316
SEC Regulation S-K 317
SEC Regulation M-A 318
The Hart-Scott-Rodino Act 319
FINRA Rule 2290 (Fairness Opinion) 320
SEC Regulation S-X 320
Pretest 323
ANSWER KEYS 329
GLOSSARY OF EXAM TERMS 339
INDEX 405