Wiley Series 6 Exam Review 2013 + Test Bank: The Investment Company Products/Variable Contracts Limited Representative Examination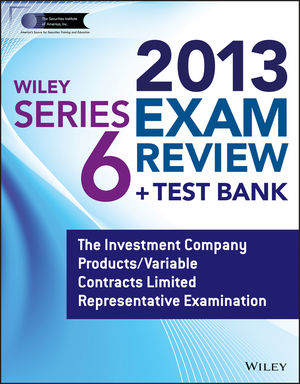 Description
The Investment Company Products/Variable Contracts Limited Representative exam, or the Series 6, qualifies an individual who will function as a principal for the solicitation, purchase, and/or sale of redeemable securities of companies registered pursuant to the Investment Company Act of 1940; securities of closed-end companies registered pursuant to the Investment Company Act of 1940 during the period of original distribution only; and variable contracts and insurance premium funding programs and other contracts issued by an insurance company. This qualification allows transactions on the following: Mutual funds (closed-end funds on the initial offering only); variable annuities; variable life insurance; unit investment trusts; municipal fund securities (e.g., 529 College Savings Plans, Local Government Investment Pools (LGIPs), Coverdell Education Savings Accounts). A Series 6 Registered Representative may conduct business in mutual funds and variable contracts. Each book is accompanied by an online test bank with 201 questions, organized by chapter. The questions included in the book have been included in this online test bank.

Topics Covered:

Securities Markets, Investment Securities and Economic Factors
Securities and Tax Regulation
Marketing, Prospecting and Sales Presentation
Evaluation of Customers
Product Information; Investment Company Securities and Variable Contracts
Opening and Servicing Customer Accounts

Test: 100 multiple-choice questions; Two hours and fifteen minutes to complete exam; Candidate must answer 70% of the questions correctly to pass.

There are no pre-requisites to take the Series 6 exam, but candidates must be sponsored by a FINRA member firm.
ABOUT THE SERIES 6 EXAM XV
ABOUT THIS BOOK XIX
ABOUT THE TEST BANK XXI
ABOUT THE SECURITIES INSTITUTE OF AMERICA XXIII
CHAPTER 1
SECURITIES MARKETS, INVESTMENT RISKS, AND POLICIES 1
What Is a Security? 1
Equity = Stock 2
Debt = Bonds 2
Capitalization 2
The Balance Sheet Equation 3
Common Stock 3
Corporate Time Line 3
Values of Common Stock 5
Rights of Common Stockholders 5
Why Do People Buy Common Stock? 8
What Are the Risks of Owning Common Stock? 9
How Does Someone Become a Stockholder? 9
Preferred Stock 11
Features of Preferred Stock 11
Types of Preferred Stock 12
Types of Dividends 14
Dividend Distribution 15
Taxation of Dividends 17
Selling Dividends 17
Dividend Disbursement Process 17
Rights 17
Possible Outcomes for a Right 18
Standby Underwriting 19
Warrants 19
How Do People Get Warrants? 19
Possible Outcomes of a Warrant 20
Options 20
Calls 20
Puts 21
Bullish vs. Bearish 21
Characteristics of All Options 22
Exercise Price 22
Buyer vs. Seller 22
Possible Outcomes for an Option 22
American Depositary Receipts/American Depositary Shares 23
Currency Risks 23
Securities Markets 23
The Exchanges 24
Over the Counter/Nasdaq 24
Market Makers 24
Third Market 25
Fourth Market 25
Broker vs. Dealer 25
Debt Securities/Bonds 26
Corporate Bonds 26
The U.S. Government 26
U.S. Government Agencies 27
Municipal 27
Types of Bond Issuance 27
Bond Certificate 28
Bond Pricing 29
Par Value 29
Discount 30
Premium 30
Corporate Bond Pricing 30
Treasury Bond and Note Pricing 30
Treasury Bill Pricing 31
Municipal Bond Pricing 31
Types of Corporate Bonds 33
Secured Bonds 34
Unsecured Bonds 35
Zero Coupon Bonds 35
Convertible Bonds 36
Converting Bonds into Common Stock 36
Parity Price 37
The Trust Indenture Act of 1939 37
Treasury Bills, Notes, and Bonds 38
Purchasing Treasury Bills 38
Treasury STRIPS 39
Treasury Receipts 39
Nonmarketable Government Securities 39
Agency Issues 40
Collateralized Mortgage Obligation (CMO) 41
CMOs and Interest Rates 42
Municipal Bonds 42
Legal Opinion 43
Municipal Bond Insurance 44
Tax Equivalent Yield 44
Purchasing a Municipal Bond Issued in the State in Which the Investor Resides 45
Triple Tax-Free 45
Capital Gains 45
The Money Market 45
Money Market Instruments 45
Corporate Money Market Instruments 46
Government Money Market Instruments 47
Interest Rates 47
Economics 48
Gross Domestic Product 49
Recession 50
Depression 50
Economic Policy 50
Tools of the Federal Reserve Board 51
Fiscal Policy 52
The Consumer Price Index 53
Inflation/Defl ation 53
Real GDP 53
International Monetary Considerations 54
Issuing Corporate Securities 54
Types of Underwriting Commitments 55
Types of Off erings 56
Awarding the Issue 56
The Underwriting Syndicate 57
Selling Group 57
Customer Suitability 58
Investment Objectives 59
Tax Benefits 60
Liquidity 60
Speculation 61
Beta 61
Risk vs. Reward 62
Pretest 65
CHAPTER 2
INVESTMENT COMPANIES, MUTUAL FUNDS,
NEW ACCOUNTS, AND TAXES 71
Investment Company Philosophy 71
Types of Investment Companies 72
Open End vs. Closed End 73
Diversified vs. Nondiversifi ed 74
Investment Company Registration 75
Registration Requirements 75
Investment Company Components 77
Mutual Fund Distribution 79
Selling Group Member 79
Distribution of No-Load Mutual Fund Shares 79
Distribution of Mutual Fund Shares 80
Mutual Fund Prospectus 80
Characteristics of Open-End Mutual Fund Shares 81
Mutual Fund Investment Objectives 82
Other Types of Funds 84
Bond Funds 84
Exchange-Traded Funds (ETFs) 85
Exchanged-Traded Notes (ETNs) 85
Money Market Funds 86
Money Market Guidelines 86
Valuing Mutual Fund Shares 86
Changes in the NAV 87
Sales Charges 88
Other Types of Sales Charges 89
12B-1 Fees 89
Calculating a Mutual Fund's Sales Charge Percentage 90
Finding the Public Off ering Price 91
Sales Charge Reductions 91
Breakpoint Schedule 92
Letter of Intent 92
Backdating a Letter of Intent 93
Breakpoint Sales 93
Rights of Accumulation 93
Automatic Reinvestment of Distributions 94
Other Mutual Fund Features 94
Taxation of Mutual Funds 95
Distribution of Capital Gains 96
Receiving and Reinvesting Distributions 97
Calculating Gains and Losses 98
Cost Base of Multiple Purchases 98
Deducting Net Capital Losses 99
Wash Sales 99
Other Tax Rules 100
Voting Rights 100
Mutual Fund Recommendations 101
Customer Accounts 103
Holding Securities 104
Transfer and Ship 105
Transfer and Hold in Safekeeping 105
Hold in Street Name 105
Mailing Instructions 105
Trading Authorization 106
Types of Accounts 106
Death of a Customer 107
Corporate Accounts 108
Operating a Discretionary Account 108
Managing Discretionary Accounts 109
Uniform Gifts to Minors Act (UGMA) 109
Accounts for Employees of Other Broker Dealers 111
Purchasing Mutual Fund Shares 111
Withdrawal Plans 115
Pretest 117
CHAPTER 3
VARIABLE ANNUITIES, VARIABLE LIFE INSURANCE,
AND RETIREMENT PLANS 123
Annuities 123
Annuity Purchase Options 127
Accumulation Units 127
Annuity Units 128
Annuity Payout Options 128
Factors Aff ecting the Size of the Annuity Payment 129
The Assumed Interest Rate 129
Taxation 130
Types of Withdrawals 130
Annuitizing the Contract 131
Expenses and Guarantees 131
Other Charges 132
Variable Annuity vs. Mutual Fund 132
Life Insurance 132
Premiums and Death Benefi ts 134
Assumed Interest Rate 136
Variable Policy Features 136
Sales Charges 137
Life Settlements 138
Retirement Plans 139
Individual Plans 139
Individual Retirement Accounts (IRAs) 139
529 Plans 142
IRA Contributions 142
IRA Accounts 143
IRA Investments 143
It Is Unwise to Put a Municipal Bond in an IRA 143
Rollover vs. Transfer 143
Keogh Plans (HR-10) 144
Tax-Sheltered Annuities/Tax-Deferred Accounts 145
Corporate Plans 147
Nonqualifi ed Corporate Retirement Plans 147
Qualifi ed Plans 148
Types of Plans 148
Profi t Sharing Plans 149
401(k) Thrift Plans 150
Rolling Over a Pension Plan 150
Employee Retirement Income Security Act of 1974 (ERISA) 150
Pretest 153
CHAPTER 4
SECURITIES INDUSTRY RULES AND REGULATIONS 159
Issuing Securities 159
The Prospectus 160
The Final Prospectus 160
SEC Disclaimer 161
Misrepresentations 161
Tombstone Ads 161
Free Riding and Withholding/FINRA Rule 5130 162
The Securities Exchange Act of 1934 162
The Securities Exchange Commission (SEC) 163
Extension of Credit 164
The National Association of Securities Dealers (NASD) 164
Becoming a Member of FINRA 166
Registration of Agents/Associated Persons 167
Disciplinary Actions Against a Registered Representative 167
Resignation of a Registered Representative 168
Termination for Cause 168
Retiring Representatives/Continuing
Commissions 168
State Registration 169
Continuing Education 169
Firm Element Continuing Education 169
Regulatory Element 169
Registration Exemptions 170
Persons Ineligible to Register 170
Retail Communications / Communications with the Public 171
FINRA Rule 2210 Communications with the Public 172
Broker Dealer Websites 174
Blind Recruiting Ads 175
Generic Advertising 175
Tombstone Ads 175
Testimonials 176
Free Services 176
Misleading Communications with the Public 177
Securities Investor Protection Corporation Act of 1970 (SIPC) 177
Net Capital Requirement 177
Customer Coverage 178
Fidelity Bond 178
The Insider Trading and Securities Fraud Enforcement Act of 1988 178
Firewall 179
The Telephone Consumer Protection Act of 1991 180
Exemption from the Telephone Consumer Protection Act of 1991 180
Recommendations to Customers 180
Recommending Mutual Funds 181
Periodic Payment Plans 182
Mutual Fund Current Yield 182
Professional Conduct in the Securities Industry 183
The Role of the Principal 183
Fair Dealings with Customers 183
Sharing in a Customer's Account 186
Borrowing and Lending Money 187
Disclosure of Client Information 187
Numbered Accounts 187
Gift Rule 187
Outside Employment 188
Private Securities Transactions 188
Violations and Complaints 188
Resolution of Allegations 189
Minor Rule Violation 189
Code of Arbitration 190
The Arbitration Process 190
Simplifi ed Arbitration 191
Larger Disputes 191
Awards Under Arbitration 191
Mediation 191
Annual Compliance Review 192
Currency Transactions 192
The Patriot Act 192
U.S. Accounts 193
Foreign Accounts 194
Regulation S-P 194
Business Continuity Plan 194
Pretest 195
ANSWER KEYS 201
GLOSSARY OF EXAM TERMS 207
INDEX 273