Wiley Series 63 Exam Review 2013 + Test Bank: The Uniform Securities Examination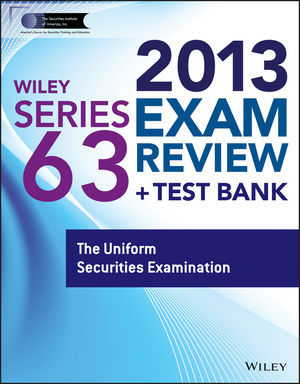 Wiley Series 63 Exam Review 2013 + Test Bank: The Uniform Securities Examination
ISBN: 978-1-118-67118-4
Jul 2013
192 pages
Product not available for purchase
Description
Uniform Securities Exam (Series 63)  is designed to qualify candidates as securities agents. The examination covers the principles of state securities regulation reflected in the Uniform Securities Act.

Topics Covered:

State Securities Acts and Related Rules
Ethical Practices and Fiduciary Obligations
Test: 65 multiple-choice questions, 5 of which are experimental. Candidate must correctly answer at least 43 of the 60 scored questions. Each book is accompanied by an online test bank with 127 questions, organized by chapter. The questions included in the book have been included in this online test bank
 
Pre-requisites: In order to conduct securities business, many states require that an agent successfully complete the Series 63, in addition to obtaining a Series 6, 7, or 62 registration, but a candidate is not required to have any other professional qualifications prior to taking the Series 63 exam.
ABOUT THE SERIES 63 EXAM IX
ABOUT THIS BOOK XIII
ABOUT THE TEST BANK XV
ABOUT THE SECURITIES INSTITUTE OF AMERICA XVII
CHAPTER 1
FEDERAL LAW REVIEW 1
The Securities Act of 1933 1
The Prospectus 2
The Final Prospectus 2
Misrepresentations 3
The Securities Exchange Act of 1934 3
Net Capital Requirement 7
Customer Coverage 7
Fidelity Bond 8
The Insider Trading and Securities Fraud Enforcement Act of 1988 8
Firewall 9
The Telephone Consumer Protection Act of 1991 9
National Securities Market Improvement Act of 1996 10
The Uniform Securities Act 11
The Uniform Prudent Investors Act of 1994 11
CHAPTER 2
DEFINITIONS OF TERMS 13
Security 13
Person 15
Broker Dealer 16
Pension Consultants 18
Form ADV 18
Investment Adviser Representative 19
Off er/Off er to Sell/Off er to Buy 21
Sale/Sell 21
Guarantee/Guaranteed 22
Contumacy 22
Federally Covered Exemption 22
Pretest 23
CHAPTER 3
REGISTRATION OF BROKER DEALERS, INVESTMENT ADVISERS, AND AGENTS 29
Registration of Broker Dealers and Agents 29
Agent Registration 30
Registering Broker Dealers 31
Financial Requirements 32
Broker Dealers on the Premises of Other Financial Institutions 32
Registering Agents 32
Canadian Firms and Agents 34
Investment Adviser Registration 34
The National Securities Market Improvement Act of 1996/The Coordination Act 35
Investment Adviser Representative 36
Investment Adviser Registration 36
Capital Requirements 37
Exams 37
Advertising and Sales Literature 38
Brochure Delivery 39
Wrap Accounts 39
Pretest 41
CHAPTER 4
SECURITIES REGISTRATION, EXEMPT SECURITIES, AND EXEMPT TRANSACTIONS 47
Exempt Securities 47
Securities Registration 48
Registration of IPOs Through Coordination 48
Registration Through Notice Filing 49
Registration of Non-Established Issuers/Registration Through Qualification 49
Exempt Securities/Federally Covered Exemption 51
Exempt Transactions 52
Pretest 57
CHAPTER 5
PROFESSIONAL CONDUCT AND PROHIBITED AND FRAUDULENT ACTIONS 63
Fraud 63
Professional Conduct 64
Suitability 64
Market Manipulation 66
Customer Complaints 67
The Role of the Investment Adviser 67
Additional Compensation for an Investment Adviser 68
Agency Cross Transactions 68
Disclosures by an Investment Adviser 68
Investment Adviser Contracts 70
Private Investment Companies/Hedge Funds 70
Soft Dollars 70
Pretest 73
CHAPTER 6
THE STATE SECURITIES ADMINISTRATOR AND THE UNIFORM SECURITIES ACT 81
Actions by the State Securities Administrator 81
Cancellation of a Registration 82
Withdrawal of a Registration 83
Actions Against an Issuer of Securities 83
Rule Changes 83
Administrative Orders 83
Interpretive Opinions 84
Administrative Records 84
Investigations 85
Civil and Criminal Penalties 85
Jurisdiction of the State Securities Administrator 86
Administrator's Jurisdiction over Securities Transactions 86
Right of Rescission 88
Statute of Limitations 89
Pretest 91
ANSWER KEYS 97
GLOSSARY OF EXAM TERMS 105
INDEX 171