Wiley Series 66 Exam Review 2013 + Test Bank: The Uniform Combined State Law Examination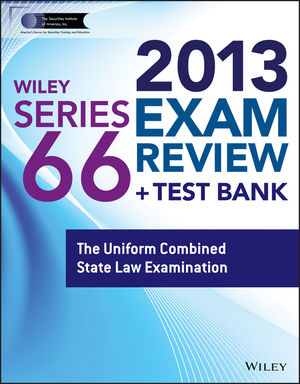 Description
The Uniform Combined State Law Examination (Series 66) is designed to qualify candidates as both securities agents and investment adviser representatives. Each book is accompanied by an online test bank with 113 questions, organized by chapter. The questions included in the book have been included in this online test bank

Topics Covered:

Economic Factors and Business Information
Client Investment Recommendations and Strategies
Laws, Regulations, and Guidelines, including Prohibition on Unethical Business Practices

Test: 100 multiple choice questions; 2 hours and 30 minutes testing time; candidate must answer 70% of questions correctly to pass.

Pre-requisites: The Series 7 is a co-requisite exam that needs to be successfully completed in addition to the Series 66 exam before a candidate can register with a state.
ABOUT THE SERIES 66 EXAM XIII
ABOUT THIS BOOK XVII
ABOUT THE TEST BANK XIX
ABOUT THE SECURITIES INSTITUTE OF AMERICA XXI
CHAPTER 1
DEFINITION OF TERMS 1
Security 1
Person 3
Broker Dealer 4
Agent 4
Issuer 5
Nonissuer 5
Investment Adviser 6
Pension Consultants 6
Form ADV 7
Investment Adviser Representative 8
Solicitor 8
Institutional Investor 8
Accredited Investor 9
Qualifi ed Purchaser 9
Private Investment Company 9
Off er/Off er to Sell/Off er to Buy 9
Sale/Sell 10
Guarantee/Guaranteed 10
Contumacy 10
Federally Covered Exemption 10
Option Contracts 11
Call Options 11
Put Options 11
Futures and Forwards 12
Secondary Market Orders 12
Market Orders 13
Buy Limit Orders 13
Sell Limit Orders 13
Stop Orders/Stop Loss Orders 14
Buy Stop Orders 14
Sell Stop Orders 14
Pretest 15
CHAPTER 2
SECURITIES INDUSTRY RULES AND REGULATIONS 21
The Securities Act of 1933 21
The Securities Exchange Act of 1934 23
Public Utilities Holding Company Act of 1935 25
Financial Industry Regulatory Authority (FINRA) 25
The Trust Indenture Act of 1939 26
Investment Advisers Act of 1940 26
Investment Company Act of 1940 26
Retail Communications/Communications with the Public 27
FINRA Rule 2210 Communications with the Public 28
Blind Recruiting Ads 30
Generic Advertising 30
Tombstone Ads 30
Testimonials 31
Free Services 32
Misleading Communications 32
Securities Investor Protection Corporation Act of 1970 (SIPC) 32
The Securities Acts Amendments of 1975 34
The Insider Trading and Securities Fraud Enforcement Act of 1988 34
Firewall 35
The Telephone Consumer Protection Act of 1991 35
National Securities Market Improvement Act of 1996 36
The Uniform Securities Act 36
Pretest 39
CHAPTER 3
CUSTOMER RECOMMENDATIONS, PROFESSIONAL
CONDUCT, AND TAXATION 43
Professional Conduct by Investment Advisers 44
The Uniform Prudent Investors Act of 1994 44
Fair Dealings with Clients 45
Periodic Payment Plans 49
Disclosure of Client Information 50
Borrowing and Lending Money 50
Developing the Client Profi le 50
Investment Objectives 52
Risk vs. Reward 54
Alpha 57
Beta 57
Fundamental Analysis 63
Capitalization 66
Tax Structure 67
Investment Taxation 68
Calculating Gains and Losses 68
Cost Base of Multiple Purchases 69
Deducting Capital Losses 70
Wash Sales 70
Taxation of Interest Income 70
Inherited and Gifted Securities 71
Donating Securities to Charity 71
Trusts 71
Gift Taxes 72
Estate Taxes 72
Withholding Tax 73
Corporate Dividend Exclusion 73
Alternative Minimum Tax (AMT) 73
Taxes on Foreign Securities 74
Pretest 75
CHAPTER 4
VARIABLE ANNUITIES AND RETIREMENT PLANS 79
Annuities 79
Equity-Indexed Annuities 82
Annuity Purchase Options 83
Accumulation Units 83
Annuity Units 84
Annuity Payout Options 84
Factors Aff ecting the Size of the Annuity Payment 85
The Assumed Interest Rate (AIR) 85
Taxation 86
Sales Charges 86
Variable Annuity vs. Mutual Fund 87
Retirement Plans 87
Individual Plans 87
Individual Retirement Accounts (IRAS) 88
529 Plans 91
IRA Contributions 91
IRA Accounts 91
IRA Investments 91
It Is Unwise to Put a Municipal Bond in an IRA 92
Rollover vs. Transfer 92
Keogh Plans (HR-10) 93
Contributions 93
Tax-Sheltered Annuities/Tax-Deferred Account 94
Contributions 95
Tax Treatment of Distributions 95
Corporate Plans 96
Non-Qualifi ed Corporate Retirement Plans 96
Payroll Deductions 96
Deferred Compensation Plans 96
Qualifi ed Plans 97
Types of Plans 97
Rolling Over a Pension Plan 98
Employee Retirement Income Security Act of 1974 (ERISA) 99
ERISA 404C Safe Harbor 101
Pretest 103
CHAPTER 5
REGISTRATION OF BROKER DEALERS,
INVESTMENT ADVISERS, AND AGENTS 107
Registration of Broker Dealers 107
Financial Requirements 108
Agent Registration 108
Registering Agents 110
Changes in an Agent's Employment 111
Mergers and Acquisitions of Firms 111
Renewing Registrations 111
Canadian Firms and Agents 111
Investment Adviser State Registration 112
The National Securities Market Improvement Act of 1996 (The Coordination Act) 112
Investment Adviser Representative 113
State Investment Adviser Registration 114
Capital Requirements 114
Exams 115
Advertising and Sales Literature 115
Brochure Delivery 116
The Role of the Investment Adviser 117
Additional Compensation for an Investment Adviser 117
Agency Cross Transactions 117
Disclosures by an Investment Adviser 118
Investment Adviser Contracts 119
Additional Roles of Investment Advisers 120
Private Investment Companies/Hedge Funds 120
Fulcrum Fees 120
Wrap Accounts 121
Soft Dollars 121
Pretest 123
CHAPTER 6
SECURITIES REGISTRATION, EXEMPT SECURITIES,
AND EXEMPT TRANSACTIONS 129
Exempt Securities 129
Securities Registration 130
Exempt Securities/Federally Covered Exemption 133
Exempt Transactions 134
Pretest 139
CHAPTER 7
STATE SECURITIES ADMINISTRATORS AND THE UNIFORM
SECURITIES ACT 145
Actions by the State Securities Administrator 145
Actions Against an Issuer of Securities 147
Rule Changes 147
Investigations 149
Civil and Criminal Penalties 149
Jurisdiction of the State Securities Administrator 150
Administrator's Jurisdiction over Securities Transactions 150
Right of Rescission 152
Statute of Limitations 153
Pretest 155
ANSWER KEYS 161
GLOSSARY OF EXAM TERMS 171
INDEX 237