Wiley Series 7 Exam Review 2013 + Test Bank: The General Securities Representative Examination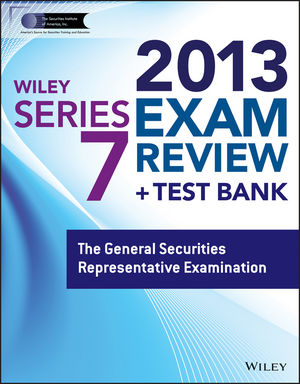 Description
The go-to guide to acing the Series 7 Exam!
The General Securities Representative Examination (Series 7) is an entry-level exam that qualifies individuals for registration with all self-regulatory organizations to trade, promote, and sell all forms of general securities.
This intense six-hour test is the must-pass exam for aspiring financial professionals. The exam consists of 250 questions about everything from stocks and stock markets, government securities, municipal and corporate bonds, and options to rules for acquiring customers and handling their accounts, general economic theory, and the rules and regulations of the Securities and Exchange Commission.
Created by the experts at The Securities Institute of America, Inc., Wiley Series 7 Exam Review 2013 arms you with what you need to score high on the test and pass the Series 7 Exam. Designed to let you build and fine-tune your knowledge of all areas covered and guarantee that you're prepared mentally and strategically to take the test, it provides:
Hundreds of examples
542 practice questions covering each subject area in the exam
Priceless test-taking tips and strategies
Helpful hints on how to study for the test, manage stress, and stay focused
Wiley Series 7 Exam Review 2013 is your ticket to passing the test with flying colors—on the first try—and becoming a registered General Securities Representative.
Visit www.wileysecuritieslicensing.com for more information.
The Securities Institute of America, Inc., helps thousands of securities and insurance professionals build successful careers in the financial services industry every year. Our securities training options include:
Onsite classes
Private tutoring
Classroom training
Interactive online video training classes
State-of-the-art exam preparation software
Printed textbooks
Real-time tracking and reporting for managers and training directors
As a result, you can choose a securities training solution that matches your skill level, learning style, and schedule. Regardless of the format you choose, you can be sure that our securities training courses are relevant, tested, and designed to help you succeed. It is the experience of our instructors and the quality of our materials that make our courses requested by name at some of the largest financial services firms in the world.
To contact The Securities Institute of America, visit us on the web at www.SecuritiesCE.com or call 877-218-1776.
ABOUT THE SERIES 7 EXAM XXI
ABOUT THIS BOOK XXV
ABOUT THE TEST BANK XXVI
ABOUT THE SECURITIES INSTITUTE OF AMERICA XXVII
CHAPTER 1 EQUITY SECURITIES 1
What Is a Security? 1
Equity = Stock 2
Common Stock 2
Preferred Stock 14
Currency Risks 22
Functions of the Custodian Bank Issuing ADRs 22
Real Estate Investment Trusts (REITs) 23
Pretest 25
CHAPTER 2 DEBT SECURITIES 29
Corporate Bonds 29
Types of Bond Issuance 30
Bond Certificate 31
Bond Pricing 31
Corporate Bond Pricing 32
Bond Yields 32
Bond Maturities 36
Types of Corporate Bonds 37
Converting Bonds into Common Stock 40
Advantages of Issuing Convertible Bonds 41
Disadvantages of Issuing Convertible Bonds 41
Convertible Bonds and Stock Splits 42
The Trust Indenture Act of 1939 42
Bond Indenture 42
Ratings Considerations 42
Retiring Corporate Bonds 43
Collateralized Mortgage Obligation (CMO) 45
CMOs and Interest Rates 45
Types of CMOs 46
Private-Label CMOs 47
Exchange-Traded Notes (ETNs) 48
Pretest 49
CHAPTER 3 GOVERNMENT SECURITIES 53
Series EE Bonds 53
Series HH Bonds 54
Treasury Bills, Notes, and Bonds 54
Treasury Bond and Note Pricing 55
Treasury Strips 56
Treasury Receipts 56
Treasury Inflation-Protected Securities (TIPS) 57
Agency Issues 57
Government National Mortgage Association (GNMA) 57
Federal National Mortgage Association (FNMA) 58
Federal Home Loan Mortgage Corporation (FHLMC) 58
Federal Farm Credit System (FFCS) 58
Pretest 61
CHAPTER 4 MUNICIPAL SECURITIES 63
Municipal Bonds 63
Types of Municipal Bonds 64
Issuing Municipal Securities 68
Selecting an Underwriter 68
Creating a Syndicate 69
Syndicate Accounts 70
Submitting the Syndicate Bid 71
Determining the Reoff ering Yield 71
Awarding the Issue 72
Underwriter's Compensation 72
Order Period 74
Allocation Municipal Bond Orders 74
Sale Date 75
When Issued Confirmations 76
Final Confirmations 76
Other Types of Municipal Underwritings 77
Syndicate Operation and Settlement 77
The Official Statement 78
Bond Counsel 79
The Legal Opinion 79
Potential Conflicts of Interest for Municipal Bond Underwriters 80
Acting as a Financial Adviser to the Issuer 80
Information Obtained While Acting as a Fiduciary 80
Acting as a Financial Adviser and an Underwriter 81
Municipal Bond Trading 81
Bona Fide Quotes 82
Informational Quotes 82
Out Firm Quotes 83
Executing a Customer's Municipal Bond Orders 83
Customer Confirmations 84
Yield Disclosure 85
Sources of Municipal Bond Market Information 86
Recommending Municipal Bonds 86
Taxation of Municipal Bonds 87
Tax Equivalent Yield 87
Purchasing a Municipal Bond Issued in the State in which the Investor Resides 88
Triple Tax Free 88
Original Issue Discount (OID) and Secondary Market Discounts 88
Amortization of a Municipal Bond's Premium 89
Bond Swaps 89
Analyzing Municipal Bonds 89
Analyzing General Obligation Bonds 90
The Debt Statement 90
Community Factors 91
Sources of Tax Revenue 92
Determining Property Taxes 92
Important Financial Ratios for General Obligation Bonds 93
Analyzing Revenue Bonds 93
Types of Revenue Pledge 93
Municipal Securities Rulemaking Board (MSRB) 94
Pretest 99
CHAPTER 5 MONEY MARKET 105
Money Market Instruments 105
Corporate Money Market Instruments 105
Government Money Market Instruments 107
Municipal Money Market Instruments 108
International Money Market Instruments 108
Interest Rates 108
Pretest 111
CHAPTER 6 ECONOMIC FUNDAMENTALS 113
Gross Domestic Product (GDP) 113
Recession 115
Depression 115
Economic Indicators 115
Economic Policy 117
Tools of The Federal Reserve Board 117
Fiscal Policy 120
Consumer Price Index (CPI) 121
Inflation/Defl ation 121
Real GDP 121
International Monetary Considerations 122
Pretest 123
CHAPTER 7 OPTIONS 127
Option Classification 127
Option Classes 128
Option Series 128
Bullish vs. Bearish 128
Possible Outcomes for an Option 129
Characteristics of All Options 130
Managing an Option Position 130
Buying Calls 131
Selling Calls 132
Buying Puts 134
Selling Puts 135
Option Premiums 137
At the Money Options 137
Out of the Money Options 138
Intrinsic Value and Time Value 138
Using Options as a Hedge 139
Long Stock Long Puts/Married Puts 139
Long Stock Short Calls/Covered Calls 141
Maximum Gain Long Stock Short Calls 142
Maximum Loss Long Stock Short Calls 143
Short Stock Long Calls 143
Maximum Gain Short Stock Long Calls 144
Maximum Loss Short Stock Long Call 145
Short Stock Short Puts 145
Maximum Gain Short Stock Short Puts 146
Maximum Loss Short Stock Short Puts 147
Multiple Option Positions and Strategies 148
Long Straddles 148
Short Straddles 150
Spreads 152
Combinations 163
Using a T Chart to Evaluate Option Positions 164
Index Options 168
Interest Rate Options 170
Price-Based Options 170
Rate-Based Options 172
Foreign Currency Options 172
The Option Clearing Corporation 174
The Options Markets 175
The Chicago Board Option Exchange 175
Opening and Closing Option Prices 177
Order Execution 177
Expiration and Exercise 178
American vs. European Exercise 178
Position and Exercise Limits 179
Stock Splits and Stock dividends 179
Taxation of Options 180
Closing an Option Position 180
Exercising a Call 180
Exercising a Put 181
Protective Puts 181
Covered Calls 181
Option Compliance 181
Option Agreement 181
Pretest 183
CHAPTER 8 MUTUAL FUNDS 189
Investment Company Philosophy 189
Types of Investment Companies 190
Open-End vs. Closed-End Funds 191
Diversified vs. Nondiversifi ed 192
Investment Company Registration 193
Investment Company Components 195
Mutual Fund Distribution 197
Selling Group Member 197
Distribution of No-Load Mutual Fund Shares 198
Distribution of Mutual Fund Shares 198
Mutual Fund Prospectus 198
Characteristics of Open-End Mutual Fund Shares 199
Mutual Fund Investment Objectives 200
Other Types of Funds 202
Bond Funds 202
Valuing Mutual Fund Shares 204
Changes in the NAV 205
Sales Charges 205
Calculating a Mutual Fund's Sales Charge Percentage 207
Finding the Public Offering Price 208
Sales Charge Reductions 208
Breakpoint Schedule 209
Letter of Intent 209
Backdating a Letter of Intent 210
Breakpoint Sales 210
Rights of Accumulation 210
Automatic Reinvestment of Distributions 211
Other Mutual Fund Features 211
Cost Base of Multiple Purchases 215
Purchasing Mutual Fund Shares 216
Sales Charges 219
45-Day Free Look 219
Withdrawal Plans 219
Pretest 221
CHAPTER 9 VARIABLE ANNUITIES 227
Annuities 227
Equity Indexed Annuity 230
Annuity Purchase Options 231
Accumulation Units 231
Annuity Units 232
Annuity Payout Options 232
Factors Affecting the Size of the Annuity Payment 233
The Assumed Interest Rate (AIR) 233
Taxation 234
Types of Withdrawals 234
Annuitizing the Contract 235
Expenses and Guarantees 235
Other Charges 236
Pretest 237
CHAPTER 10 ISSUING CORPORATE SECURITIES 241
The Securities Act of 1933 241
The Prospectus 242
The Final Prospectus 242
Prospectus to Be Provided to Aftermarket Purchasers 243
SEC Disclaimer 243
Misrepresentations 243
Tombstone Ads 244
Free Riding and Withholding/FINRA Rule 5130 244
Underwriting Corporate Securities 245
Types of Underwriting Commitments 246
Types of Off erings 247
Awarding the Issue 248
The Underwiting Syndicate 248
Selling Group 248
Underwriter's Compensation 248
Private Placements/Regulation D Off erings 251
Rule 144 251
Regulation A Offerings 252
Rule 145 253
Rule 147 Intrastate Offering 253
Pretest 255
CHAPTER 11 TRADING SECURITIES 259
Types of Orders 259
The Exchanges 263
Priority of Exchange Orders 263
The Role of The Specialist/DMM 263
The Specialist/DMM Acting as a Principal 264
The Specialist/DMM Acting as an Agent 264
Crossing Stock 266
Do Not Reduce (DNR) 267
Adjustments for Stock Splits 267
Stopping Stock 268
Commission House Broker 269
Two-Dollar Broker 269
Registered Traders 269
Super Display Book (SDBK) 269
Short Sales 270
Rule 200 Definitions and Order Marking 270
Rule 203 Security Borrowing and Delivery Requirements 271
Threshold Securities 272
Listing Requirements for the NYSE 273
Over the Counter/Nasdaq 274
Market Makers 274
Nasdaq Subscription Levels 275
Nasdaq Quotes 275
Nominal Nasdaq Quotes 276
Automated Confi rmation System (ACT)/Trade Reporting Facility (TRF) 276
Nasdaq Execution Systems 277
The Nasdaq Market Center Execution System (NMCES) 277
The Nasdaq Opening Cross 277
Non-Nasdaq OTCBB 278
Pink Sheets 278
Third Market 278
Fourth Market 279
Reading the Consolidated Tape 279
Exchange Qualifi ers 281
Broker vs. Dealer 281
FINRA 5% Markup Policy 281
Markups/Markdowns When Acting as a Principal 282
Riskless Principal Transactions 283
Proceeds Transactions 284
The Order Audit Trail System (OATS) 284
Trade Reporting and Compliance Engine (TRACE) 284
Circuit Breakers 285
Arbitrage 286
Pretest 287
CHAPTER 12 CUSTOMER ACCOUNTS 291
Holding Securities 293
Mailing Instructions 294
Types of Accounts 294
Commingling Customer's Pledged Securities 304
Wrap Accounts 304
Regulation S-P 304
Pretest 305
CHAPTER 13 MARGIN ACCOUNTS 309
Regulation of Credit 309
Regulation T 309
House Rules 312
Establishing a Long Position in a Margin Account 312
An Increase in the Long Market Value 313
Special Memorandum Account (SMA) Long Margin Account 315
A Decrease in the Long Market Value 317
Minimum Equity Requirement Long Margin Accounts 317
Establishing a Short Position in a Margin Account 318
A Decrease in the Short Market Value 319
Special Memorandum Account (SMA) Short Margin Account 320
An Increase in the Short Market Value 321
Minimum Equity Requirement Short Margin Accounts 322
Combined Margin Accounts 323
Portfolio Margin Accounts 323
Margin Accounts 325
CHAPTER 14 RETIREMENT PLANS 329
Individual Plans 329
Individual Retirement Accounts (IRAs) 330
Traditional IRAs 330
Roth IRAs 331
Simplified Employee Pension IRA (SEP IRA) 332
Educational IRA/Coverdell IRA 334
Tax-Sheltered Annuities (TSAs)/Tax-Deferred Accounts (TDAs) 336
Corporate Plans 338
Rolling Over a Pension Plan 340
Employee Retirement Income Security Act of 1974 (ERISA) 341
Pretest 343
CHAPTER 15 BROKERAGE OFFICE PROCEDURE 347
Executing an Order 347
Customer Confirmations 349
Clearly Erroneous Reports 350
Execution Errors 350
Corporate and Municipal Securities Settlement Options 350
RVP/DVP/COD 351
When-Issued Securities 351
Government Securities Settlement Options 351
Accrued Interest 352
Calculating Accrued interest 352
Accrued Interest for Government Notes and Bonds 354
Rules for Good Delivery 355
Delivery of Round Lots 355
Delivery of Bond Certifi cates 356
Rejection of Delivery 356
Don't Know (DK) Procedures 357
Fail to Deliver/Fail to Receive 357
Due Bills 357
Customer Account Statements 357
Carrying of Customer Accounts 358
Proxies 359
Pretest 361
CHAPTER 16 FUNDAMENTAL AND TECHNICAL ANALYSIS 367
Fundamental Analysis 367
The Balance Sheet 368
Industry Fundamentals 375
Technical Analysis 376
Market Theories and Indicators 379
Efficient Market Theory 380
Pretest 381
CHAPTER 17 DIRECT PARTICIPATION PROGRAMS 383
Limited Partnerships 383
Structuring and Off ering Limited Partnerships 385
Types of Limited Partnerships 386
Oil and Gas Sharing Arrangements 388
Equipment Leasing Programs 388
Tax Reporting for Direct Participation Programs 389
Limited Partnership Analysis 389
Tax Deductions vs. Tax Credits 390
Other Tax Considerations 390
Dissolving a Partnership 390
Pretest 391
CHAPTER 18 CUSTOMER RECOMMENDATIONS, PROFESSIONAL CONDUCT, AND TAXATION 395
Professional Conduct in the Securities Industry 396
Fair Dealings with Customers 396
Periodic Payment Plans 401
Mutual Fund Current Yield 401
Information Obtained from an Issuer 401
Disclosure of Client Information 402
Borrowing and Lending Money 402
Gift Rule 402
Outside Employment 402
Private Securities Transactions 403
Customer Complaints 403
Investor Information 403
NYSE/FINRA Know Your Customer 404
Investment Objectives 405
Risk vs. Reward 407
Alpha 408
Beta 409
Tax Structure 409
Investment Taxation 409
Calculating Gains and Losses 410
Cost Base of Multiple Purchases 410
Deducting Capital Losses 411
Wash Sales 411
Taxation of Interest income 412
Inherited Securities 412
Donating Securities to Charity 413
Gift Taxes 413
Estate Taxes 413
Withholding Tax 413
Corporate Dividend Exclusion 414
Alternative Minimum Tax (AMT) 414
Taxes on Foreign Securities 414
Pretest 415
CHAPTER 19 SECURITIES INDUSTRY RULES AND REGULATIONS 421
The Securities Exchange Act of 1934 421
The Securities and Exchange
Commission (SEC) 422
Extension of Credit 423
The National Association of
Securities Dealers (NASD) 423
Becoming a Member of FINRA 425
Registration of Agents/Associated Persons 425
Disciplinary Actions Against a Registered Representative 426
Resignation of a Registered Representative 426
Termination for Cause 427
Retiring Representatives/Continuing Commissions 427
State Registration 427
Registration Exemptions 428
Persons Ineligible to Register 428
Communications with the Public 428
FINRA Rule 2210 Communications with the Public 429
Broker Dealer Websites 432
Blind Recruiting Ads 432
Generic Advertising 433
Tombstone Ads 433
Testimonials 434
Free Services 434
Misleading Communication with the Public 434
Securities Investor Protection Corporation Act of 1970 434
Net Capital Requirement 435
Customer Coverage 435
Fidelity Bond 436
The Securities Acts Amendments of 1975 436
The Insider Trading & Securities Fraud Enforcement Act of 1988 436
Firewall 437
The Telephone Consumer Protection Act of 1991 437
Exemption from the Telephone Consumer Protection Act of 1991 438
The Penny Stock Cold Call Rule 438
The Role of the Principal 439
Violations and Complaints 439
Resolution of Allegations 439
Minor Rule Violation 440
Code of Arbitration 440
The Arbitration Process 441
Mediation 442
Currency Transactions 442
The Patriot Act 443
U.S. Accounts 443
Foreign Accounts 444
Annual Compliance Review 444
Business Continuity Plan 444
Sarbanes-Oxley Act 444
The Uniform Securities Act 446
Pretest 447
ANSWER KEYS 453
GLOSSARY OF EXAM TERMS 471
INDEX 537