Wiley Study Guide for 2018 CIMA Exam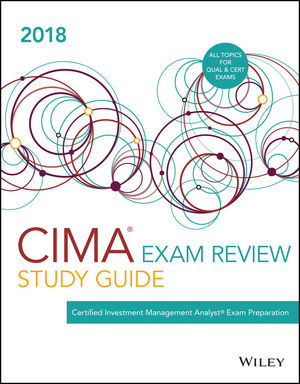 Wiley Study Guide for 2018 CIMA Exam
ISBN: 978-1-119-42764-3
Aug 2017
186 pages
Product not available for purchase
Description
Two exams, one course, no drama.
Whether you're studying for your Qualification or Certification exam, our study guide is an organized review of the key topics you will need to pass. Closely organized around the CIMA Examination Candidate Handbook to ensure you are grasping the important, related concepts as efficiently as possible.
Created by an expert instructor to help you connect topics across the curriculum and focus on the key weighted areas. This Study Guide breaks down the difficult concepts enabling you to learn more efficiently. Proven to help candidates understand, retain and master the CIMA curriculum.
Includes:
All learning objectives and definitions for the key terms contained in the CIMA® Examination Candidate Handbook
Material organized to reflect the current Qualification and Certification Detailed Content Guide
Clear and concise breakdown of both the Qualification and Certification exam weightings
About the Instructor vii
Welcome to CIMA Exam Review viii
Governance 1
IMCA Code of Professional Responsibility and Standards of Practice 3
Regulatory Considerations 27
Fundamentals 35
Statistics and Methods 37
Applied Finance and Economics 53
Global Capital Markets History and Valuation 71
Portfolio Performance and Risk Measurements 75
Attributes of Risk 77
Risk Measurements 79
Performance Measurement and Attribution 83
Traditional and Alternative Investments 89
Traditional Global Investments (Equity and Fixed Income) 91
Fixed-Income Vehicles 101
Foreign Exchange Market 107
Alternative Investments 109
Options, Futures, and Other Derivatives 117
Tools and Strategies Based on Technical Analysis 121
Portfolio Theory and Behavioral Finance 123
Portfolio Theories and Models 125
Behavioral Finance Theory 133
Investment Consulting Process 139
Client Discovery 141
Investment Policy Statement 147
Portfolio Risk Management Strategies 151
Manager Search, Selection, and Monitoring 155
Perform Portfolio Review and Revisions Process 167