Wiley Survey of Instrumentation and Measurement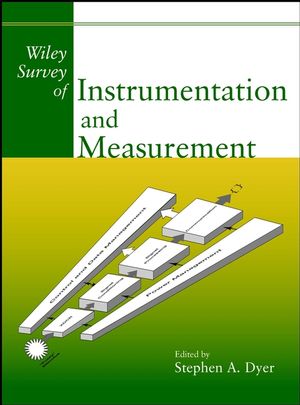 Wiley Survey of Instrumentation and Measurement
ISBN: 978-0-471-22165-4
Apr 2004
1112 pages
Description
In-depth coverage of instrumentation and measurement from the Wiley Encyclopedia of Electrical and Electronics Engineering
The Wiley Survey of Instrumentation and Measurement features 97 articles selected from the Wiley Encyclopedia of Electrical and Electronics Engineering, the one truly indispensable reference for electrical engineers. Together, these articles provide authoritative coverage of the important topic of instrumentation and measurement. This collection also, for the first time, makes this information available to those who do not have access to the full 24-volume encyclopedia. The entire encyclopedia is available online-visit www.interscience.wiley.com/EEEE for more details.
Articles are grouped under sections devoted to the major topics in instrumentation and measurement, including:
Sensors and transducers
Signal conditioning
General-purpose instrumentation and measurement
Electrical variables
Electromagnetic variables
Mechanical variables
Time, frequency, and phase
Noise and distortion
Power and energy
Instrumentation for chemistry and physics
Interferometers and spectrometers
Microscopy
Data acquisition and recording
Testing methods
The articles collected here provide broad coverage of this important subject and make the Wiley Survey of Instrumentation and Measurement a vital resource for researchers and practitioners alike.
PREFACE.
INTRODUCTION.
INSTRUMENTATION AND MEASUREMENTINTRODUCTORY.
Instruments.
Measurement Errors.
Automatic Test Equipment.
SENSORS AND TRANSDUCERS.
Electric Sensing Devices.
Magnetic Sensors.
Hall Effect Transducers.
Pressure Sensors.
Piezoresistive Devices.
Strain Sensors.
Temperature Sensors.
Thermistors.
Thermocouples.
Thermopiles.
Accelerometers.
Tachometers.
Fiber-Optic Sensors.
Ultraviolet Detectors.
Chemical Sensors.
Intelligent Biosensors.
SIGNAL CONDITIONING.
Instrumentation Amplifiers.
Current Shunts.
Current Transformers.
Instrument Transformers.
GENERAL-PURPOSE INSTRUMENTATION AND MEASUREMENT.
Multimeters.
Digital Multimeters.
Ohmmeters.
Electrometers.
Balances.
Bridge Instruments.
Oscilloscopes.
ELECTRICAL VARIABLES.
Charge Measurement.
Electric Current Measurement.
Inductance Measurement.
Capacitance Measurement.
Q-Factor Measurement.
Q-Meters.
ELECTROMAGNETIC VARIABLES.
Electric Strength.
Electromagnetic Field Measurement.
Magnetic Field Measurement.
Attenuation Measurement.
Loss-Angle Measurement.
Wavelength Meter.
Reflectometers, Time-Domain.
Standing Wave Meters and Network Analyzers.
Millimeter-Wave Measurement.
MECHANICAL VARIABLES.
Displacement Measurement.
Velocimeters.
Acceleration Measurement.
Density Measurement.
Level Meters.
Flowmeters.
Dynamometers.
Torquemeters.
Weighing.
Gravimeters.
Viscometers.
Compasses.
Goniometers.
Gyroscopes.
Hygrometers.
Pyrometers.
Acoustic Variables Measurement.
TIME, FREQUENCY, AND PHASE.
Frequency and Time Interval Meters.
Frequency Standards, Characterization.
Frequency Stability.
Phase Meters.
Time Measurement.
Clocks In Telecommunications.
NOISE AND DISTORTION.
Electric Noise Measurement.
Electric Distortion Measurement.
Intermodulation Measurement.
Measurement of Frequency, Phase Noise and Amplitude Noise.
POWER AND ENERGY.
Power Measurement.
Power Meters.
Wattmeters.
Volt-Ampere Meters.
Power Factor Measurement.
Electrical Energy Measurement.
Watthour Meters.
INSTRUMENTATION FOR CHEMISTRY AND PHYSICS.
Photometers.
Photometric Light Sources.
pH Measurement and Control.
Pulse Height Analyzers.
Scintillation Counters.
Thin Film Analyzers.
Radiometry. 
INTERFEROMETERS AND SPECTROMETERS.
Interferometers.
Acoustic Wave Interferometers.
Mass Spectrometers.
MICROSCOPY.
Electron Microscopes.
X-Ray Microscopy.
DATA ACQUISITION AND RECORDING.
Radiotelemetry.
Data Recording.
Recorders.
TESTING METHODS.
Eddy Current Testing.
Eddy Current Nondestructive Evaluation.
Impulse Testing.
INDEX.
""This book does contain a lot of material. For those people who are interested in the Wiley Encyclopedia, this book offers an alternative of getting essentially most of the information."" (
IEEE Circuits & Devices Magazine
, November 2003)
""I suggest the Dyer volume will give the most satisfaction as a general catalogue of the subject."" (Measurement & Control, November 2001)