Will Robots Take Your Job?: A Plea for Consensus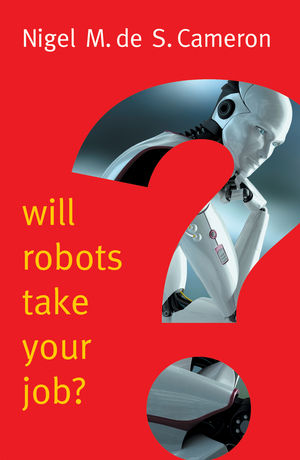 Will Robots Take Your Job?: A Plea for Consensus
ISBN: 978-1-509-50955-3 July 2017 Polity 176 Pages
Description
The trend that began with ATMs and do-it-yourself checkouts is moving at lightning speed. Everything from driving to teaching to the care of the elderly and, indeed, code-writing can now be done by smart machines. Conventional wisdom says there will be new jobs to replace those we lose – but is it so simple? And are we ready?

Technology writer and think-tank director Nigel Cameron argues it's naive to believe we face a smooth transition. Whether or not there are "new" jobs, we face massive disruption as the jobs millions of us are doing get outsourced to machines. A twenty-first-century "rust belt" will rapidly corrode the labor market and affect literally hundreds of different kinds of jobs simultaneously.

Robots won't design our future – we will. Yet shockingly, political leaders and policy makers don't seem to have this in their line of sight. So how should we assess and prepare for the risks of this unknown future?
Preface

Introduction: Time to Stop Being Naïve

1. Non-Human Resources

2. "The Stupid Luddite People"

3. Welcome to the Rust Belt

4. Building Consensus and Getting Prepared

Notes

Bibliography
"A compelling and cutting-edge book, packed with intellectual energy. A challenge to conventional wisdom. A passionate plea for debate about the future of jobs, and preparing for upheaval in labor markets, put in elegant and thoughtful style. A must-read for all who care about the future: leaders, political and others, and yes, economists."
Nagy K. Hanna, author, visiting professor, and former chief strategist of the World Bank
"Nigel Cameron injects vital insight and urgency into the technology debate, and his book should be a wake-up call to policymakers and influencers around the world. Technological advances are moving at staggering speed but we cannot assume all will be well for those displaced by such 'progress'. We are living in a time of deep political and economic uncertainty, as disaffected groups rally against the fallout of change. But, as
Will Robots Take your Job?
makes clear, this may mark only the beginning. It is time to wake from our slumber; if we take responsibility now the future is ours to shape for the better. This book shows us a way forward."
Christian Guy, former Special Adviser to British Prime Minister David Cameron
"Nigel Cameron has a refreshingly honest answer to the question of whether robots will take all the jobs: we don't know. Politicians are used to dealing with uncertainty in other fields, yet in this case they seem paralyzed. His brief, bracing book helpfully summarizes the debate – and persuasively argues that a risk-based approach to policymaking is the best response."
Tom Standage, Deputy Editor, The Economist
"Will Robots Take Your Job? offers a clear-headed introduction to an issue that should be at the forefront of public talk about technology: the likelihood of large-scale unemployment as machines take on increasing numbers of tasks previously assigned to a human workforce. Reminding us that the consequences of technological change are not 'unstoppable,' Cameron's book is a welcome call for public conversation and action to rethink relationships between humans and machines for the twenty-first century."
Jennifer S. Light, Massachusetts Institute of Technology

"An interesting read, providing a general overview of the main drivers of technological disruption and its impact on jobs, people and societies."
Labour & Industry