William Faulkner: Seeing Through the South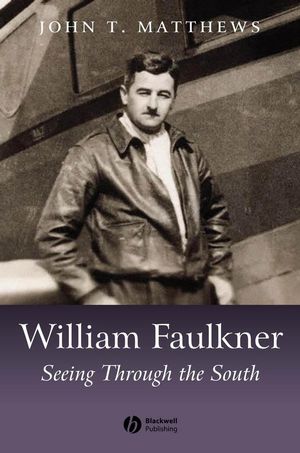 William Faulkner: Seeing Through the South
ISBN: 978-0-470-67240-2 December 2011 Wiley-Blackwell 320 Pages
Download Product Flyer
Download Product Flyer
Download Product Flyer is to download PDF in new tab. This is a dummy description. Download Product Flyer is to download PDF in new tab. This is a dummy description. Download Product Flyer is to download PDF in new tab. This is a dummy description. Download Product Flyer is to download PDF in new tab. This is a dummy description.
Description
Considered by many to be the most influential US novelist the world has known, William Faulkner's roots and his writing are planted in a single obscure county in the Deep South. A foremost international modernist, Faulkner's subjects and characters, ironically, are more readily associated with the history and sociology of the most backward state in the Union. He experimented endlessly with narrative structure, developing an unorthodox writing style. Yet his main goal was to reveal the truth of "the human heart in conflict with itself," ultimately defining human nature through the lens of his own Southern experience.
This comprehensive account of Faulkner's literary career features an exploration of his novels and key short stories, including The Sound and the Fury, As I Lay Dying, Absalom, Absalom!, and many more. Drawing on psychoanalytic, post-structuralist, feminist, and post-colonial theory, it offers an imaginative topography of Faulkner's efforts to reckon with his Southern past, to acknowledge its modernization, and to develop his own modernist method.
Table of contents
List of illustrations vi
Preface vii
Acknowledgments ix
Introduction: Seeing Through the South: Faulkner and the Life Work of Writing 1
1 An Artist Never Quite at Home: Faulkner's Apprehension of Modern Life 19
2 That Evening Son Go Down: The Plantation South at Twilight 77
3 Come Up: From Red Necks to Riches 124
4 The Planting of Men: The South and New World Colonialism 172
5 Seeing a South Beyond Yoknapatawpha 225
Notes 288
Bibliography 296
Index 302
Reviews
"It is largely due to this diversity of approaches and Matthews' ability to accessibly convey his formidable learning that his book achieves its dual aims: introducing Faulkner to first-timers while modifying an established critical tradition for the sake of a larger reading audience . . . seeing Through the South is a bold, many-sided, and at times surprising book-qualities that are not often combined in the typical introductory volume and are bolstered by Matthews' enthusiasm for his subject and his subtle engagement with Faulkner's daunting critical heritage." (Notes and Queries, 1 June 2011)
Matthews has produced the best book on Faulkner this year." (American Literary Scholarship, 2010)
"Matthews faces the crisis of Faulkner scholarship-with its cardboard Faulkners and its truncated canon-by giving us a more expansive, more relevant, and, frankly, more interesting Faulkner. His readings of the novels, particularly Sanctuary; If I Forget Thee; Jerusalem; Go Down, Moses; The Sound and the Fury; Absalom! Absalom!; and the Snopes trilogy, are simply indispensable. Beautifully written and obviously the product of long years of scholarship, these readings affirm the "complex mixtures" that make Faulkner one of America's greatest novelist."(Black Hills State University)"John T. Matthews's William Faulkner: Seeing through the South is the rare book that will prove vital and engaging both for readers new to Faulkner's writing and for scholars long devoted to it." (The Journal of American Studies, 2010)"
[A] compelling and richly engaging book [that] skilfully opens ways into Faulkner's writing for new readers and reinvigorates for his wider audience a sense of what we might talk about when we talk about Faulkner today … For all the relaxed manner of Matthews's address—his witty analogies, comfortable idiom, pleasurable clarifications, jokes and almost unforgiveable puns—his book speaks urgently to modern readers." (Review of English Studies, 2009)
"The present excellent book deals with the cohesiveness of Faulkner's work as an evolving project … Matthews is a master of literary theory without being mastered by it, and he has gifts as a close reader ... Highly recommended." (CHOICE, October 2009)
"John T. Matthews' lucid critical biography examines Faulkner's writerly persona and his rich fiction as developing organically out of precise aesthetic and social preoccupations best illustrated through a variety of methodologies … Matthews has previously explored modernist, post-structuralist, materialist and Marxist ways of reading Faulkner, and this critical suppleness benefits and supports student readers." (Times Literary Supplement, April 2009)
"John T. Matthews describes his monograph William Faulkner: Seeing Through the South (Blackwell) as an introduction to Faulkner's work, but he also attempts something still greater: to present Faulkner's entire imaginative career as a distinctively coherent project and to read all nineteen novels and a number of the best short stories as inter-related episodes in a vast chronicle of the world becoming modern, a record of the indispensable rooting of Faulkner's imagination in the place he chose to live all his life, with an emphasis on how the US South was embedded in the history of global colonialism. Matthews succeeds spectacularly on all counts. Organized according to themes rather than chronology, the book ranges among Faulkner's works and draws unexpected conclusions about them doing so in some of the most energetic, well-crafted, and moving prose I have heard speak from the pages of scholarship. Here, for example, Matthews takes up Faulkner's prose style: At the outset we do need to establish how dense and rich Faulkner's language is, and how his circuitous, polysyllabic style is not just personal eccentricity, or a symptom of alcoholism, or artistic ineptitude, or even some resentful torture of the reader, but an audacious bid to write like no one ever wrote before, and to do so because more than anything Faulkner wanted the reader to feel the world to be as intensely moving as he did himself. That he strained language to its breaking point conveys less a reluctance to communicate anything than a desperate determination to communicate everything. Matthews treats Drusilla Hawk of The Unvanquished as seriously as he does Thomas Sutpen, and That Evening Sun? as worthy of the same sustained attention lavished on The Sound and the Fury. His book reverberates with authority born of intense close readings of Faulkner and his critics, and his very title promises fresh readings. Faulkner, he argues, did see through the lens offered by his native land, and he also saw through the shams offered by various institutions in the modern world. Faulkner's political fable in The Mansion, for example, expresses the shortcomings of US Cold War conflict-thinking on several counts. Not only does America's preoccupation with the defense of personal liberty deafen it to the claims of justice, but the assumption that freedom is synonymous with free marketry ignores the numerous fatalities behind capitalism's success story. Beyond this diagnostic insight, moreover, Faulkner manages to suggest longings for more authentic freedom, in which liberty and justice need not conflict, where the discrepancy between the idle rich and the imprisoned worker need not end in murderous confrontation. Page after highly quotable page, Matthews has produced the best book on Faulkner this year." —John T. Matthews, Professor of English Boston University