William Shakespeare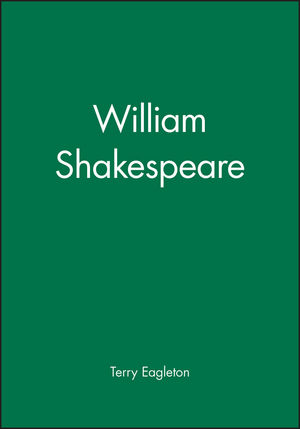 William Shakespeare
ISBN: 978-0-631-14554-7 January 1991 Wiley-Blackwell 128 Pages
Description
This is a bold and original reinterpretation of almost all of Shakespeare's major plays, in the light of the Marxist, feminist and semiotic ideas of our own time. Through a set of tenaciously detailed readings, the book illuminates a number of persistent problems or conflicts in Shakespearean drama - in particular a contradiction between words and things, body and language, which is also explored in terms of law, sexuality and Nature.


Language and desire, Terry Eagleton argues, are seen by Shakespeare as a kind of 'surplus' over and above the body, stable and social roles and a fixed human nature. But the attitude of the plays to such a 'surplus' is profoundly ambivalent; if they admire it as the very source of human creativity, they also fear its anarchic, trangressive force. Underlying such ambiguities, the book convincingly shows, is a deeper ideological struggle, between feudalist traditionalism on the one hand, and the emergence of new forms of bourgeois individualism on the other. This book revels how, in the light of our own contemporary theories of language, sexuality and society, we can understand the issues present in Shakespeare's drama which previously have remained obscure.
Preface ix
1 Language: Macbeth, Richard II, Henry IV 1
2 Desire: A Midsummer Night's Dream, Twelfth Night 18
3 Law: The Merchant of Venice, Measure for Measure, Troilus and Cressida 35
4 'Nothing': Othello, Hamlet, Coriolanus 64
5 Value: King Lear, Timon of Athens, Antony and Cleopatra 76
6 Nature: As You Like It. The Winter's Tale, The Tempest 90
Conclusion 97
Notes 105
Index 109
"Brilliant little book ... dazzling and exhilarating ... Eagleton is alive to the excitement and originality of a great playwright."
Sunday Times
"When you read this book you feel Eagleton's pleasure in reading Shakespeare's works. He deals with the plays in chapters which cut across the well-used categories and an excitement is created by the unexpectedness of the directions which he takes." Marxism Today
"Always provocative, Mr. Eagleton does in print what directors regularly do on stage: change the century, stitch up new costumes, but preserve the story line and language." Herbert Mitgang, The New York Times