Windows 7 For Dummies eLearning Course Access Code Card (6 Month Subscription)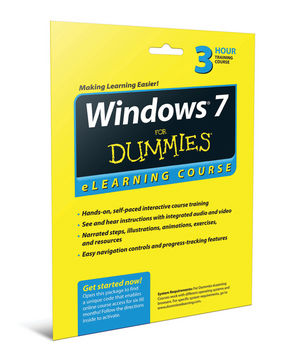 Windows 7 For Dummies eLearning Course Access Code Card (6 Month Subscription)
ISBN: 978-1-118-44545-7
Oct 2012
2 pages
Product not available for purchase
Description
**The purchase of this card includes an access code that is entered and fulfilled at the For Dummies eLearning Center. You will receive access to the course for six (6) months from date of access code entry. Details are inside the card. 
For Dummies eLearning Courses are the perfect way to get you up-to-speed on a new skill! With integrated audio and video instruction, including screencasts, illustrations, animations, and video, as well as course interactivity to immediately reinforce what you've learned, For Dummies is making learning easier.
Want to really get to know Windows 7? Windows 7 For Dummies eLearning Course makes mastering Microsoft's operating system easy! In six interactive lessons, you'll learn all about Windows 7's features and walk step by step through the most common Windows 7 tasks, including managing files, applications, media, and Internet access. Step-by-step instructions, plenty of examples, and ways to assess your progress make learning easy. In each lesson, you'll find clear, expert instruction, interactive quizzes, hands-on activities, summaries, and a way to review topics so you can progress at your own pace.
 The course covers:
Logging on and navigating the Windows 7 interface
How to launch and manage programs, organize files, and keep track of your libraries
Playing music and videos on Windows Media Player, organizing your photos with Windows Photo Viewer, and sharing files online through a Windows Live Account
Setting up a home network, sharing your devices, and building a homegroup
Browsing techniques, and everything you ever wanted to know about e-mailing
Setting up an admin account, performing routine maintenance, using parental controls, and staying safe on the Web
Tips and tricks for troubleshooting disasters
And more