Windows For Tablets For Dummies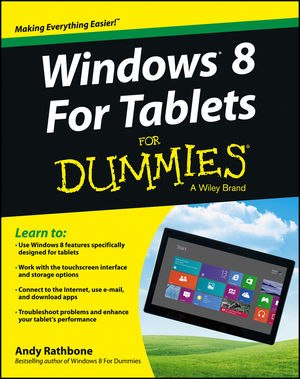 Description
Just for you--Windows 8 from the tablet user's perspective
If you're an experienced Windows user, you don't need a guide to everything that Windows 8 can do, just to those tools and functions that work on your tablet. And so here it is. This new book zeros in on what you need to know to work best on your tablet with Windows 8. Topics include navigating the new Windows 8 interface and how it works on a touchscreen, how to safely connect to the Internet, how to work with apps or share your tablet in a group, and much more.
If you're a new tablet user, you'll particularly appreciate the fresh guidance on storing files in the cloud, finding tools on the new Windows app store, and tablet troubleshooting.
Focuses just on using Windows 8 on tablet devices, giving tablet users their own exclusive guide
Covers unique Windows 8 tablet features, such as the touchscreen interface, the new Windows app store, cloud computing options, and tablet troubleshooting
Explores using a tablet PC as a media machine for music, photos, and video, as well as how to stay safe online, improve performance, and other topics
Reveals savvy, practical tips from bestselling Windows For Dummies author Andy Rathbone
Keep Windows 8 For Tablets For Dummies close at hand and get the very most out of your Windows 8 tablet.
Introduction 1
Part I: Getting Started with Windows 8 Tablets 7
Chapter 1: Understanding Windows 8 Tablets 9
Chapter 2: Setting Up Your Tablet 17
Chapter 3: Touching, Typing, and Drawing on Your Tablet 29
Chapter 4: Navigating the Windows Start Screen 51
Chapter 5: Visiting the Windows Desktop 71
Part II: Connecting, Playing, and Working 91
Chapter 6: Connecting to the Internet, Printers, Monitors, Storage, and More 93
Chapter 7: Visiting Websites 135
Chapter 8: Keeping in Touch Through the Mail, People, Calendar, and Messaging Apps 153
Chapter 9: Working with Apps and Programs 179
Chapter 10: Working in Microsoft Office 197
Part III: Media 209
Chapter 11: Photos and Video 211
Chapter 12: Listening to Music 219
Part IV: Tweaks 227
Chapter 13: Changing Settings 229
Chapter 14: Maintenance, Safety, and Troubleshooting 241
Part V: The Part of Tens 259
Chapter 15: Ten Things to Do Now to Your Windows Tablet 261
Chapter 16: Ten Essential Apps 267
Chapter 17: Ten Essential Tips 'n' Tricks 271
Chapter 18: Ten (or So) Essential Accessories 277
Chapter 19: Ten (or So) Essential Keyboard Shortcuts 283
Index 285
Updates
Please check back here for updates.