Windows Game Programming For Dummies, 2nd Edition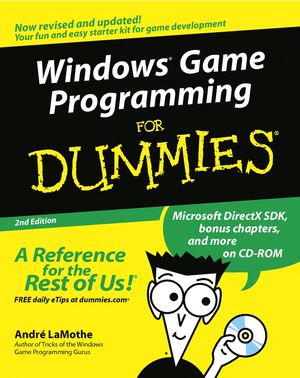 Windows Game Programming For Dummies, 2nd Edition
ISBN: 978-0-764-51678-8 October 2002 450 Pages
Description
The multimedia and computer-games industry has exploded in recent years.  Games have gotten incredibly sophisticated—and incredibly entertaining. The programs used to create them have improved also, to the point that you don't necessarily have to be a nerd deluxe to do it yourself. Even so, game programming can be challenging—even if you're a veteran C/C++ programmer and licensed technogeek. Challenging, sure…but also incredibly cool.

Using DirectX—the latest and greatest technology for making games on PCs—Windows Game Programming For Dummies will help you write just about any 2D game you can conjure. Now updated to cover new DirectX and Windows releases, your friendly yellow-and-black companion will show you:
The basics of video game design
The nuts and bolts of Windows programming
How to work with DirectX—and play with DirectDraw
How to make a real game, with an actual, step-by-step example
How to market your mind-blowing new creation
The ten biggest mistakes made by game programmers—and how to avoid them
From graphics to sound to input and installation, legendary game developer and Xtreme Games CEO André LaMothe takes you right into the guts of the game—in an entertaining style that won't send you retreating to the nearest joystick. André's witty, he's tons of fun, and before you know it he'll have you up to speed on:
Setting up your game programming workstation
Getting into DirectDraw: animation techniques, bitmaps, color keying, and more
Adding Direct X subsystems such as DirectSound, DirectInput, and AutoPlay
Getting your hands dirty by making a real game
The physics of asteroids and other flying objects: time, velocity, force, and all that
Game programming websites, downloads, 3D engines, usenet groups, and more!
Foreword xxiii
Introduction 1
Part 1: Getting Familiar with Windows Programming 7
Chapter 1 Setting Up for Windows 95/98/NT Game Programming 9
Chapter 2 Exploring the Basics of Video Game Design 15
Chapter 3 The Nuts and Bolts of Windows 95/98/NT Programming 39
Chapter 4 How to Handle Big Events 67
Chapter 5 Putting windows GDI to Work: Drawing Text and Graphics 83
Chapter 6 Wrapping Up Windows Programming 113
Part II Jacking In with DirectX 133
Chapter 7 The Architecture of DirectX and the Dreaded COM 135
Chapter 8 Getting to Know DirectDraw 151
Chapter 9 Using the DirectDraw Crayons 161
Chapter 10 Digging into DirectDraw: Animation and Bitmaps 187
Chapter 11 Digging Deeper into DirectDraw: Advanced Features 217
Chapter 12 The GPDUMB Game Engine, Part I 249
Part III The Rest of the Puzzle: Sound, Input, and Setup 291
Chapter 13 Making Noise with DirectSound 293
Chapter 14 The Ins and Outs of DirectInput 323
Chapter 15 Press OK to Install: Using DirectSetup and Autoplay 353
Chapter 16 GPDUMB Part II – The Final Conflict 363
Part IV The Glue of Games 389
Chapter 17 What Goes Up Must come Down: Physics Modeling 391
Chapter 18 Putting the Game Engine to Work with Underworld 413
Chapter 19 Marketing Your Madness 419
Part V The Part of Tens 423
Chapter 20 Ten Basic Rules of Game Design 425
Chapter 21 Ten Biggest Mistakes Game Programmers Make 431
Chapter 22 Ten Best Game Programming Resources on the Web 435
Part VI Bonus Chapters ….on the CD-ROM
Chapter 23 The Lowdown on Artificial Intelligence
Chapter 24 Game Programming Potpourri
Appendix: About the CD 439
Index 445
Hungry Minds End-User License Agreement 467
Installation Instructions 469
Book Registration Information … back of Book
The Underworld Challenge
The Underworld Challenge
A message from André LaMothe, author of Windows® Game Programming For Dummies®
As with all my books, I like to create some sort of contest or other impetus to get you to write a game from scratch or modify a game that I provide. In keeping with tradition, here's a little contest for you: Improve Underworld as much as you can and send me your game. On January 1 of every year until the year 2005, I will select a winner from all the submissions, send the winner $100 (in U.S. funds), and put the winning game up on my Web site for all to see and download.

To enter the contest, simply send me your game on a disk or CD with a self-addressed envelope to the following address:

Xtreme Games LLC
Attention: The Underworld Challenge Contest
P. O. Box 641744
San Jose, CA 95164-1744

Or you can upload it to me at: necron@slip.net or necron@inow.com

I won't send back anything if you lose, but I will if you win!