Windows XP Home Edition!: I Didn't Know You Could Do That...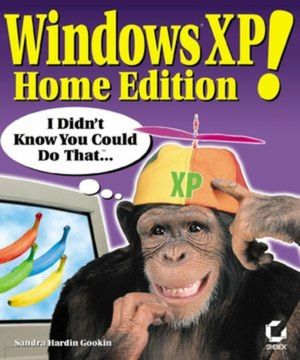 Windows XP Home Edition!: I Didn't Know You Could Do That...
ISBN: 978-0-782-15258-6
Feb 2006
384 pages
Product not available for purchase
Description
Go beyond the manuals and Help files with this value-packed software and book combination that shows you how to optimize and just plain have fun with Windows XP Home Edition.

Packed with tips and tricks, step-by-step instructions and the most useful software utilities and applications available, you'll learn how to get the most out of the latest version of Windows.

Includes a CD packed with scores of programs, tested and approved by an expert author.
Note: CD-ROM/DVD and other supplementary materials are not included as part of eBook file.
Introduction.
Personalize Your Computer.
1. Get Rid of the Windows XP Fluff.
1. Lock or Unlock the Taskbar.
3. Easily Find Open Documents by Grouping Taskbar Buttons.
4. Rename Everything on Your Computer.
5. Record Your Own ""New Mail"" Message.
6. Use Your Computer to Gather Pictures.
7. Make a Desktop Slide Show Screen Saver.
8. Create Your Own Wallpaper.
9. Customize Your Icons.
10. Change the Picture Next to Your Name.
11. Keep Your Computer Clean.
12. Move Folders from One Computer to Another.
13. Make Your Computer Talk to You.
14. Clean Up the Desktop.
Use Your Computer for Both Business and Home Use.
15. Take a Tour of Windows the Proper Way.
16. Use More Than One Monitor.
17. Manage User Accounts.
18. Quickly Switch between Multiple Users.
19. Publish a File or Folder to the Web.
20. Save a Document in a Universally Sharable Format.
21. Save a Graphic Image in a Universally Sharable Format.
Entertain on Your Computer.
22. Play Music on Your Computer.
23. Get Entertainment Information from the Internet.
24. Turn Your Computer into a Radio.
25. Copy Music from an Audio CD.
26. Create Your Own Library of Songs.
27. Download MP3 Files.
28. Test Your Sound Hardware.
29. Burn a Music CD.
30. Make a Movie.
31. Watch a Movie.
32. Create a Slide Show.
33. Change the Program That Plays Your Media File.
34. Add a Custom Palette of Music Selections to Your Desktop.
Set up Your Own Home Network.
35. Use Special Hardware to Create Your Network.
36. Configure Windows to Understand Your Home Network.
37. Share Your Valued Computer Resources on the Network.
38. Peek at Other Computers on Your Home Network.
39. Share Your Wonderful Color Printer with Others on the Network.
40. Use Another Printer on the Network.
41. Share Your Internet Connection.
42. Use Another Modem on Another Computer to Connect to the Internet.
Print That.
43. Preview a Web Page before Printing.
44. Print a Web Page Graphic.
45. Print Things on the Screen.
46. Print a Window in Windows.
47. Print a List of Files in a Directory.
48. Print Your Address List.
49. Fax from Windows.
50. Manage Faxes.
51. Receive a Fax.
52. Use E-Mail to Send a Fax.
53. Print Images.
54. Print Help and Support Documentation.
Get Windows to Help You.
55. Use the Windows Help System.
56. Mark a Topic as a Favorite.
57. Use Your Own Options for Help.
58. Use Outside Groups for Help.
59. Use the F1 Key for Help.
60. Use the? Button for Help.
61. Use Help in a Program.
62. Use Help for the Internet.
63. Update Windows.
64. See Whether Your Old Program Is Compatible.
65. Use Antivirus Software to Keep Out the Nasty Bugs.
66. Find Files.
67. Create Shortcuts.
Maintain and Prevent Goof-ups.
68. Go Back in Time.
69. Download Nasty Things.
70. Run Disk Cleanup to Save Disk Space.
71. Troubleshoot Diagnostic Tool.
72. Defrag Your Hard Drive.
73. Schedule Your Computer to Work While You Sleep.
74. Track Down Memory Leaks.
75. Track Down Programs Run Amok.
76. Let the Taskbar Run Amok.
77. Get Rid of the Notification Area (System Tray).
Compress and Decompress a File to Save Space.
78. Make That Huge Bloated File Take Up Less Hard Disk Space.
79. Store Old Projects in a Compressed Folder.
80. Password-Protect Compressed Folders.
81. E-Mail a Compressed Folder.
82. Consider the File Type before Compressing.
83. Compress an Existing Folder.
84. Use WinRAR Instead of Windows XP's Compressed Folders.
85. Work with Files in a Compressed Folder.
86. Do Compressed Folder Tricks.
Do Lotsa Internet Stuff.
87. Sign Up for a .NET Passport Account.
88. Use MSN Explorer in So Many Fascinating Ways.
89. Send and Receive Instant Messages.
90. Send a File with Windows Messenger.
91. Place an Internet Phone Call.
92. Add Names to Your List of Contacts.
93. See If Your Friends Are Online.
94. Play with a Whiteboard.
95. Ask for Help from an Online Friend.
96. Share Applications with Windows Messenger.
97. Organize a Meeting over the Internet.
98. Set Up a Firewall.
99. Play Games with Internet Friends.
100. Send a Photo As an E-Mail Attachment in Less Than a Minute.
101. Make a Joke Folder for Outlook Express.
102. Play with a Media Bar.
103. Add Another E-Mail Account to Outlook Express.
104. Set Up a Newsgroup Account.
Index.