Windows XP Media Center Edition 2004 PC For Dummies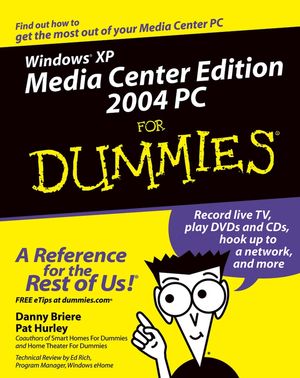 Windows XP Media Center Edition 2004 PC For Dummies
ISBN: 978-0-764-55905-1 November 2003 360 Pages
Description
The fun and easy way to get up and running quickly with Microsoft Windows XP Media Center Edition, the new operating system version specially outfitted for TV, DVD, video, music, and digital photo applications

Media Center PCs are the first PCs to feature an easy-to-use interface and all preconfigured hardware and preloaded software needed to create a complete integrated home entertainment system

Explains how to integrate a home computer network with a home theater system, control connected TVs with the Remote Control Interface, record TV programs using a TiVo-like recorder, acquire and play back music files, organize digital videos and photos, play DVD movies, and much more

Written by the authors of Home Theater For Dummies (0-7645-1801-1)and Wireless Home Networking For Dummies (0-7645-3910-8), who worked closely with Media Center Edition product management at Microsoft to complete the book.
Introduction.
Part I: Introducing the Media Center Edition PC.
Chapter 1: All about Windows XP Media Center Edition.
Chapter 2: A Look Inside a Media Center PC.
Chapter 3: Evaluating and Buying a Media Center PC.
Part II: Integrating Your Media Center PC.
Chapter 4: Cables, Connectors, and Components.
Chapter 5: Hooking Up Your Media Center PC.
Chapter 6: Connecting to the Internet.
Chapter 7: Starting MCE for the First Time.
Chapter 8: Customizing Your MCE Experience.
Part III: Using XP Media Center Edition.
Chapter 9: Watching TV.
Chapter 10: Listening to Music.
Chapter 11: Working with Photos.
Chapter 12: Playing DVDs.
Chapter 13: Working with Home Videos.
Chapter 14: Working with Third-Party Applications.
Part IV: Connecting to the Rest of Your House.
Chapter 15: Building a Home Network.
Chapter 16: Using a Wireless Home-Networking System.
Part V: The Part of Tens.
Chapter 17: Ten Cool Accessories for Your Media Center PC.
Chapter 18: Ten Future Features of Media Center PCs.
Chapter 19: Ten Great Places to Visit with Your Media Center PC.
Appendix: Connecting Your MCE PC to Your Home-Entertainment System.
Index.