Windows XP Power Tools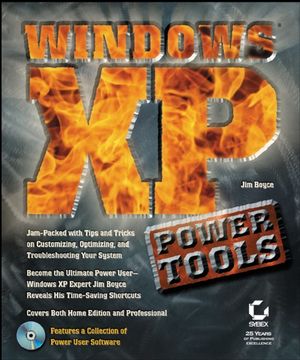 Windows XP Power Tools
ISBN: 978-0-782-14067-5
Jun 2002
848 pages
Product not available for purchase
Description
Step-by-Step Instruction Helps You Harness the Full Power of Windows XP
Whether you're running Windows XP Home Edition or Professional, Windows XP Power Tools arms you with the advanced skills you need to become the ultimate power user. Full of undocumented tips and tricks and written by a Windows expert, this book provides you with step-by-step instructions for customization, optimization, troubleshooting and shortcuts for working more efficiently. A must-have for power users and network administrators, Windows XP Power Tools includes a CD filled with power tools including security, e-mail, diagnostic and data recovery utilities.
Coverage includes:
* Performing network, automated, and unattended installations
* Controlling Windows XP startup and shutdown
* Controlling printing
* Auditing the system
* Adding and removing OS components
* Understanding and managing the Registry
* Working with Device Manager
* Setting up and troubleshooting incoming and outgoing connections
* Hosting FTP sites
* Performing backups and recovering from disasters
* Managing users and groups
* Setting up, monitoring, and managing Remote Access
* Configuring and optimizing TCP/IP
* Managing certificates
* Configuring VPN connections
* Encrypting your files
Introduction.
Part IWindows XP Overview,Installation,and Startup.
Chapter 1:What?s New in Windows XP?.
Chapter 2:Stand-Alone Installations.
Chapter 3:Reaping the Rewards of Network, Automated, and Unattended Installations.
Chapter 4:Running Multiple Operating Systems on a Single PC.
Chapter 5:Gaining Control of Windows XP Startup and Shutdown.
Part IIRunning and Customizing Windows XP.
Chapter 6:Shortcuts for Working in Windows.
Chapter 7:Customizing the Interface.
Chapter 8:Controlling Windows Explorer.
Chapter 9:Controlling Printing.
Chapter 10:Command Console Survivor?s Guide.
Chapter 11:Using and Customizing Help.
Part IIIManaging the System and Applications.
Chapter 12:Minimizing the Aches and Pains of Application Installation and Configuration.
Chapter 13:Yes, You Can Run Legacy and Non-Windows Applications in Windows XP.
Chapter 14:Adding and Removing OS Components.
Chapter 15:Using and Customizing MMC Consoles.
Chapter 16:It?s All About Control: Tools and Techniques for Managing Services.
Chapter 17:Monitoring Events.
Chapter 18:Monitoring Performance.
Chapter 19:Auditing the System.
Chapter 20:Using Disk Quotas 285Part IVHardware.
Chapter 21:Understanding and Managing the Registry.
Chapter 22:Working with Device Manager.
Chapter 23:Configuring Hardware.
Chapter 24:Using Hardware Profiles.
Chapter 25:Managing the File System 343Part VCommunications and Networking.
Chapter 26:Modem and Dial-Up Networking Configuration.
Chapter 27:Choosing a Network Topology.
Chapter 28:Configuring LAN Connections.
Chapter 29:Configuring and Optimizing TCP/IP.
Chapter 30:Troubleshooting and Monitoring TCP/IP Connections.
Chapter 31:Remote Access, Monitoring, and Management.
Chapter 32:Configuring and Sharing Internet Connections.
Chapter 33:Supporting Wired or Dial-Up Incoming Connections.
Chapter 34:Optional Networking and Management Components.
Part VIInternet Applications and Services.
Chapter 35:Optimizing Internet Explorer.
Chapter 36:Outlook Express.
Chapter 37:Hosting Websites.
Chapter 38:FrontPage Server Extensions.
Chapter 39:Hosting FTP Sites.
Chapter 40:Setting Up a Telnet Server.
Part VIIManaging Users.
Chapter 41:Managing Users and Groups.
Chapter 42:Understanding Group and Local Policies.
Chapter 43:Reining in Users with Policy Restrictions.
Chapter 44:Managing User Data and Settings.
Part VIIIBackup and Disaster Recovery.
Chapter 45:Backup.
Chapter 46:System Recovery Tools.
Chapter 47:Recovery Console 703Part IXSecurity.
Chapter 48:Managing Certificates.
Chapter 49:Encrypting File System.
Chapter 50:IPSec.
Chapter 51:VPN Connections.
Index.
Download Code
Download a .zip file with the code and examples used in the book.
To uncompress the file, Windows users can use Windows built-in ZIP utilities or a 3rd party utility like WinZip or WinRAR. Macintosh users can simply double-click the downloaded file to extract using the built-in archive utility.
Download
Bonus Chapter 01: Managing the Indexing Service

Download
Bonus Chapter 02: Using the SMTP Service for Mail Relay

Download
Bonus Chapter 03: Using Desktop Conferencing and Chat to Collaborate and Converse

Download
Chapter
Page
Details
Date
Print Run
Combined Errata


Page 0 CD

Corrupted file on CD. .
The System Diagnostic/VB Sys file included on the CD was corrupted during CD replication. The replacement file can be downloaded by clicking on the link below.






---