Windows XP for Power Users: Power Pack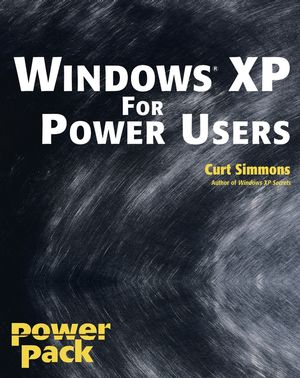 Windows XP for Power Users: Power Pack
ISBN: 978-0-764-55887-0
Feb 2004
650 pages
Product not available for purchase
Description
Shows power users how to take Windows XP to the next level, focusing on functionality, networking, and overall performance
Features to-the-point coverage that skips introductory explanations and focuses instead on the real-world tips and tricks power users need to become more productive
Written in a friendly, approachable style by experienced XP author and power user Curt Simmons
Topics covered include scripting, managing applications, making the most of digital media, power management, hardware management, the registry and file systems, security, auditing, backup and data storage, system performance, system recovery, Microsoft's popular download XP Power Toys, networking, and wireless
Preface.
Acknowledgments.
Chapter 1: Configuring the Windows XP Interface.
Chapter 2: Managing Users.
Chapter 3: Working with Applications.
Chapter 4: Using Digital Media on Windows XP.
Chapter 5: Startup, Shutdown, and Power Management.
Chapter 6: Managing Hardware on Windows XP.
Chapter 7: Managing the Hard Disk.
Chapter 8: Working with Folders and Files.
Chapter 9: Working with the Registry.
Chapter 10: Working with the Microsoft Management Console.
Chapter 11: Networking on a Workgroup.
Chapter 12: Networking in Windows Networks.
Chapter 13: Remote Networking.
Chapter 14: Internet Access, ICS, and ICF.
Chapter 15: Sharing and Security.
Chapter 16: Auditing and Disk Quotas.
Chapter 17: Backing Up and Restoring Data.
Chapter 18: Monitoring and Managing System Performance.
Chapter 19: System Failure and Recovery.
Chapter 20: Customizing with Windows XP PowerToys.
Chapter 21: Scripting with Windows XP.
Appendix A: Windows XP Installation Options.
Appendix B: Using the Command Console.
Appendix C: Helpful Windows XP Utilities.
Index.