Winning on Betfair For Dummies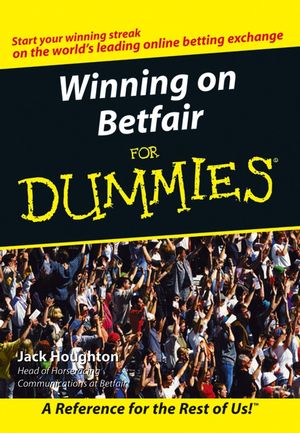 Winning on Betfair For Dummies
ISBN: 978-0-470-02941-1
Jul 2006
224 pages
Description
The world of betting is being transformed by internet betting exchanges, and there's none bigger than Betfair, the world's leading online betting exchange. Winning on Betfair For Dummies is the definitive insider's guide, giving you a full picture of the way Betfair works, explaining the terms, lingo and jargon, and letting you in on insider knowledge and know-how. It's the perfect reference for the first time Betfair player, and also reveals tips and tricks to satisfy even the most seasoned punter.

Winning on Betfair FD includes information on:
Backing and laying
Placing more than one bet in a market
Betting in-play
Telephone, mobile phone and PDA betting
Trading, arbing and bots
Making a profession of it
Introduction.
Part 1: Starting Out.
Chapter 1: What is Betfair?
Chapter 2: Starting Out with the Essentials.
Chapter 3: Managing Your Account.
Chapter 4: Choosing Your Market.
Part 2: Let's Get Betting.
Chapter 5: Placing your first bet.
Chapter 6: Doing the Maths.
Chapter 7: Betting In-Play.
Part 3: Getting Serious.
Chapter 8: Low Risk Betting: Trading.
Chapter 9: Low Risk Betting: Arbing.
Chapter 10: Automating Your Betting.
Chapter 11: Going Pro.
Chapter 12: Problem Gambling.
Part 4: Part of Tens.
Chapter 13: Ten Common Mistakes.
Chapter 14: Ten Top Tips.
Chapter 15: Ten Most Amazing Betfair Markets.
Chapter 16: Ten Betfair Firsts.
Glossary.
Index.
"....the perfect reference for the first-time Betfair player... reveals tips and tricks to satisfy even the most seasoned punter..." (
The Sportsman
, April 2006)
"…the definitive insider's guide…" (Pacemaker, November 2006)