Wired Marketing: Energizing Business for e-Commerce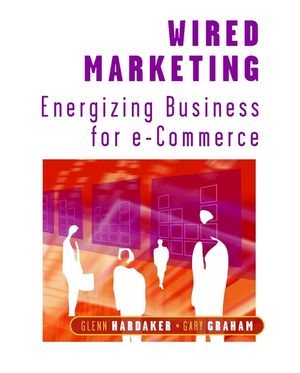 Wired Marketing: Energizing Business for e-Commerce
ISBN: 978-0-471-49645-8
Aug 2001
284 pages
Description
Wired Marketing provides a unique mix of strategic and technical knowledge designed primarily for students on marketing-related courses. It focuses on the Internet as a marketing tool in the context of rapidly changing business and consumer markets, including the emergence of eCommerce on the World Wide Web. Part one of the book deepens the marketing concept, by providing an overall outline of the role and importance of Internet marketing to e-commerce. In particular the first part of the book looks at the technological-driven shift in the marketing paradigm from direct marketing towards interactive marketing on the World Wide Web. Part one also outlines the fundamental Internet based changes in both the consumer and business-to-business markets.

The second part of the book broadens the marketing concept by exploring the move towards new interactive forms of marketing and changing communication processes as a consequence. It proposes, for example, in the chapter on marketing communications an e-based communications mix that illustrates the impact of new technology. This broadening of the marketing concept, by the Internet is extended further through a focus on supply chain management. Here we explore the way the Internet is changing how enterprises interact with their suppliers, partners and customers. It looks at the implications for managing the customer. The music industry is one of a number of examples used.

The final part of the book is intended to provide a marketing and e-commerce "toolkit" for the Internet. Part four will provide useful web-links to marketing sites of importance, offering leading edge marketing information and useful software applications. In particular this section will provide an insight into Advanced Web based marketing technology for the Internet. Finally the book will consider approaches towards strategic Internet marketing planning with a particular focus on flexibility, speed and the customer. The style of the book is to encourage the application of practical knowledge, but it also attempts to offer in-depth understanding of the changing nature of marketing through trading by e-commerce. The main text willl be supplemented with extensive practical case examples and also various web links which illustrate that the Internet is radically altering marketing and e-commerce practices. Supplementary materials for lectures will be provided on a web site.
Preface xi
Foreword xiii
Acknowledgements xv
Part 1 – Marketing transformation on the Internet
Chapter 1 Introduction to Internet Marketing 3
The marketing concept: a brief history 4
Electronic commerce and the Internet revolution 9
Online selling through the Internet 13
The evolution from direct into interactive online marketing 14
Objectives of the book 16
Structure of the book 17
Distinctive features 17
Conclusion 18
References 19
Chapter 2 Business models for interactive marketing 21
Evolution of Internet-based business models 22
The emerging role of syndication 32
Model implementation and evaluation 34
Conclusion 36
References 37
Chapter 3 Online resources for internet marketing techniques 39
The interactive marketing information systems 40
Route map to the foundations of Internet technology 41
Communications infrastructure for web-based marketing 47
Cyberspace information for interactive marketing 53
Building your market intelligence tools 56
Conclusion 58
References 59
Part 2 – Interactive marketing and the marketing process
Chapter 4 Marketing communications on the Internet 63
Process of online marketing communications 63
E-business grid for integrated marketing communication 68
Interactive marketing communication tools 74
Technological developments for marketing communications 82
Conclusions 86
References 87
Chapter 5 The Internet customer and relationship marketing 89
Theoretical basis of relationship marketing 91
Buyer-supplier relationships on the Internet 94
Developing web relations 97
Strategic benefits of virtual relationships 99
Conclusion 101
References 101
Chapter 6 New buyer behavior direction through virtual communities 103
Interactive marketing directions for e-commerce 103
Marketing transformation through virtual environments 109
Evolution of buyer behavior concepts on the World Wide Web 116
Hypermedia support for new media based buyer behavior 121
Conclusion 125
References 126
Chapter 6 New buyer behavior directions through virtual communities 103
Interactive marketing directions for e-commerce 103
Marketing transformation through virtual environments 109
Evolution of buyer behavior concepts on the World Wide Web 116
Hypermedia support for new media buyer behavior 121
Conclusion 125
References 126
Part 3 – Managing your customer through e-commerce
Chapter 7 Supply chain management for Internet commerce 129
Structural and supply chain redesign issues 130
The potential role of the Internet 132
Virtual sourcing 137
Supplier sourcing decision 140
Developing partnerships on the Internet 141
Performance measurement on the Internet 142
Conclusion 145
References 146
Chapter 8 Consumer on-line payment solution for e-commerce 149
An integrated approach towards e-commerce 149
Vital components for consumer online e-commerce 149
Steps in processing online credit card transactions 156
How to build a successful e-commerce site 160
Products and tools for building your e-commerce site 163
Conclusion 165
References 167
Chapter 9 Privacy and security issues for e-commerce 169
Electronic commerce safety and network security 170
Authentication 174
Securing data integrity, privacy, and accountability 176
Conclusion 189
References 189
Chapter 10 Marketing ethics on the Internet 191
Emergence of accountable marketing 192
Working towards a code of ethical conduct on the Web 194
Main issues of ethical concern 195
Rules of ownership 199
Enforcement and operationalizing ethical codes 203
Conclusion 205
References 206
Part 4 – Internet tools for wired marketing
Chapter 11 Advanced web technology for interactive marketing 211
Intersection between marketing and open-source solutions 212
Intelligent agent software for personalized information and e-commerce 214
Mobile push and pull technologies 220
Web-to-database integration 224
Broadband application across the Web 228
Conclusion 231
References 232
Chapter 12 Strategic Internet marketing planning 235
Business and market analysis 237
Integrated online marketing communications strategies 239
Internet marketing: planning development paths 243
Internet marketing budget and resources allocation 245
Risk analysis and contingency planning 248
Conclusion 251
References 253
Glossary 255
Subject Index 263