Wireless Access Networks: Fixed Wireless Access and WLL Networks -- Design and Operation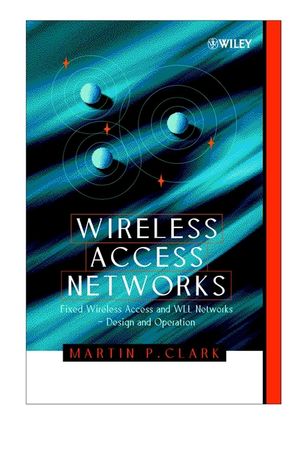 Wireless Access Networks: Fixed Wireless Access and WLL Networks -- Design and Operation
ISBN: 978-0-471-49298-6
Nov 2000
426 pages
Description
Wireless provides a means for effective, efficient and rapid deployment of new access networks in areas previously without telecommunications service or short of capacity. Fixed wireless access networks and Wireless Local Loop (WLL) technology are, therefore, playing an important role in the restructuring of the public telecommunications industry.
Written in a highly accessible, well-illustrated and simple-to-read format, this book presents the economics, the practicalities, the technical and operational aspects of planning and maintaining fixed wireless access networks, and explains when and why they are attractive.
Topics covered include:
? Design of radio systems and their basic functionality
? Point-to-point (PTP) and point-to-multipoint (PMP) radio
? Calculation of radio system range and reliability
? Fixed wireless applications and their network integration
Wireless Access Networks is an invaluable and complete reference for all involved in fixed wireless access and wireless local loop, including business strategists, marketing, technical, planning and operations staff of public network operators, as well as students.
Acknowledgements xi

Part I Fundamentals of Fixed Wireless 1

1. The Case for Fixed Wireless Networks 3
2. Radio Communication, The Radio Spectrum and it's Management 23
3. Point-to-Point (PTP) and Point-to-Multipoint (PMP) Wireless Systems & Antennas 41
4. Radio Modulation 57
5. Multiple Access Schemes for Point-to-Multipoint Operation 69
Part II system and Network Design 79
6. Basic Radio System Design and Functionality 81
7. Radio Propagation, System Range, Reliability and Availability 115
8. Radio Path and Radio Network Planning Considerations 139
9. Radio Network Frequency Planning 161
Part III Applications and Network Integration 195
10. Radio Applications and Network Integration 195
11. Wireless Local Loop (WLL) 227
12. Backbone, Backhaul and High Capacity Access Radio Systems 247
13. Data Networks and Radio 267
14. Broadband Wireless Access 283
15. Radio System Installation 301
16. Operation and Management of Wireless Access Networks 319
Appendices
Appendix 1 Radio Bands and Channel Rasters for Fixed Wireless Systems 337
Appendix 2 ETSI Radio Specifications for Fixed Wireless 343
Appendix 3 IEEE Publications and FCC Standards 347
Appendix 4 Waveguide Specifications 349
Appendix 5 Coaxial Cable Waveguides (RG-Nomenclature) 351
Appendix 6 Forward Error Correction Codes 353
Appendix 7 Wireless propagation, Frequency Re-use, Design and Operations 359
Appendix 8 world Climate Zones and their Precipitation Characteristics 373
Appendix 9 Rainfall Attenuation Prediction Model 379
Appendix 10 Safety, Environmental and EMC (Electromagnetic Compatibility) Standards Relevant to Fixed Wireless 381
Appendix 11 Radio Spectrum Charges for PTP and PMP System Operations 383
Appendix 12 Radio Regulations Agencies 385
Glossary of Terms 389
Bibliography 393
Index 395
"This reference for students and professionals covers the design, operation, and maintenance of fixed wireless access and wireless local loop networks." (SciTech Book News Vol. 25, No. 2 June 2001)