Wireless Security Essentials: Defending Mobile Systems from Data Piracy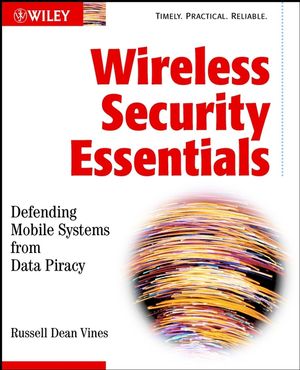 Description
As wireless device usage increases worldwide, so does the potential for malicious code attacks. In this timely book, a leading national authority on wireless security describes security risks inherent in current wireless technologies and standards, and schools readers in proven security measures they can take to minimize the chance of attacks to their systems.
* Russell Dean Vines is the coauthor of the bestselling security certification title, The CISSP Prep Guide (0-471-41356-9)
* Book focuses on identifying and minimizing vulnerabilities by implementing proven security methodologies, and provides readers with a solid working knowledge of wireless technology and Internet-connected mobile devices
Preface.

Introduction.

Part I: Technology Essentials.

Chapter 1: Computing Technology.

Chapter 2: Wireless Theory.

Chapter 3: Wireless Reality.

Part II: Security Essentials.

Chapter 4: Security Concepts and Methodologies.

Chapter 5: Security Technologies.

Chapter 6: Threats and Solutions.

Appendix A: Glossary.

Appendix B: A WLAN Exploitation Guide.

Appendix C: Using the Fluhrer, Mantin, and Shamir Attack to Break WEP.

Appendix D: NASA White Paper on the Wireless Firewall Gateway.

Appendix E: Referenced Documents and URLs.

Index.