Women's Status in Higher Education: Equity Matters: AEHE, Volume 37, Number 1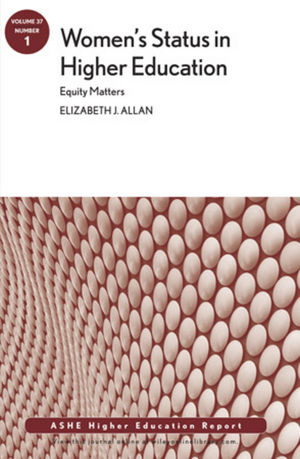 Women's Status in Higher Education: Equity Matters: AEHE, Volume 37, Number 1
ISBN: 978-1-118-07334-6
Apr 2011
152 pages
Description
An up-to-date review of gender equity in American universities with proven strategies for researchers and practitioners
This book provides an in-depth review of the current state of gender equality in higher education in the U.S. Award-winning author and educator Dr. Elizabeth Allan draws upon a range of feminist theories to provide a conceptual framework for addressing the subject. She presents a wealth of statistics, theories, programs, policies, and practices impacting the status of women in higher education. And she outlines proven strategies for researchers and practitioners concerned with gender equity in American colleges and universities.
Executive Summary vii
Foreword xi
Acknowledgments xv
Women's Status in Higher Education: Background and Significance 1
Guiding Assumptions and Questions 3
Historical Context 4
Legislative and Policy Initiatives 7
Women in the Curriculum 8
Scholarship 9
Organization of this Monograph 12
Framing Women's Status Through Multiple Lenses 15
Why Theory? 16
Why Feminist Theory? 17
Multiple Frames 19
Summary 31
Examining Women's Status: Access and Representation as Key Equity Indicators 37
Women's Access to Postsecondary Education 38
Representation of Women Students in Higher Education 42
Cocurricular Representation 47
Graduate Students 50
Faculty 52
Women Staff in Higher Education 55
Women and Governing Boards 61
Summary 62
Examining Women's Status: Campus Climate and Gender Equity 65
Classroom Climate 67
Climate Beyond the Classroom 70
Climate for Women Staff, Faculty, and Administrators 75
Salary Equity 88
Summary 90
Advancing Women's Status: Analyzing Predominant Change Strategies 93
Organizing Schemes 94
Enhancing Gender Equity 98
Summary 117
Implications and Recommendations 119
Recommendations for Further Research 119
Implications 121
Recommendations for Practice 124
Summing Up 125
References 127
Name Index 149
Subject Index 155
About the Author 163
""This important volume contains a wealth of the latest statistics, theories, programs, policies, and practices regarding the status of women throughout the field of higher education. Further, the call to limit the use of liberal feminism and expand knowledge and use of various feminist theories provides tangible strategies for researchers and practitioners as we work on equity for women in higher education-a status not yet attained.""


PENNY PASQUE, ASSOCIATE PROFESSOR,EDUCATIONAL LEADERSHIP & POLICY STUDIES, JEANNINE RAINBOLT
COLLEGE OF EDUCATION AND WOMEN'S & GENDER STUDIES, UNIVERSITY OF OKLAHOMA

The Review of Higher Education, Spring 2013