Women Talk: Conversation Between Women Friends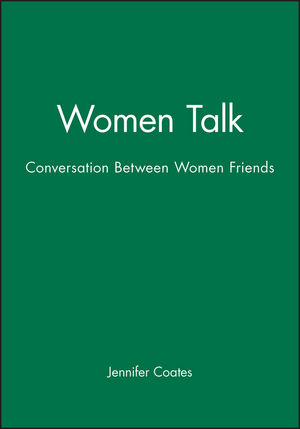 Women Talk: Conversation Between Women Friends
ISBN: 978-0-631-18253-5
Jan 1991, Wiley-Blackwell
344 pages
Description
This book challenges the age-old myth that women's talk is trivial and unimportant. Drawing on a corpus of spontaneous conversation between friends, Jennifer Coates demonstrates the richness and complexity of the language used in such talk, focusing on women's use of hedges, questions and repetition.
Acknowledgements vii
Notes on the Transcription of the Conversations x
Transcription Conventions xii
1 'This is on tape you know' 1
The origins of the book
2 'She's just a very very special person to me' 16
Talk and women's friendship
3 'We never stop talking' 44
Talk and women's friendships
4 'We talk about everything and anything' 68
An overview of the conversations
5 'D'you know what my mother did recently?' 94
Telling our stories
6 'The feminine shape … is more melding in together' 117
The organization of friendly talk
7 'You know so I mean I probably …' 152
Hedges and hedging
8 'It was dreadful wasn't it?' 174
Women and questions
9 'I just kept drinking and drinking and drinking' 203
Repetition and textual coherence
10 'Thank god I'm a woman' 232
The construction of differing femininities
11 'Talk's absolutely fundamental' 263
Being a friend
Appendices 287
Notes 297
Bibliography 311
Index 320
"Coates's book is an extraordinary study of the discourse of female friendships, based on recordings of a large number of naturally-occurring same-sex conversations among female and (for comparison) male friends, supplemented by ethnographic interviews with the same and other women, and analyzed by means of discourse analysis ... In empirical terms, Coates has provided a detailed analysis of the linguistic strategies making up this discourse of solidarity, the collaborative floor."
Bent Preisler, University of Roskilde
"While this text is important reading for specialists in discourse, it is accessible to lay readers as well, so it is both an important research text as well as a good tool to use in introducing students to discourse analysis" Timothy Frazer, Western Illinois University
"Jennifer Coates celebrates and describes friendships and talk among women; at the same time, she provides an argument for feminist ethnographic research methods. She writes a clear, detailed and rich study based on the transcripts of 20 conversations among women, and on the transcripts of interviews with 15 women .... Women Talk is likely to become a pivotal publication.....This book offers a very useful conversation about women friends' talk." Cheris Kramarae, University of Illinois
The first book to explore in detail how women talk to each other rather than to discuss women's miscommunication with men
Jennifer Coates is a leading feminist linguist and author of the most successful introductory book on language and gender.