Women and Men Political Theorists: Enlightened Conversations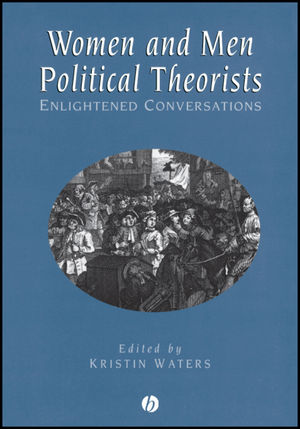 Women and Men Political Theorists: Enlightened Conversations
ISBN: 978-0-631-20980-5 May 2000 Wiley-Blackwell 208 Pages
Description
This much-anticipated work is a rich and insightful collection of essays that restores women and minorities to the arena of political theory and debate. Philosophers such as Mary Astell and Mary Wollstonecraft argue alongside traditional theorists, including Rousseau and Locke, in a unique historical dialogue. Arranged by several key themes, each covered by both men and women theorists, the book amounts to a rediscovery of women's political philosophy in arguments over both traditional and feminist concepts. Also provided are substantial biographical details about the writers, and secondary source material for the student and researcher.
Table of contents
Acknowledgements vii
Introduction 1
Part I sources of Political Authority
Introduction 5
1 The Second Treatise of Government 20
John Locke
2 A Serious Proposal to the Ladies/Some Reflections upon Marriage/An Impartial Enquiry into the Causes of Rebellion and Civil War/The Christian Religion 39
Mary Astell
Part II Enlightenment and Counter-Enlightenment
Introduction 63
3 Discourse on the Origin of Inequality 73
Jean-Jacques Rousseau
4 A Vindication of the Rights of Women 94
Mary Wollstonecraft
Part III Conservation or Revolution as the Path to Democratic Change
Introduction 125
5 Reflections on the Revolution in France 131
Edmund Burke
6 A vindication of the Rights of Men 147
Mary Wollstonecraft
Part IV Federalism and Anti-Federalism
Introduction 171
7 The Federalist 178
James Madison
8 Observations on the New Constitution 192
Mercy Otis Warren
Part V Thoughts on Minority Rights and Liberty – From Servitude to Privilege
Introduction 205
9 Writings and Addresses 214
Maria W. Stewart
10 On Liberty 233
John Stuart Mill
Part VI Abolitionism, Socialism, and Feminism
Introduction 245
11 Writings and Addresses 261
Frederick Douglass
12 The Communist Manifesto 283
Karl Marx
13 Woman, Church and State 298
Matilda Joslyn Gage
Part VII From Utilitarianism to Womanist Theory
Introduction 317
14 Utilitarianism 328
John Stuart Mill
15 A Voice from the South. By a Black Woman of the South 339
Anna Julia Cooper
Bibliography 357
Index 363
Reviews
"This carefully crafted sourcebook makes available almost forgotten work in political philosophy by women and men authors from the seventeenth to the early twentieth centuries. Set in its historical and intellectual context with substantial introductions, the material reveals an exciting body of critical literature that contests modern liberal theory and demonstrates the need to rethink the canon of Western political theory."
Alison Jaggar, University of Colorado
"Kristin Waters' anthology is an egalitarian and inclusive conversation between political theorists of different races, times, and genders. Her thorough introductions to each of the participants and her insightful
interpretive suggestions turn Women and Men Political Theorists into a unique text and an excellent addition to political theory." Bat-Ami Bar On, Binghamton University (SUNY)
Features
* Contains paired selections from men and women political theorists in dialogue.
* Presents a new balanced approach to teaching modern political theory.
* Includes biographical information in the critical introductions to each section.