Women and Wars: Contested Histories, Uncertain Futures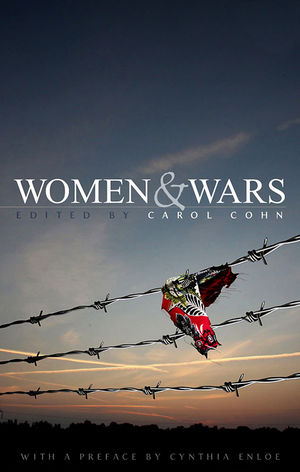 Women and Wars: Contested Histories, Uncertain Futures
ISBN: 978-0-745-64244-4 December 2012 Polity 256 Pages
Description
Where are the women? In traditional historical and scholarly accounts of the making and fighting of wars, women are often nowhere to be seen. With few exceptions, war stories are told as if men were the only ones who plan, fight, are injured by, and negotiate ends to wars. As the pages of this book tell, though, those accounts are far from complete. Women can be found at every turn in the (gendered) phenomena of war. Women have participated in the making, fighting, and concluding of wars throughout history, and their participation is only increasing at the turn of the 21st century. Women experience war in multiple ways: as soldiers, as fighters, as civilians, as caregivers, as sex workers, as sexual slaves, refugees and internally displaced persons, as anti-war activists, as community peace-builders, and more. This book at once provides a glimpse into where women are in war, and gives readers the tools to understood women's (told and untold) war experiences in the greater context of the gendered nature of global social and political life.
Table of contents
Boxes and Tables vi
Abbreviations viii
Contributors xiii
Foreword by Cynthia Enloe xv
Acknowledgments xvii
1 Women and Wars: Toward a Conceptual Framework 1
Carol Cohn
2 Women and the Political Economy of War 36
Angela Raven-Roberts
3 Sexual Violence and Women's Health in War 54
Pamela DeLargy
4 Women Forced to Flee: Refugees and Internally Displaced Persons 80
Wenona Giles
5 Women and Political Activism in the Face of War and Militarization 102
Carol Cohn and Ruth Jacobson
6 Women and State Military Forces 124
Jennifer G. Mathers
7 Women, Girls, and Non-State Armed Opposition Groups 146
Dyan Mazurana
8 Women and Peace Processes 169
Malathi de Alwis, Julie Mertus, and Tazreena Sajjad
9 Women, Girls, and Disarmament, Demobilization and Reintegration (DDR) 194
Dyan Mazurana and Linda Eckerbom Cole
10 Women "After" Wars 215
Ruth Jacobson
Notes 242
References 250
Index 279
Reviews
Book of the month on Intercross

"Women and Wars fills the vacuum left by the 'women as victims' approach that characterized the early 2000's, with a diverse array of options for understanding the roles and perspectives that women have during conflict, including: soldiers, civilians, caregivers, sex workers, refugees and internally displaced persons, anti-war activists, and community peace-builders"
PRISM

"If I were to deliver a course or module focused on the topic of 'women and wars', this is without a doubt the textbook I would choose."
Gender and Development

"To my mind, the very best academic work makes its reader sit up and take notice, either because the ideas are unfamiliar or because familiar ideas have been articulated in a new and engaging way. The individual chapters in this volume do both."
Gender and Development

"A valuable collection for everyone interested in learning some of the ways feminist (IR) analysis is currently formulating, studying, and presenting its war questions."
LSE Review of Books

"A comprehensive and highly readable collection, which is thematically and conceptually coherent."
Resilience

"Too often, women remain invisible in times of war. With contributions from scholars, activists, and policymakers, Women and Wars uncovers stories about women's multiple roles as warriors, war victims, and peacebuilders. An important text for anyone concerned with the tragic consequences of today's wars. And a reminder that wars are always gendered."
J. Ann Tickner, School of International Relations, University of Southern California

"With its diverse, thoughtful, and theoretically rich perspectives on gender, conflict and violence this book stands out from the crowd as an exceptional and interdisciplinary contribution to the field. This will be a valuable resource for scholars and practitioners and should be treated as a 'go to' resource giving an exciting perspective on the state of the field in gender and war."
Megan Mackenzie, University of Sydney

"The book provides a comprehensive picture of the current scholarship on women and war as well as detailed and disturbing accounts of the lives of women during and after many recent wars. It would be an ideal text for a variety of courses on international and human security."
Craig Murphy, Wellesley College

"The chapters are rich both in their content and their diversity. Women and Wars stands out as an important volume in an increasingly busy field of scholarship. I will return to the text many times for future teaching and will undoubtedly be assigning chapters to my students."
Dr Catherine O'Rourke, University of Ulster
Features
A groundbreaking textbook examining the complex relationship between women, gender and war, from the home front to the battlefront.
Gives a rich account of the previously untold stories which make up the female experience of war.
Provides readers with the analytical tools to situate women's war experiences within the global context of gendered social life.
Includes contributions from the very best scholars working in the field.