Women and the Reformation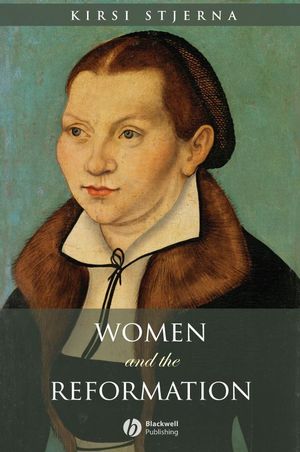 Women and the Reformation
ISBN: 978-1-405-11423-3
Jul 2008, Wiley-Blackwell
280 pages
Description
Women and the Reformation gathers historical materials and personal accounts to provide a comprehensive and accessible look at the status and contributions of women as leaders in the 16th century Protestant world.



Explores the new and expanded role as core participants in Christian life that women experienced during the Reformation

Examines diverse individual stories from women of the times, ranging from biographical sketches of the ex-nun Katharina von Bora Luther and Queen Jeanne d'Albret, to the prophetess Ursula Jost and the learned Olimpia Fulvia Morata

Brings together social history and theology to provide a groundbreaking volume on the theological effects that these women had on Christian life and spirituality

Accompanied by a website at www.blackwellpublishing.com/stjerna offering student's access to the writings by the women featured in the book
Buy Both and Save 25%!
Original Price:$115.90
Purchased together:$86.93
save $28.97
Cannot be combined with any other offers.
Acknowledgments viii
Introduction 1
The Vision and the Scope of the Book 1
The Term "Reformation" and Inclusivity Concerns 3
Visionary Studies on Women and the Reformation 5
Women in this Book 7
Part 1 Options and Visions for Women 9
1 Prophets, Visionaries, and Martyrs – Ursula Jost and her Publisher Margarethe Prüss 11
Introduction – Medieval Women Visionaries 11
Anabaptists and Martyrs 14
Prophets in Strasbourg and their Publisher Margarethe Prüss 17
Prophet Ursula Jost and her Visions 19
Conclusion 22
2 The Monastic Option – The Struggle of the Convents 23
Introduction – The Drama of Closing the Convents 23
An Excursion – Monastic Calling 24
Nuns' Fight for Freedom 26
Conclusion 30
3 Marriage and Motherhood – The Preferred Calling 32
Introduction – Marriage Only? 32
The Holy Marital Vocation 33
Pastors' Wives 35
Motherhood, Prostitution, Divorce 37
Conclusion 38
4 Learning and Power – An Elusive Option 40
Introduction: The Impetus and Obstacles for Theological Writing 40
Writing with and without Visions 42
The Education Factor 43
The Educated Women 46
Part 2 Women as Models, Leaders and Teachers of the Reformation 49
5 "Herr Doktor" Katharina von Bora, 1499–1552. The Lutheran Matriarch 51
Introduction 52
Katharina – From a Nun to the Ultimate Reformer's Spouse 52
Conclusion 67
A Word about Sources and References 69
6 Argula von Grumbach, 1492 to 1563/68? – A Bavarian Apologist and a Pamphleteer 71
Introduction 72
Argula as a Defender of Faith – A Valiant Christian, or a Devilish Woman? 73
Conclusion 83
A Word about Sources and References 85
7 Elisabeth von Brandenburg, 1485–1555, and Elisabeth von Braunschweig, 1510–1558 – Exiled Mothers, Reforming Rulers 87
Introduction 88
Elisabeth von Brandenburg née Elisabeth of Denmark – A Reformer in Exile 89
Elisabeth von Braunschweig-Lüneburg (Calenberg) 96
Conclusion 107
A Word about Sources and References 108
8 Katharina Schütz Zell, 1498–1562 – A Publishing Church Mother in Strasbourg 109
Introduction 109
A Church Mother, a Pastoral Care Provider, a Writer, Even a Preacher 110
Conclusion 130
A Word about Sources and References 131
9 Marie Dentière, 1495–1561 – A Genevan Reformer and Writer 133
Introduction 133
Marie Dentière – A Feminist Reformer and Biblical Interpreteter 135
Conclusion 146
A Word about Sources and References 147
10 Marguerite de Navarre, 1492–1549, and Jeanne d'Albret, 1528–1572 – The Protectors of the French Reformers 149
Introduction 150
Marguerite d'Angoulême/de Navarre – The Illustrious Queen, Writer and Spiritual Mother 150
Jeanne d'Albret, a Protestant Queen and a Huguenot leader 158
Conclusion 173
A Word about Sources and References 174
11 Renée de France, 1510–1575 – A Friend of the Huguenots 175
Introduction 176
Renée – A French Protector of Huguenots in Italy and France 177
Conclusion 195
A Word about Sources and References 196
12 Olimpia Fulvia Morata, 1526/27–1555 – An Italian Scholar 197
Introduction 197
Olimpia Fulvia Morata, a Classicist Huguenot Teacher 199
Conclusion 210
A Word about Sources and References 212
Conclusions and Observations on Gender and the Reformation 213
Reformation and Gender, Changes and Losses 213
Individual Choices and Women's Experiences 216
The Options for Women 217
Reformers' Ideas about Women 219
Sola Scriptura, Education, and Legal Matters 219
Conclusion 221
Bibliography 223
Options and Visions for Women 223
Women as Models, Leaders and Teachers of the Reformation 232
Index 259
"Stjerna writes in a style that will be accessible to undergraduate students, and her sophisticated analyses draw on her extensive theological training and wide reading, so that the book will be useful for more advanced students and non-specialist scholars as well." (The Journal of Ecclesiastical History, April 2010)
"This work should be viewed as a very welcome teaching resource: it provides novice undergraduate students of the early modern with the means to be informed about and inspired by the Reformation, whilst offering ample resources for postgraduates to develop ideas." (Journal of Theological Studies, April 2010)
"Concise descriptions summarize basic biographical information and analyze the leadership role of these women in the larger reformatory movements. ... A thorough bibliography (thirty-six pages) offers wide possibilities for further reading. The book succeeds in its goal." (Religious Studies Review, December 2009)
"The text is fairly described as ground breaking. An extensive bibliography and a full index are provided. The price for such an academic study is refreshingly modest." (History, October 2008)


Explores the new and expanded role as core participants in Christian life, that women experienced during the Reformation

Gathers historical materials and personal accounts to provide a comprehensive and accessible look at the causes and effects of changing status of women in the church

Examines diverse individual stories from women of the times, ranging from biographical sketches of the ex-nun Katharina von Bora Luther and Queen Jeanne d'Albret, to the prophetess Ursula Jost and the learned Olimpia Fulvia Morata

Brings together social history and theology to provide a groundbreaking volume on the theological effects that these women had on Christian life and spirituality

Accompanied by a website at www.blackwellpublishing.com/stjerna offering student's access to the writings by the women featured in the book