Women in Contemporary Politics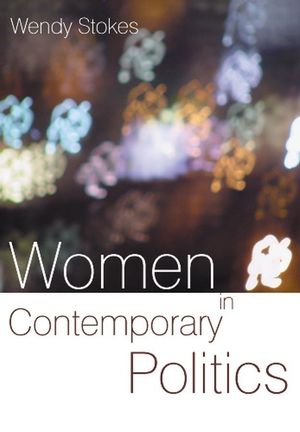 Women in Contemporary Politics
ISBN: 978-0-745-62498-3 May 2005 Polity 256 Pages
Description
This innovative textbook provides students with a lively and wide-ranging introduction to the roles and achievements of women in contemporary politics. Accessibly written for an undergraduate readership, the book addresses both theoretical and empirical approaches to understanding women's participation in politics as candidates, party members, elected representatives, cabinet ministers and leaders. It focuses on the presence of women in formal political institutions across a broad range of countries, including the UK, France, Norway, Germany, Russia, the United States, Canada, Australia, New Zealand and India, to demonstrate that women are, at last, beginning to exert pressure on political affairs by behaving differently from men.


The book is divided into sections, each of which focuses on a different area of political activity – for example, the development of women's political activism and feminist engagement with political theory; voting and elections; political parties and the specifics of women's partisanship; parliaments; local and international government. Each chapter contains a concise introduction outlining the core issues for discussion, a concluding summary of key points and an annotated guide to further reading.


Women in Contemporary Politics will be an invaluable resource for all students of politics and international relations. It is the only book of its kind to offer such a comprehensive and up-to-date exploration of the theory and practice of politics from the female perspective.

List of Tables, p. vi
Acknowledgements, p. viii
Introduction, p. 1
Part 1, p. 20
1. Feminist Theory and Women's Political Activism, p. 21
2. Applying the Theory, p. 49
Part 2, p. 72
3. Voting and Elections: Background Information, p. 73
4. Getting and Using the Vote , p. 84
5. Women and Elections, p. 117
6. Quotas for Women in Parties and Parliaments, p. 152
Part 3 , p. 184
7. Political Parties: Background Information, p. 185
8. Women in Political Parties in the United Kingdom, p. 194
9. Political Parties Outside the United Kingdom, p. 222
10. Women's Parties, p. 253
Part 4, p. 275
11. Parliaments and Governments, p. 276
12. Women in Elected Assemblies in the United Kingdom, p. 286
13. Women in Elected Assemblies Outside the United Kingdom, p. 308
Part 5 , p. 344
14. Women in Sub-National Government, p. 345
15. Women in Local Government in the United Kingdom, p. 353
16. Women in Sub-National Government Outside the United Kingdom, p. 382
Part 6, p. 409
17. Women and the European Union, p. 410
18. Women and the United Nations, p. 436
Conclusion, p. 455
Notes, p. 459
Bibliography, p. 468
Index
"This invaluable textbook admirably fulfils its aim of bringing women into the analysis of contemporary politics. It is a must for students on politics courses."
Times Higher Education Supplement

"This excellent and much needed book provides a wealth of information about women's political behaviour and experiences. It challenges both the neglect of women in mainstream politics texts and women's actual absences from positions of political power. It will be an invaluable resource for politics courses which already study women; it should be compulsory reading for lecturers on those which currently don't."

Valerie Bryson, University of Huddersfield

"This clearly written, broad-ranging and accessible book offers a comprehensive account of the burning issues facing women in contemporary politics. Covering local, national and international arenas, Wendy Stokes provides well-selected and up-to-date data on women's role in political parties, parliament, governments and international organizations. This will be an invaluable core textbook for all students of women and politics."Judith Squires, University of Bristol


A highly accessible introductory textbook which provides the most up to date and comprehensive analysis of women in contemporary politics available today.


Examines women as participants in the political process as members of parliament, leaders, Cabinet members, electoral candidates and political activists.


In-depth analysis of the UK is combined with an international perspective that considers women in politics in the following countries and institutions: Argentina, Australia, Belgium, Canada, France, Germany, Ghana, India, Japan, Denmark, Finland, Iceland, Norway, Sweden, New Zealand, Republic of Ireland, Russia and the Former Soviet Republics, South Africa,Uganda, Ukraine, United Kingdom, United States, The EU and The UN.


Includes introductory and concluding summaries, plus further reading guides at the end of each chapter.