Women in Culture: A Women's Studies Anthology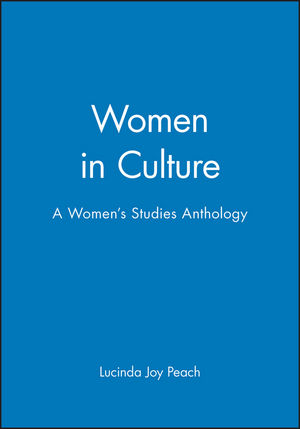 Women in Culture: A Women's Studies Anthology
ISBN: 978-1-557-86648-6 March 1998 Wiley-Blackwell 480 Pages
Download Product Flyer
Download Product Flyer
Download Product Flyer is to download PDF in new tab. This is a dummy description. Download Product Flyer is to download PDF in new tab. This is a dummy description. Download Product Flyer is to download PDF in new tab. This is a dummy description. Download Product Flyer is to download PDF in new tab. This is a dummy description.
Description
This anthology collects key texts on women in culture and offers an ideal introduction, for students in women's studies and feminism, to the cultural dimensions of women's experience today.
Table of contents
Preface x
Acknowledgements xii
Introduction 1
Part I The Cultural Construction of Gender 13
1 Women in Culture 15
Introduction 15
Is Female to Male as Nature is to Culture 23
Sherry B. Ortner
Oppression 45
Marilyn Frye
Suggested Activities 50
Bibliography 52
2 Commonalities and Differences among Women 55
Introduction 55
Commonalities and Differences (excerpt) 63
Johnnetta B. Cole
Age, Race, Class, and Sex: Women Redefining Difference 69
Audre Lorde
And A'n't I a Woman? 77
Sojourner Truth
When you Meet a Lesbian: Hints for the Heterosexual Woman 80
Indiana University Empowerment Workshop
Heterosexuality Questionnaire 81
Gay and Lesbian Speaker's Bureau
Suggested Activities 82
Bibliography 85
3 Cultural Representations of Women 91
Introduction 91
Ways of Seeing (excerpt) 97
John Berger
Beyond caring: the De-moralization of Gender 105
Marilyn Friedman
Suggested Activities 112
Bibliography 114
Part II Cultural Institutions Defining Women 117
4 Women and Popular Culture I: Advertising, Print Media, and Pornography 119
Introduction 119
Beauty and the Beast of Advertising 127
Jean Kilbourne
Fresh Lipstick: Rethinking Images of Women in Advertising 131
Linda M. Scott
Suggested Activities 141
Bibliography 145
5 Women and Popular Culture II: Television and Film 149
Introduction 149
Solace in Soapland 153
Elayne Rapping
No Way to Treat a Lawyer 160
Terry Kay Diggs
Suggested Activities 165
Bibliography 167
6 Fashion, Beauty, and Women's Health 171
Introduction 171
The Beauty Myth (excerpt) 179
Naomi Wolf
Madonna, Fashion, and Identity (excerpt) 187
Douglas Kellner
Obsession: the Tyranny of Slenderness 201
Kim Chernin
Suggested Activities 216
Bibliography 219
7 Motherhood and Families 223
Introduction 223
Shifting the Center: Race, Class, and Feminist Theorizing about Motherhood (excerpt) 231
Patricia Hill Collins
Fall from Grace: Twentieth-century Mom (excerpt) 244
Shari L. Thurer
Out of the Stream: an Essay on Unconventional Motherhood 251
Shirley Glubka
Abortion through a Feminist Ethics Lens (excerpt) 261
Susan Sherwin
Suggested Activities 272
Bibliography 275
8 Sex, Sexism, Sexual Harassment, and Sexual Abuse 283
Introduction  283
High School Lowdown 301
Miranda J. Van Gelder
Scope of the Problem 304
Carol Bohmer and Andrea Parrot
Legal Images of Battered Women (excerpt) 323
Martha R. Mahoney
In the Truth Itself, There is Healing (excerpt) 338
Ellen Bass
Suggested Activities 349
Bibliography 356
Part III Opportunities for Women in Culture 363
9 Women Creating Culture 365
Introduction 365
The Female World of Love and Ritual: Relations between Woman in Nineteenth-Century America (excerpt) 372
Carroll Smith-Rosenberg
Revolution, Girl Style 391
Farai Chideya, with Melissa Rossi and Dogen Hannah
Witchcraft as Goddess Religion 394
Starhawk
Suggested Activities 401
Bibliography 404
10 Feminism and the Future 409
Introduction 409
Feminism: a Transformational Politic 418
bell hooks
Recognizing, Accepting, and Celebrating our Differences 427
Papusa Molina
Healing the Wounds: Feminism, Ecology, and the Nature/Culture Dualism (excerpt) 433
Ynestra King
Still I Rise 440
Maya Angelou
Suggested Activities 441
Bibliography 444
Index 449
Reviews
"Helpful, editorial summaries of the field, a diverse selection of 'readings'." Journal of American Studies
Features
* Offers a major collection of key texts.
* Provides questions, reading lists, and notes on activities to aid classroom study.