Women in European History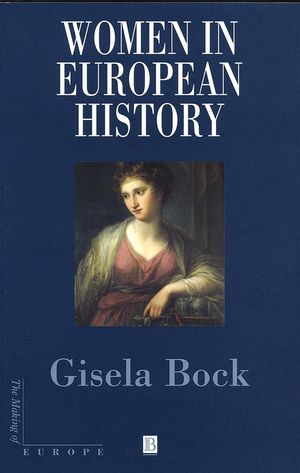 Women in European History
ISBN: 978-0-631-19145-2
Jan 2002
320 pages
Description
This book illustrates the social, cultural, legal and, political conditions that European women have faced from the Middle Ages to the present day.
Series Editor's Preface vii
Preface ix
1 Querelle des femmes: A European Gender Dispute 1
The Dignity of Man and the Dignity of Woman 2
Misogamy and Misogyny; Philogamy and Philogyny 14
The Power of Fathers, the Power of Men, the Power of Women 27
2 The French Revolution: The Dispute is Resumed 32
Hopes 33
Rights of Man and Rights of Woman 41
Amazons and Counter-revolutionaries 55
Napoleon and the Revolution in Europe 62
Nocturnal Intrigues 78
3 Challenging Boundaries: A Third Gender Dispute 82
Changing Debates and Language 84
No Angels in the House: Ideals and Realities 93
Old and New Labour 99
Pre-Pioneers and Pioneers of the Women's Movement 108
A Social Movement 116
4 From the Social to the Political 127
National and Transnational Movements 128
Equal because Different: The Political Discourse of Suffragism 137
First-comers and Late-comers: European Paths to Women's Suffrage 145
Citizenship and Mother's Rights 156
Social Policies for and against Women 168
5 Between Extremes 174
Female Citizens and the New Woman 175
Maternity and Paternity in the Welfare State 181
Paths Leading to Dictatorship: The Political and the Private 189
National Socialism and Race Policy 206
War and Genocide in Europe 218
6 Civil, Political and Social Rights: A New Gender Debate 233
Liberty and Equality 235
The Longest Revolution 245
History, Mind and Gender 256
Notes 265
Bibliography 280
Index 291
"Bock looks at issues such as marriage, women's roles in the French and Industrial Revolutions, the nature and definition of the family, women and the welfare state, the Nazi regime, and the women's movements in the nineteenth and twentieth centuries. The book succeeds in synthesizing a substantial amount of comparative gender and cultural history over a considerable time span. And to Bock's credit, she strikes a good balance between factual information and biography... there is much food for thought"
Lori Williamson, Open University
<!--end-->
"Bock offers interesting insights into class, race, and gender...Her treatment of the divisive legislation is sophisticated and nuanced." Mary Kinnear, University of Manitoba - Canadian Journal of History

"... A welcome addition to ... women's history in Europe.This is a stimulating book." Reviews


Presents the ways in which the position of women has varied across time and in the different European cultures.


Shows how debates on gender relations have shifted with changing historical conditions.


Includes an account of women's movements and the emergence of historiography on women