Women in Sport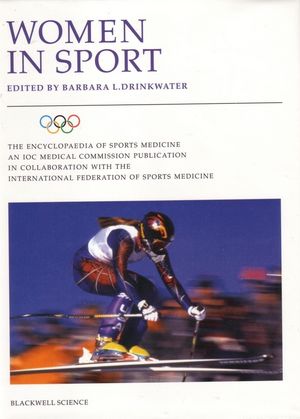 Women in Sport
ISBN: 978-0-632-05084-0 July 2000 Wiley-Blackwell 680 Pages
Description
The participation of women in sports, whether it be professional or amateur, has increased dramatically over the past 20 years. The anatomy and physiology of the female athlete is unique and it is these aspects which are covered in this new volume in the Encyclopaedia of Sports Medicine.
Women in Sport provides and invaluable reference for those who deal with sportswomen of all abilities, both on a clinical and research level.
Table of contents
Preface.
PART I: HISTORY.
1 Women and the Olympics.
PART II: PHYSIOLOGY OF THE FEMALE ATHLETE.
2 Factors influencing endurance performance, strength, flexibility, and co-ordination.
3 Effects of the menstrual cycle and oral contraceptives on performance.
4 Environmental challenges.
PART III: TRAINING THE FEMALE ATHLETE.
5 Physiological aspects of training.
6 Biomechanics.
7 Psychological aspects of training.
8 Nutrition.
PART IV: THE MASTERS ATHLETE.
9 Cardiorespiratory function in masters athletes.
10 Muscle function in masters athletes.
11 Hormone replacement therapy.
PART V: MEDICAL ISSUES.
12 Pre-participation examination.
13 Gender verification.
14 The pregnant athlete.
15 Musculoskeletal injuries in female athletes.
16 Cardiovascular issues.
17 Physical activity and risk for breast cancer.
18 Diabetes and sport.
19 Sport and bone.
20 Women with disabilities.
21 Exercise-related anaemia.
22 Nutritional and pharmacological ergogenic aids.
23 Sexual harassment and abuse.
PART VI: THE FEMALE ATHLETE TRIAD.
24 Body compositio.
25 Eating disorders.
26 Amenorrhea.
27 Osteoporosis.
PART VII: PSYCHOSOCIAL ISSUES.
28 The young elite athlete: the good, the bad and the ugly.
29 Ethical issues.
30 Women's role in national and international sports governing bodies.
PART VIII: SPORT-SPECIFIC INJURIES: PREVENTION AND TREATMENT.
31 Swimming.
32 Track and field.
33 Rowing.
34 Gymnastics.
35 Figure skating.
36 Cycling.
37 Tennis.
38 Basketball.
39 Soccer.
40 Canoeing and kayaking.
41 Alpine skiing.
42 Softball.
Features
Features sections on:
* the functional anatomy and physiology of the woman athlete and how it can be perturbed to cause disease
* medical issues relating to women athletes, including eating disorders, pregnancy and the effect of sport on bone and heart. This identifies the particular aspects of anatomy and physiology that makes the woman athlete unique in terms of training and clinical management.
* psychosocial features of women athletes.
* the masters athlete, containing information on how the body of the older athlete copes with exercise. Makes recommendations on training.
* Dr Drinkwater is a past-President of the American College of Sports Medicine, and has received the prestigious ACSM Honor Award.