Women of the Street: Making It on Wall Street -- The World's Toughest Business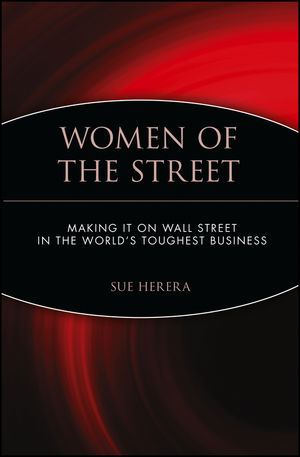 Women of the Street: Making It on Wall Street -- The World's Toughest Business
ISBN: 978-0-471-24840-8 March 1998 208 Pages
Description
A PROVOCATIVE, UP-CLOSE LOOK AT SOME OF THE MOST POWERFUL AND INFLUENTIAL WOMEN OF THE STREET

"Herera describes . . . key players with a touch that is both sympathetic and exacting; each speaker has her own voice, yet Herera links common obstacles and victories. Interspersed with the engrossing narratives are lively and informative glimpses into strategy and technique. An absorbing and entertaining book with a substantial bite." --Financial Trader.

". . . Herera smartly keeps the focus on the personal factors that enabled [these women] to enter a male preserve and thrive. . . . Through Herera's diligent presentation, they . . . provide inspiring role models for those who would enter the field." --Publishers Weekly.

"A provocative title about 14 top Wall Street professional women who--no surprise--find it difficult to balance work, marriage, and family. Underneath the friendly noise . . . lies hard, reality-based choice making." --Booklist.

"If you are a woman, you must read this book to see how to succeed in the world of finance. If you are a man, you should read this book to learn what the competition is doing!" --L. William Seidman, Former Chairman, FDIC.

". . . a roadmap to success for any woman who wants to succeed in what has become the world's most exciting business. Herera's stories of the tough, savvy women who have made it on the Street are an inspiration." --Bill Wolman, Chief Economist, BusinessWeek.
Preface xiii
Acknowledgements xvii
Introduction xix
The Interviews
Mary Farrell 1
Managing Director, Paine Webber
Bridget Macaskill 15
President and CEO, Oppenheimer Funds
Mei Ping Yang 35
Vice President and Proprietary Trader, Goldman Sachs
Elizabeth Bramwell 47
Bramwell Capital Management
Abby Joseph Cohen 59
Co-chair Investment Policy Committee, Goldman Sachs
Elizabeth Mackay 71
Chief Investment Strategist and Managing Director, Bear Stearns
Muriel Siebert 83
Muriel Siebert & Co
Gail M. Dudack 99
Managing Director and Chief Investment Strategist, UBS Securities, LLC
Grace Fey 115
Executive Vice President and Director, Frontier Capital Management
Maria Fiorini Ramirez 127
President and CEO, Maria Fiorini Ramirez Capital, Inc
Bernadette Bartels Murphy 139
Chief Technical Analyst, Kimelman & Baird, LLC
Elaine Garzarelli 149
President and CEO, Garzarelli Investment Management
Linda Bradford Raschke 163
LBR Group
Julie Stone 183
Senior Investment Management Consultant, Smith Barney
Afterword 197
Index 203
"Herera describes . . . key players with a touch that is both sympathetic and exacting; each speaker has her own voice, yet Herera links common obstacles and victories. Interspersed with the engrossing narratives are lively and informative glimpses into strategy and technique. An absorbing and entertaining book with a substantial bite."--Financial Trader

". . . Herera smartly keeps the focus on the personal factors that enabled [these women] to enter a male preserve and thrive. . . . Through Herera's diligent presentation, they . . . provide inspiring role models for those who would enter the field."--Publishers Weekly

"A provocative title about 14 top Wall Street professional women who-no surprise-find it difficult to balance work, marriage, and family. Underneath the friendly noise . . . lies hard, reality-based choice making."--Booklist

"If you are a woman, you must read this book to see how to succeed in the world of finance. If you are a man, you should read this book to learn what the competition is doing!"--L. William Seidman, Former Chairman, FDIC

". . .a roadmap to success for any woman who wants to succeed in what has become the world's most exciting business. Herera's stories of the tough, savvy women who have made it on the Street are an inspiration."--Bill Wolman, Chief Economist, BusinessWeek