Women of the Twelfth Century, Volume 1, Eleanor of Aquitaine and Six Others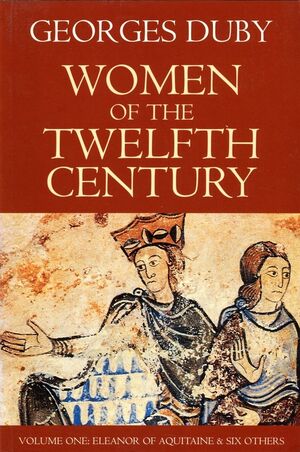 Women of the Twelfth Century, Volume 1, Eleanor of Aquitaine and Six Others
ISBN: 978-0-745-61695-7 October 1997 Polity 112 Pages
Description
This is an engaging account of the lives of high-born women in the Middle Ages, by one of the foremost historians in Europe.

Focusing on France in the twelfth century, Duby recreates the image of women that the men of high society made for themselves. Using written evidence from the period - official texts written by men, all intended for public consumption and reading aloud - he tells the story of six very different women. These women - fictional and real, religious and secular - range from famous historical figures such as Eleanor of Aquitaine and H&eacutelo&iumlse, through Mary Magdalen, whose cult grew throughout the twelfth century, to Soredamors and Fenice, the heroines of Clig&egraves, the romance of Chr&eacutetien de Troyes.

Duby sets all of these women within their historical context, using their personalities to explore the characteristics of female existence during this period. He discusses relations between the sexes, including marriage and different types of love, and shows how women were feared, mistrusted and, sometimes, admired by men. He vividly reconstructs the French nobility's system of values, examining the place assigned to women within this system. He argues that men's attitudes to women began to change in the twelfth century and that women began imperceptibly to extricate themselves from masculine power.

This important book - the first of three volumes on women in the Middle Ages - will be of interest to a wide readership.
Introduction.
1. Eleanor.
2. Mary Magdalen.
3. Hélïose.
4. Iseult.
5. Juette.
6. Soredamors and Fenice.
Conclusion.
"It is difficult to think of any other historian who has been surrounded by so much respect and esteem."
Douglas Johnson, The Guardian
"Elegantly written and elegantly translated, Duby's book distils what can be found about the lives of six elite women from the meagre records of the twelfth century. It leads him to revise his earlier opinions and see the recognition of the spirituality of women in that century as leading Europe to rate the values of love more highly. And all this is done with his customary scholarship and sensitivity." Professor Jack Goody, St John's College, Cambridge
"Georges Duby was a grand master among medieval social historians, and this is true vintage: subtle, perceptive, penetrating, sympathetic, and - helped by Jean Birrell's translation - highly readable. Women's history is of special interest today, and the book will provide for many a refreshing entry to a fascinating world." Professor Christopher Brooke, Gonville and Caius College, Cambridge
"An illuminating insight into the experience of womanhood in twelfth-century Europe ... There is much in Women of the Twelfth Century to enjoy ... well informed and thought-provoking ... this book has a lot to offer." History Today
"Fascinating insight ... thought-provoking and inspirational." Journal of Gender Studies
"This study is Duby's last work, written just before he died in 1997, and it is his most personal and intimate testimony as a historian; he is in the foreground of his own narrative throughout. On that account it is a direct and touching book. As translated (with outstanding skill) by Jean Birrell, it is also very readable." Times Literary Supplement
"We can savour the untrammelled thoughts of one of the major forces in French medieval history in the last half-century." Journal of Religious History
* Duby is one of the foremost historians of medieval Europe today.
* This book is the first volume in his major new three volume work on women in the Middle Ages.
* Draws on many years of original research into written evidence from the period, it is a lucid and engaging account of teh everyday lives of six noblewomen in the twelfth century.