Wood: A History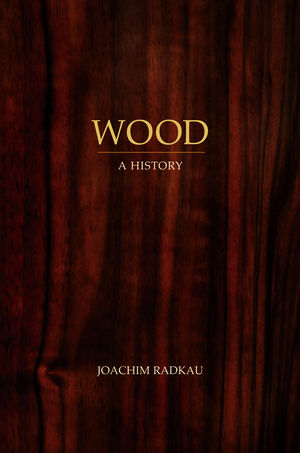 Wood: A History
ISBN: 978-0-745-68361-4 December 2013 Polity 352 Pages
Download Product Flyer
Download Product Flyer
Download Product Flyer is to download PDF in new tab. This is a dummy description. Download Product Flyer is to download PDF in new tab. This is a dummy description. Download Product Flyer is to download PDF in new tab. This is a dummy description. Download Product Flyer is to download PDF in new tab. This is a dummy description.
Description
Ötzi the iceman could not do without wood when he was climbing his Alpine glacier, nor could medieval cathedral-builders or today's construction companies. From time immemorial, the skill of the human hand has developed by working wood, so much so that we might say that the handling of wood is a basic element in the history of the human body. The fear of a future wood famine became a panic in the 18th century and sparked the beginnings of modern environmentalism.
This book traces the cultural history of wood and offers a highly original account of the connection between the raw material and the human beings who benefit from it. Even more, it shows that wood can provide a key for a better understanding of history, of the pecularities as well as the varieties of cultures, of a co-evolution of nature and culture, and even of the rise and fall of great powers. Beginning with Stone Age hunters, it follows the twists and turns of the story through the Middle Ages and the Industrial Revolution to the global society of the twenty-first century, in which wood is undergoing a varied and unexpected renaissance. Radkau is sceptical of claims that wood is about to disappear, arguing that such claims are self-serving arguments promoted by interest groups to secure cheaper access to, and control over, wood resources. The whole forest and timber industry often strikes the outsider as a world unto itself, a hermetically sealed black box, but when we lift the lid on this box, as Radkau does here, we will be surprised by what we find within.
Wide-ranging and accessible, this rich historical analysis of one of our most cherished natural resources will find a wide readership.
Table of contents
Acknowledgements vii
Introduction: Praising Wood, Caring for Wood, Splitting Wood – and a Historical Synthesis 1
Chapter 1 Paths into the Thicket of History 13
1 The 'Wood Age' 14
2 Man and Forest: Stories and History 28
3 Wood and Historical Change 34
Chapter 2 Middle Ages and Early Modern Period: Maximum Exploitation and the Beginnings of Sustainability 56
1 Medieval Society and the Limits of the Forest 57
2 Timber Becomes a Commodity 70
3 Large- Scale Firewood Consumption and the First Wave of Forest Ordinance 92
Chapter 3 From the Apogee of the 'Wood Age' to the Industrial Revolution 135
1 Reform, Revolution and the Wood Economy 136
2 The 'Spectre of Shortage': Did the Timber Trade Face Catastrophe? 156
3 The Forest: From Living Space to Capital 172
4 Wood Consumers: Economies in the Home and Outside 205
5 Rollback 228
Chapter 4 Wood in the High Industrial Age: Degradation and Rebirth 239
1 The Forest as an Economic Factor 240
2 Technological Revolution in the Timber Industry 256
3 Fissile Material and Bonding Agent: Forest and Wood in the Eco- Age 276
Chapter 5 Global Prospects and Contrasts 294
1 Lessons from Asia 295
2 Conflicts and (Ostensible) Solutions 318
3 Looking Back to the Future: Six Spotlights on the History of Forest and Wood 324
Postscript: The Mystery of Certificates, or, Sustainable Forestry versus Greenwashing 327
Wood Talk 330
References and Bibliography 340
Index 376
Reviews
"Wood is masterful scholarship. I recommend it with admiration."
Environmental History

"An ambitious feat which has been very well researched and nicely written. It is an academic cover-to-cover read, but Radkau's enthusiasm for the subject and accessible delivery will draw readers in; it has the potential to appeal to the general reader as well as the academic."
Newsletter of the Institute of Environmental Sciences
"Both entertaining and informative - highly recommended."
The Forestry Chronicle
"Radkau's scholarship is of the highest quality, indeed impeccable. His main argument, that wood is a material of fundamental importance in history, is well-supported and compelling. This book will appeal not only to undergraduate and graduate students in history and Environmental studies: it will also attract a wide general readership, comparable to Mark Kurlansky's books
Cod
and
Salt
and even Nathan Lewis'
Gold
in terms of potential popular appeal."
Don Hughes, University of Denver
"Joachim Radkau has set the agenda in German forest history for a generation. At last, one of his major works on this theme is available in translation. English-speaking historians should sit up and take notice: their world will look different after reading Radkau's work."
Paul Warde, University of East Anglia

"A rich, engaging, and important history of one of the most important of all the materials used by human societies."
David Christian, Macquarie University

"This book traces the cultural history of wood and offers a highly original account of the connection between the raw material and the human beings who benefit from it… Wide-ranging and accessible, this rich historical analysis of one of our most cherished natural resources will find a wide readership."
Expo Fairs