Word 2003 Bible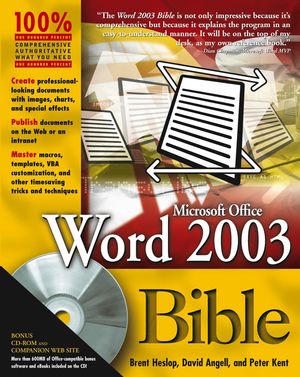 Description
Includes the latest information on security problems in Word and how to prevent them.
Offers tips for formatting for black and white versus color printers
Explains when to use Word for publishing to the Web and when to depend on FrontPage.
Preface.
Acknowledgments.
Part I: The Fundamentals.
Chapter 1: Getting Started with Word 2003.
Chapter 2: Navigating and Editing Documents.
Chapter 3: Finding and Replacing Text and Formats.
Chapter 4: Character Formatting and Fonts.
Chapter 5: Paragraph Formatting.
Chapter 6: Printing Documents.
Chapter 7: Managing Documents.
Part II: Beyond the Basics.
Chapter 8: Proofing and Researching.
Chapter 9: Working with Tables.
Chapter 10: Sections, Columns, and Page Formatting.
Chapter 11: Using Bookmarks, Cross-References, Footnotes, and Links.
Chapter 12: Creating Indexes and Tables of Contents.
Part III: Working More Effectively.
Chapter 13: Styles and AutoFormatting.
Chapter 14: Using Templates, Wizards, and Themes.
Chapter 15: What Looks Good?
Chapter 16: Creating Documents Using Speech Recognition.
Part IV: Inserting Pictures and Other Content.
Chapter 17: Illustrating Your Documents with Graphics.
Chapter 18: More Object Types—Drawings, Text Boxes, and More.
Chapter 19: Advanced Graphics and Multimedia.
Chapter 20: Linking Information from Other Applications.
Chapter 21: Working with Microsoft Graph Chart and Microsoft Equation.
Part V: Complex Documents: Mail Merge, Forms, Outlines, and Web Pages.
Chapter 22: Creating Form Letters, Envelopes, Labels, and Catalogs.
Chapter 23: Creating Dynamic Documents Using Field Codes.
Chapter 24: Creating Forms.
Chapter 25: Getting Organized with Outlines and Master Document.
Chapter 26: Creating Basic Web Pages.
Chapter 27: Advanced HTML and XML.
Part VI: Distribution and Collaboration.
Chapter 28: Faxing and E-mailing with Word.
Chapter 29: Comments and Reviewing.
Chapter 30: Online Collaboration.
Part VII: Customizing and Troubleshooting Word.
Chapter 31: Troubleshooting and Overcoming Word's Idiosyncrasies.
Chapter 32: Customizing Menus, Options, Toolbars, and Keys.
Chapter 33: Making the Most of Word Macros and VBA.
Chapter 34: Securing Your Data.
Appendix A: What's New in Word 2003.
Appendix B: What's on the CD-ROM.
Index.
End-User License Agreement.