Word 2013 For Dummies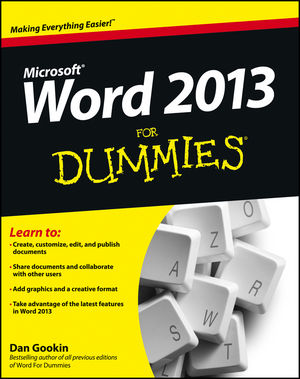 Word 2013 For Dummies
ISBN: 978-1-118-49130-0
Feb 2013
408 pages
Description
This bestselling guide to Microsoft Word is the first and last word on Word 2013
It's a whole new Word, so jump right into this book and learn how to make the most of it. Bestselling For Dummies author Dan Gookin puts his usual fun and friendly candor back to work to show you how to navigate the new features of Word 2013. Completely in tune with the needs of the beginning user, Gookin explains how to use Word 2013 quickly and efficiently so that you can spend more time working on your projects and less time trying to figure it all out.
Walks you through the capabilities of Word 2013 without weighing you down with unnecessary technical jargon
Deciphers the user interface and shows you how to take advantage of the file formats
Covers editing documents, working with text, using grammar and spelling tools, formatting, adding images and other design elements, and more
Get the word on the latest Word with Word 2013 For Dummies!
Introduction 1
Part I: Getting Started with Word 2013 7
Chapter 1: Hello, Word! 9
Chapter 2: The Typing Chapter 21
Part II: Your Basic Word 31
Chapter 3: To and Fro in a Document 33
Chapter 4: Text Editing 41
Chapter 5: Search for This, Replace It with That 49
Chapter 6: Blocks o' Text 61
Chapter 7: Spell It Write 73
Chapter 8: Document Calisthenics: New, Open, Save, and Close 83
Chapter 9: Publish Your Document 95
Part III: Fun with Formatting 107
Chapter 10: Character Formatting 109
Chapter 11: Paragraph Formatting 121
Chapter 12: Tab Formatting 133
Chapter 13: Page Formatting 149
Chapter 14: Document Formatting 161
Chapter 15: Style Formatting 173
Chapter 16: Template and Themes Formatting 185
Chapter 17: Sundry Formatting 195
Part IV: Spruce Up a Dull Document 205
Chapter 18: Lines and Shading 207
Chapter 19: Able Tables 215
Chapter 20: Columns of Text 227
Chapter 21: Lots of Lists 233
Chapter 22: Here Come the Graphics 241
Chapter 23: Fun with the Insert Tab 255
Part V: The Rest of Word 265
Chapter 24: Multiple Documents, Windows, and File Formats 267
Chapter 25: Word for Writers 275
Chapter 26: Let's Work This Out 289
Chapter 27: Mail Merge Mania 299
Chapter 28: Labels of Love 315
Chapter 29: A More Custom Word 323
Part VI: The Part of Tens 331
Chapter 30: The Ten Commandments of Word 333
Chapter 31: Ten Cool Tricks 337
Chapter 32: Ten Bizarre Things 345
Chapter 33: Ten Avuncular Suggestions 351
Index 355
Updates
Please check back here for updates.