Work: A Critique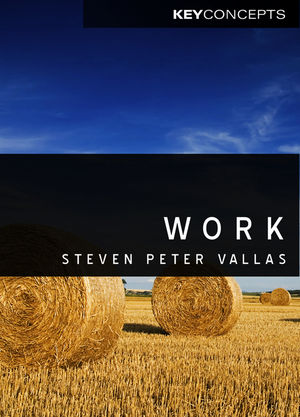 Work: A Critique
ISBN: 978-0-745-68070-5 December 2013 Polity 200 Pages
Download Product Flyer
Download Product Flyer
Download Product Flyer is to download PDF in new tab. This is a dummy description. Download Product Flyer is to download PDF in new tab. This is a dummy description. Download Product Flyer is to download PDF in new tab. This is a dummy description. Download Product Flyer is to download PDF in new tab. This is a dummy description.
Description
This book provides a critical overview of the myriad literatures on "work," viewed not only as a product of the marketplace but also as a social and political construct. Drawing on theoretical and empirical contributions from sociology, history, economics, and organizational studies, the book brings together perspectives that too often remain balkanized, using each to explore the nature of work today.

Outlining the fundamental principles that unite social science thinking about work, Vallas offers an original discussion of the major theoretical perspectives that inform workplace analysis, including Marxist, interactionist, feminist, and institutionalist schools of thought. Chapters are devoted to the labor process, to workplace flexibility, to gender and racial inequalities at work, and to the link between globalization and the structure of work and authority today. Major topics include the relation between work and identity; the relation between workplace culture and managerial control; and the performance of emotional labor within service occupations.

This concise book will be invaluable to students at all levels as it explores a range of insights to make sense of pressing issues that drive the social scientific study of work today.
Table of contents
List of Figures and Tables vii
1 Introduction 1
Approaching Work 3
Three Rules of Thumb 6
Schools of Thought in the Sociology of Work 19
Conclusion 34
2 Capitalism, Taylorism, and the Problem of Labor Control 37
Taylorism and the De-skilling Debate 38
Workplace Culture and Managerial Control 43
Workers as Subjects: Governing the Worker's Soul 47
Conclusion 54
3 From Fordism to Flexibility? 60
The End of Fordism 62
Flexible Specialization 67
Scrutinizing Workplace Flexibility 72
4 Ascriptive Inequalities at Work, I: Gender 86
Studying Gender Inequality at Work 87
The Gendering of Work in the United States 89
Human Capitol Theory and Supply Side Approaches 96
Structural Approaches: The Demand side of the Equations 99
Social Networks: The Web of Affiliations 104
The Devaluation of Women's Work 106
Conclusion 110
5 Ascriptive Inequalities, II: Race, Ethnicity, and Diversity at Work 113
The Continuing Significance of Race at Work 115
Social Closure Processes 119
Social Networks and Hiring Practices 121
Race-Typing and the Devaluation pf Black Labor 124
The Concept of Diversity: Reinforcing Inequality? 126
Conclusion 131
6 The Globalization of Work 133
Neo-liberalism: The Cult of the Marketplace 136
Globalization: The Debate 144
Regulating Global Capitalism: Solidarity Movements and Codes of Contact 156
Conclusion 161
7 Conclusion 163
Notes 170
References 173
Index 195
Reviews
"I highly recommend this book. It addresses all the important issues of work in our time."
International Sociology
"An exhaustive study of a concept that has, over the past half-decade or so, been brought under the lenses of scholars in a variety of different fields of research, from sociology to economics, politics to philosophy ...
Work
fosters a dialogue that cuts across [these] disciplines."
Marx & Philosophy
"A leading sociologist in the fields of work, organizations, economy, and social theory, Vallas provides an innovative, erudite, exhaustive, and lucidly written synthesis and depiction of the evolution of research in the sociology of work. Linking the discipline to important economic and political developments of the late twentieth and early twenty-first centuries, the book illumines pathways in this dynamic and central field of sociology for students, scholars and practitioners who are researching, teaching, and humanizing the world of work."
Daniel B. Cornfield, Vanderbilt University
"Steven Vallas's Work has the great virtue of providing a strong theoretical overview of the sociology of work, at the same time as it discusses work's historical emergence and ongoing development under capitalism. The combination will make the text an invaluable resource for students at all levels."
Leslie Salzinger, University of California, Berkeley
"Steven Vallas's Work is an important piece of scholarship and easily the best book on what is happening to work, workers and the workplace to be published in the last decade. Vallas synthesizes multiple strands of research into an integrated whole. The volume is a must read for anyone interested in from where we've come and to where we're headed."
Stephen R. Barley, Stanford University
Features
Provides a concise overview of how work is understood and defined, both as a concrete aspect of economic life, but also its social and political meanings.
Draws on theoretical and empirical contributions from a broad range of disciplines, from sociology to history, from economics to organizational studies.
Explores key issues in the sociology of work, such as gender inequalities, the power of social network ('who you know'), and the global transformations of work.
Written by a well-known and respected scholar and textbook writer in the sociology of work field.